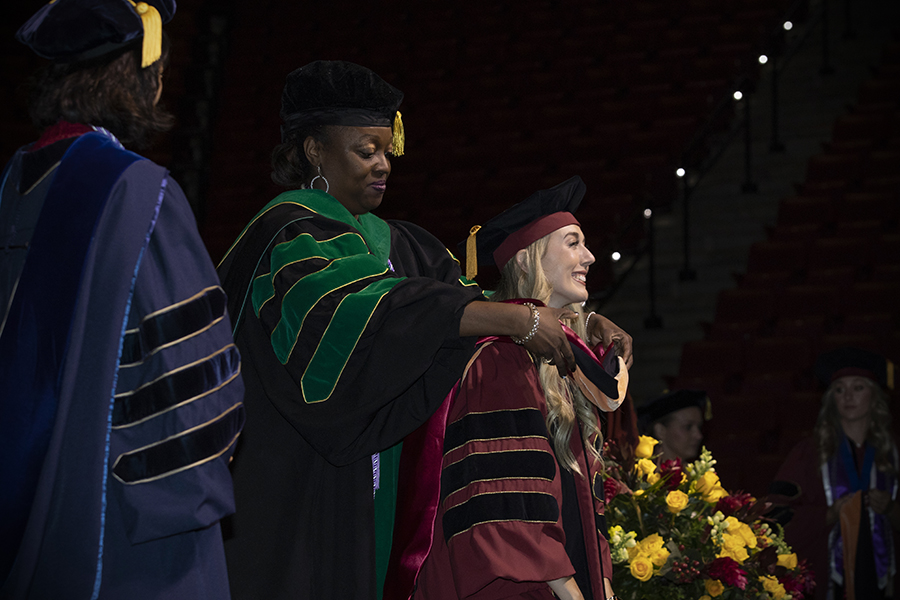 Florida State University celebrated more than 250 newly minted doctoral graduates during a special ceremony Friday morning at the Donald L. Tucker Civic Center. It was the first time FSU has held a separate event for the hooding and conferral of doctoral degrees for all disciplines.
President Richard McCullough presided over the ceremony, the first of seven over the three-day spring commencement weekend.
"It is with tremendous pride and profound admiration that I stand before you today to congratulate you on the culmination of years of dedication, resilience and tireless effort in pursuit of academic excellence," McCullough said.
McCullough recognized the doctoral graduates for helping to make FSU the best that it can be as the university continues to rise in academic excellence.
"You all have made significant contributions and advancements in your respective fields," he said. "As the new torchbearers of our great university, I urge you all to embrace your esteemed role as highly respected scholars and leaders."
Provost and Executive Vice President for Academic Affairs Jim Clark congratulated the graduates on their achievement. 
"When I look across this arena, I see excellence — scholars, leaders, performers, artists and visionaries," he said. "You bring with you the next great scientific discoveries, the most awesome performances, the next solution to global challenges, great works of art and the new theories and strategies that will shape this state and nation." 
Both McCullough and Clark acknowledged the support and encouragement of the graduates' families and friends, as well as the faculty who mentored them. 
"Florida State's graduate faculty challenged our doctoral candidates at every level, offered their wisdom, experience and expertise, and helped students turn their ideas into dissertations," Clark said. "On behalf of the university, we thank you faculty for your mentorship and careful guidance throughout these candidates' time at Florida State University." 
Clark pointed out the importance of the hooding ceremony as a ritual that signifies something transcendent, marking the time that graduates become stewards of their disciplines and their professions.  
"All of us charged to care for this great university urge you graduates to take on this stewardship with joy, pride, gravitas and celebration," Clark said. 
Friday's doctoral graduates were excited to celebrate their accomplishments with family and friends, as well as reflect upon their experiences at Florida State University.
Honorine Rouiller, an international student from France, earned her doctorate in Contemporary French and Francophone Studies this spring. Born and raised in Le May Sur Evre, France, a tiny town of about 4,000 people, Rouiller came to the U.S. to "engage with the world."  
After earning her master's degree in French Literature from the University of Arizona, Rouiller specifically chose Florida State because of its Winthrop-King Institute for Contemporary French and Francophone Studies, which advances the knowledge of France and the French-speaking world and is the foremost center of its kind in the nation and beyond.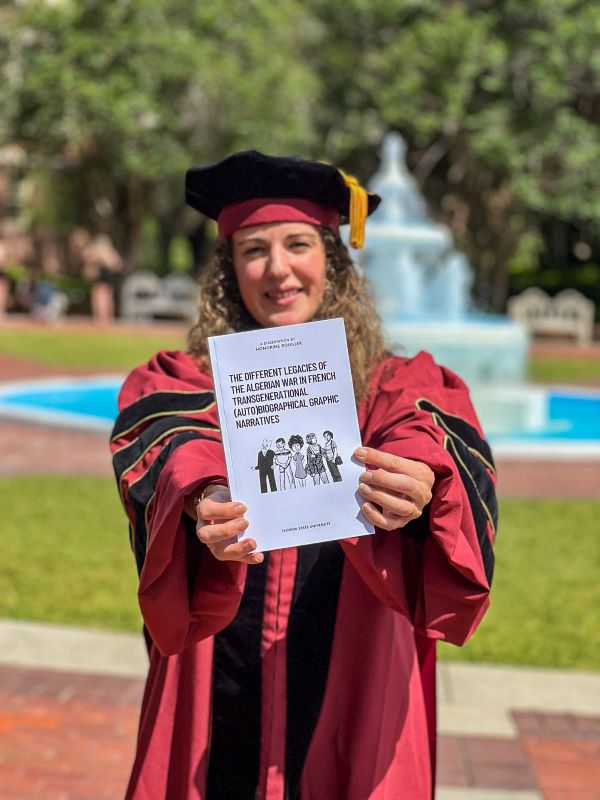 "In my five years at FSU, there have been lots of ups and downs, but I'm really happy," she said. "It's been a great journey." 
An important part of Rouiller's legacy at FSU is the Coffee and Conversation video series, which aims to help graduate students share their stories. The series served as a way for graduate students to promote themselves on the job market at a time when the COVID-19 pandemic shut down job fairs and in-person interviews.  
While the series features both domestic and international students, Rouiller noticed that the videos about international students were more popular, and it became a useful tool in attracting international talent.  
"I'm this little girl from this small town in France making it in the U.S.," she said. "But I am just one of many. That's the perspective each international student shares." 
Following graduation, Rouiller will be a senior lecturer of French at Vanderbilt University.
In total, Rouiller conducted almost 150 Coffee and Conversation interviews. While at FSU, she also worked diligently on her dissertation, which focuses on the different legacies of the Algerian War in transgenerational and autobiographical graphic narratives.  
Following graduation, Rouiller will teach French at a university in the U.S. She was excited to share this milestone with her family who traveled from France to Tallahassee for the ceremony.  
"I am the first one in my family to pursue graduate studies, and that makes my family proud," Rouiller said. "It is a good source of motivation." 
Megan Groninger, most recently from Carrollton, Georgia, graduated Friday with a doctorate in history. She cherishes the support and encouragement she received from everyone in the History Department, most specifically her professors.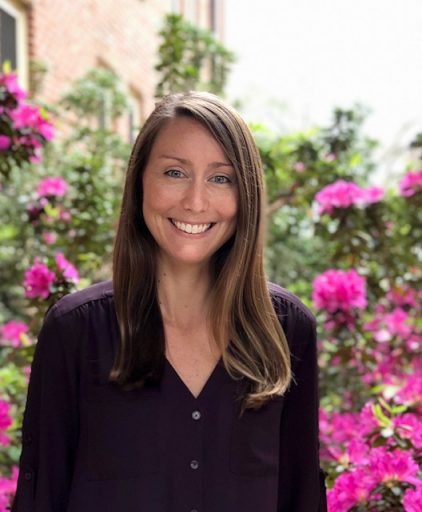 "My timeline and research were heavily disrupted by the pandemic, and there were moments when I thought this day might never come," she said. "I wouldn't be in this position without the unwavering support of my professors as well as my family and friends who helped me keep going despite the setbacks. This day is as much for them as it is for me."  
Groninger was highly recognized during her time at FSU — winning the Martin-Vegue Fellowship Award, the Wright Award for Research and the Richardson Award for Excellence in Teaching. Her work includes beginning an international group for graduate students and early career scholars in the field of British History as well as work with the Women's, Gender and Sexuality Studies Group.   
After graduation, Groninger will begin a job as an assistant professor of history at her undergraduate alma mater, William Jewell College. 
"I will forever be grateful to FSU for the opportunity to make my dream a reality."