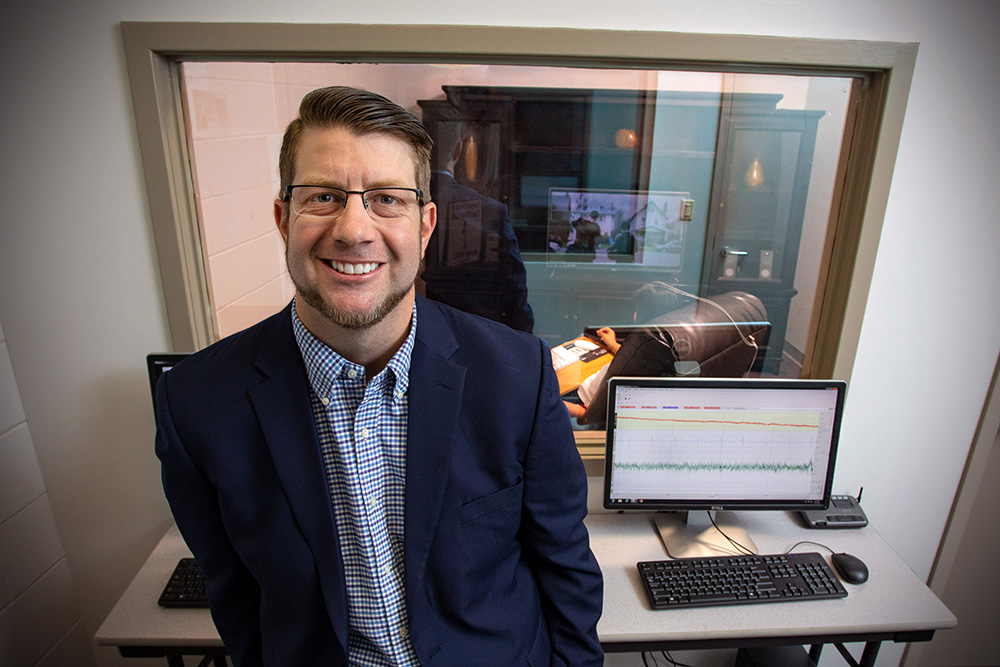 Florida State University Associate Professor of Communication Russell Clayton's efforts to motivate students to discover their own creativity and excel in their careers have earned him the university's most prestigious honor for teaching.
Clayton received FSU's 2022-2023 Distinguished Teacher Award during the annual Faculty Awards Celebration April 25 at the Dunlap Champions Club. The award includes a $7,500 stipend.
"I have been fortunate to have several professors invest in me both professionally and personally during my academic journey," Clayton said. "Because of these experiences, I recognize the value and importance of working with students in and out of the classroom. Facilitating their academic journeys and successes is extremely rewarding."
Clayton's student-centered approach to teaching allows students to take an active and participatory role in the learning process in courses such as Introduction to Mass Media, Quantitative Research Methods in Communication, Psychology in Advertising, and Mass Media Theory and Effects.
"The most beneficial and encouraging aspect of teaching has been helping unmotivated students discover their own creativity while designing research studies and creating industry-relevant projects," Clayton said.
Also serving as director of the Cognition and Emotion Lab at the School of Communication, Clayton works to ensure students get applicable experiences outside the classroom. These experiences include conducting media psychophysiology studies, learning participant-researcher interaction skills, data extraction and analysis, and presenting at national and international conferences.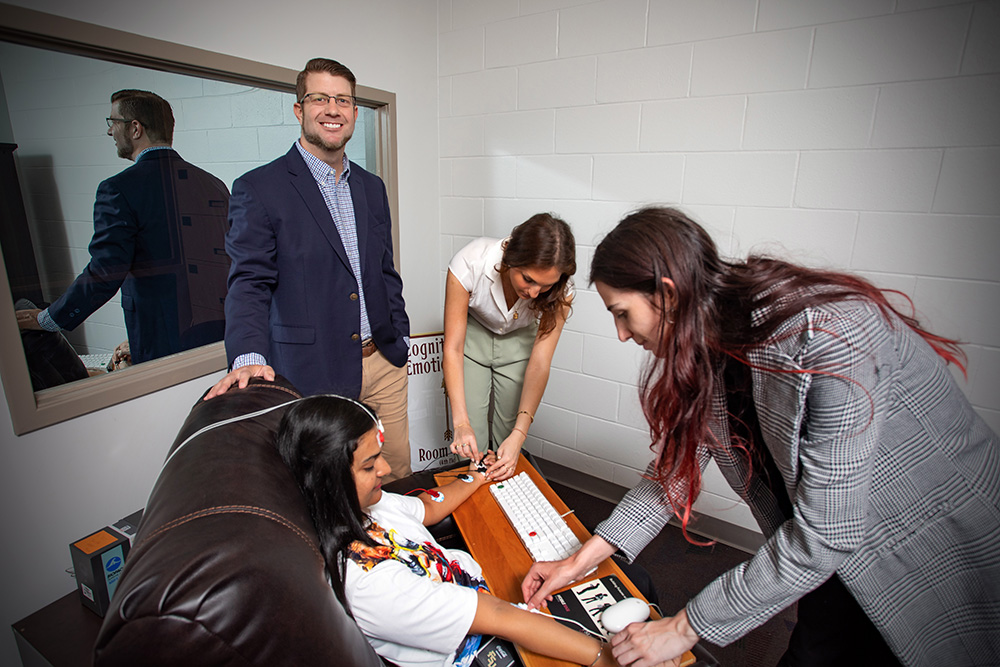 "Teaching should transcend the classroom," Clayton said. "This is one reason as to why I work with undergraduate and graduate students in my research lab, where they can learn a variety of unique, hands-on skills while frequently serving as authors on journal submissions and conference presentations."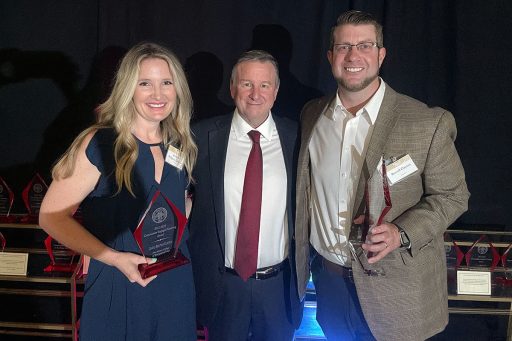 Clayton's research examines how people cognitively and emotionally interact with and respond to various media and technologies using psychophysiological, behavioral, self-report, and memory measures. The goal of his research is to provide recommendations into how media content and technologies can be used to advance human health and well-being. His award-winning research has been published in the leading journals in the field and he also serves on the editorial board for multiple flagship journals.
Clayton, who joined the faculty of the School of Communication in 2015 after earning his doctoral degree from the University of Missouri, previously received the FSU Undergraduate Teaching Award and the FSU Transformation Through Teaching Award, both in 2018.
"Students admitted in our school should all try to take a class with Dr. Clayton," said Patrick Merle, associate professor and director of the School of Communication. "It will enhance their curriculum and test their limits. He sets high standards and helps students raise up to that level."
Clayton said the most rewarding part of teaching is when students thank him for teaching them concepts that directly apply to their jobs.
"Many of the university teaching awards I have won are student-nominated," Clayton said. "For students to perceive me as having a positive impact on their lives and to feel compelled to nominate me for this award and others is truly humbling and really special."
---
Other outstanding FSU faculty members recognized at this year's faculty awards were:
Outstanding Undergraduate Advising Award
Timothy McGann, Department of Earth, Ocean, and Atmospheric Science
Mary Correia, College of Motion Picture Arts
---
Outstanding Teaching in the Major
Jamila Holcomb, Department of Human Development and Family Science
Marin Wenger, College of Criminology & Criminal Justice
Ed Hansen, Department of Psychology
Ronald E. Doel, Department of History
Tyler Towne, Psychology (Panama City)
Wendy Ritz, Business (Panama City)
Brenda Garner, Jim Moran College of Entrepreneurship
Doug Norton, Department of Economics
Kari Adams, College of Music
Nathan Line, Dedman College of Hospitality
---
Foundational Course Excellence
Christopher Holmes, Department of Earth, Ocean, and Atmospheric Science
Carrie Lee, Department of Economics
Michael Furman, Department of Classics
James Frederich, Department of Chemistry and Biochemistry
Mark Zeigler, School of Communication
---
Outstanding Graduate Teaching
Jennifer Proffitt, School of Communication
Jonathan Epstein, College of Fine Arts
Eric Ludwig, College of Education
Nancy Gerber, Department of Art Education
Nancy Rogers, College of Music
Jeffrey Springer, College of Music
Jenny Root, College of Education
Jessi Halligan, Department of Anthropology
---
Community Engaged Teaching
Jessica Ridgway Clayton, Jim Moran College of Entrepreneurship
Hank Bass, Department of Biological Science
Lyndsay Jenkins, College of Education
---
Inclusive Teaching and Mentoring
Charles Fleischer, College of Medicine
Tarez Graban, Department of English
Christine Andrews-Larson, College of Education
Rasheda Haughbrook, Department of Psychology
---
Innovation in Teaching
Zach Weston, Dedman College of Hospitality
Michael Bishop, Department of Philosophy
Matthew Pietryka, College of Social Sciences and Public Policy
---
Distinguished Teaching
Russell B. Clayton, School of Communication
---
Honors Thesis Mentor
Emily Lemmon, Department of Biological Science
---
Undergraduate Research Mentor
Patricia Born, College of Business
---
Graduate Faculty Mentor
Adrian Barbu, Department of Statistics
Hank Bass, Department of Biological Science
Pamela Keel, Department of Psychology
Lara Reglero, Department of Modern Languages and Linguistics
Lingjiong Zhu, Department of Mathematics
---
Distinguished Research Professor
James Kimbrell, Department of English
Washington Mio, Department of Mathematics
Kimberly Hughes, Department of Biological Science
Markus Huettel, Department of Earth, Ocean, and Atmospheric Science
---
Developing Scholar
Justin Kennemur, Department of Chemistry and Biochemistry
Derek Nee, Department of Psychology
James Palmer, Department of History
Alina Dana Weber, Department of Modern Languages and Linguistics
---
Robert O. Lawton Distinguished Professor
Lilian Garcia-Roig, Department of Art