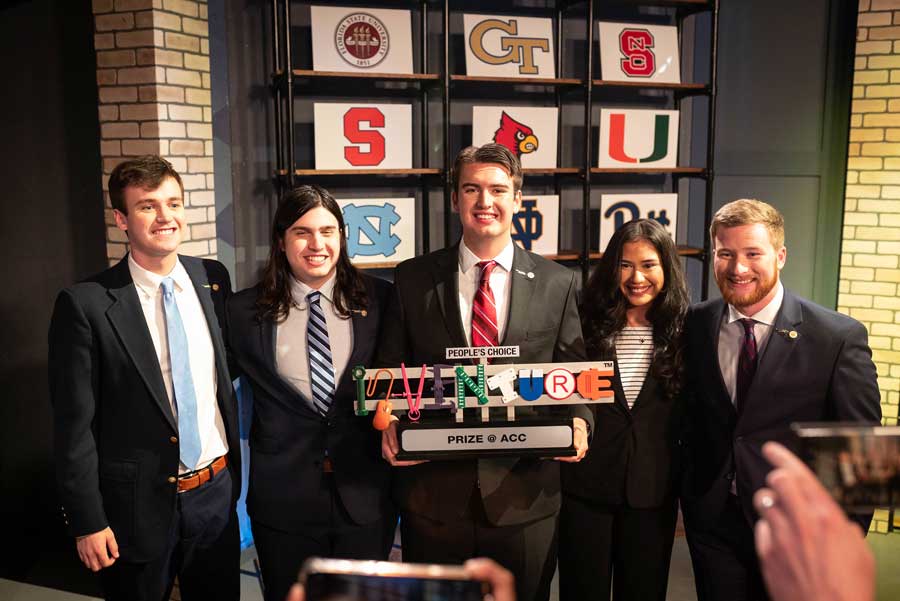 Florida State University took home the People's Choice Award at the sixth annual ACC InVenture Prize competition Thursday.  
FSU hosted the Shark Tank-style competition in which the 15 schools of the Atlantic Coast Conference sent teams comprised of undergraduate students to pitch their inventions and businesses. 
A three-judge panel crowned the Fighting Irish of the University of Notre Dame the winners, while online voters chose FSU for the People's Choice Award. 
The competition was broadcast on WFSU with teams presenting to an in-studio audience in addition to those watching from home.  
Mechanical engineering majors Michael Romega, Kristine Villarino, Andrew Burkhardt, Caleb Ward and Max McCammon, who represented FSU, won the People's Choice prize for their technology, extraBREATH, which treats patients with severe lung injuries while eliminating the need for medical sedation and its negative side effects. 
The team won $5,000 in prize money. 
McCammon said he was a little intimidated going into the competition but noted that FSU's team was well prepared.  
"As mechanical engineers we don't necessarily think about entrepreneurship in our day-to-day lives," he said. "But we had a lot of resources and mentorship when it comes to entrepreneurship that have been really valuable in preparing us for all the non-engineering things this competition requires."
Hosting the event for the second year in a row and claiming the People's Choice Award caps a great year for FSU at the competition, said Britain Dwyre Riley, instructional specialist and internship coordinator for the Jim Moran College of Entrepreneurship.  
"It's just a fantastic showcase of entrepreneurship and winning the People's Choice Award shows that people are really bought into the entrepreneurial endeavors happening across FSU," she said.  
The Notre Dame team's LifeDrive, a wheelchair that offers alternative control solutions including eye, voice and mobile stick control, earned top prize and $15,000. Duke and Syracuse universities tied for second place.  
Since its establishment in 2016, the ACC InVenture Prize has grown to become the nation's largest student innovation competition and has helped fund multiple student inventions and projects.    
For more information, visit accinventureprize.com.