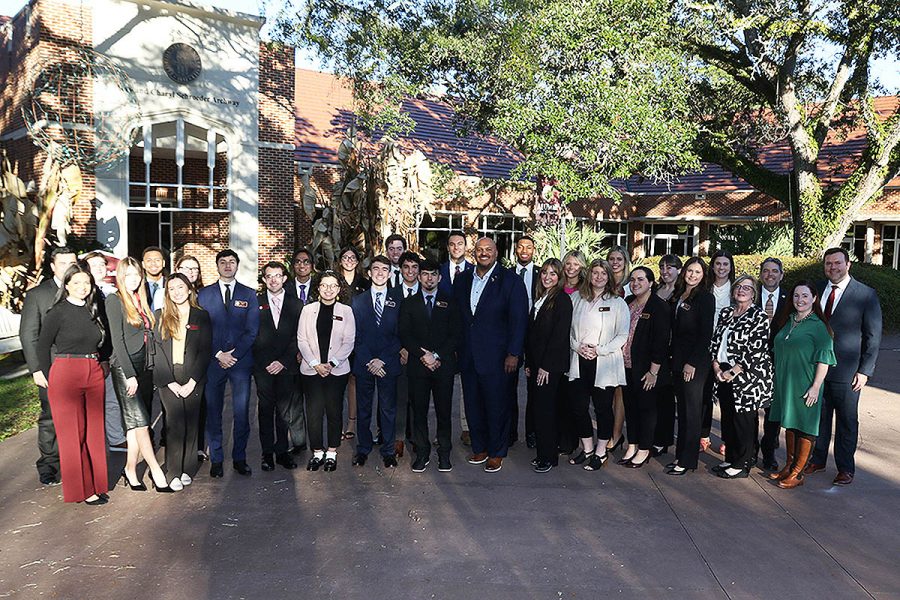 Florida State University students are ready to gain meaningful experience at the Capitol while representing the Garnet and Gold through the new FSU Legislative Internship Program when the 2023 Florida Legislative session kicks off this week.
Located just minutes from the Capitol, FSU has for many years facilitated opportunities for students to engage in the legislative process. However, realizing there wasn't a formal process for students to take part in the political process, the Governmental Relations Team, comprised of Clay Ingram, Lina Rojas and Lynna Sands, worked diligently to establish a structured legislative internship program that will equip students with a solid foundation to learn from the legislative process.
"Our students now will have even more hands-on opportunities to learn how politics and policy are intertwined in the legislative process by working with legislators and policymakers in the Governor's Office, the House or Senate, state agencies and other legislative offices," said President Richard McCullough. "This is a tremendous opportunity for students that could launch a career in politics or public service and open doors they may have never imagined."
The inaugural class of 29 interns includes 18 students who applied directly to the program and 11 students who applied as part of the new Applied Politics and Policy Learning Experience program — or APPLE — launched by faculty members in the Department of Political Science, Brad Kile and Amanda Driscoll.
The Governmental Relations Office and the Political Science Department worked together to secure internship placements and conduct training workshops to ensure these students are prepared for their roles as legislative interns.
After a competitive application process during the fall semester, interns were chosen from a pool of over 100 applicants. They each attended a multi-day boot camp where they received training on the basics of Florida government, the rules of the House and Senate, important dates and deadlines in the legislative process, decorum and proper attire, and heard from several speakers involved in the lawmaking process. The boot camp culminated with the pinning of their FSU nametags by Sen. Corey Simon.
"The Legislative Internship Program is critical to bench-building at the Capitol, and it's helpful to our friends at the Capitol," said Ingram, FSU's chief legislative affairs officer. "It can be a catalyst that sparks a career in government for some of these students."
Kai Garel, a senior from Lake Worth, Florida, who is studying political science and criminology, is excited for the opportunity to work in the heart of the state's government.
"I came to Florida State for one main reason — I wanted to be in the middle of where state legislation occurs," Garel said. "I'm excited to be a part of the inaugural class of the new FSU Legislative Internship Program."
For more information, visit govrel.fsu.edu/internship-program.