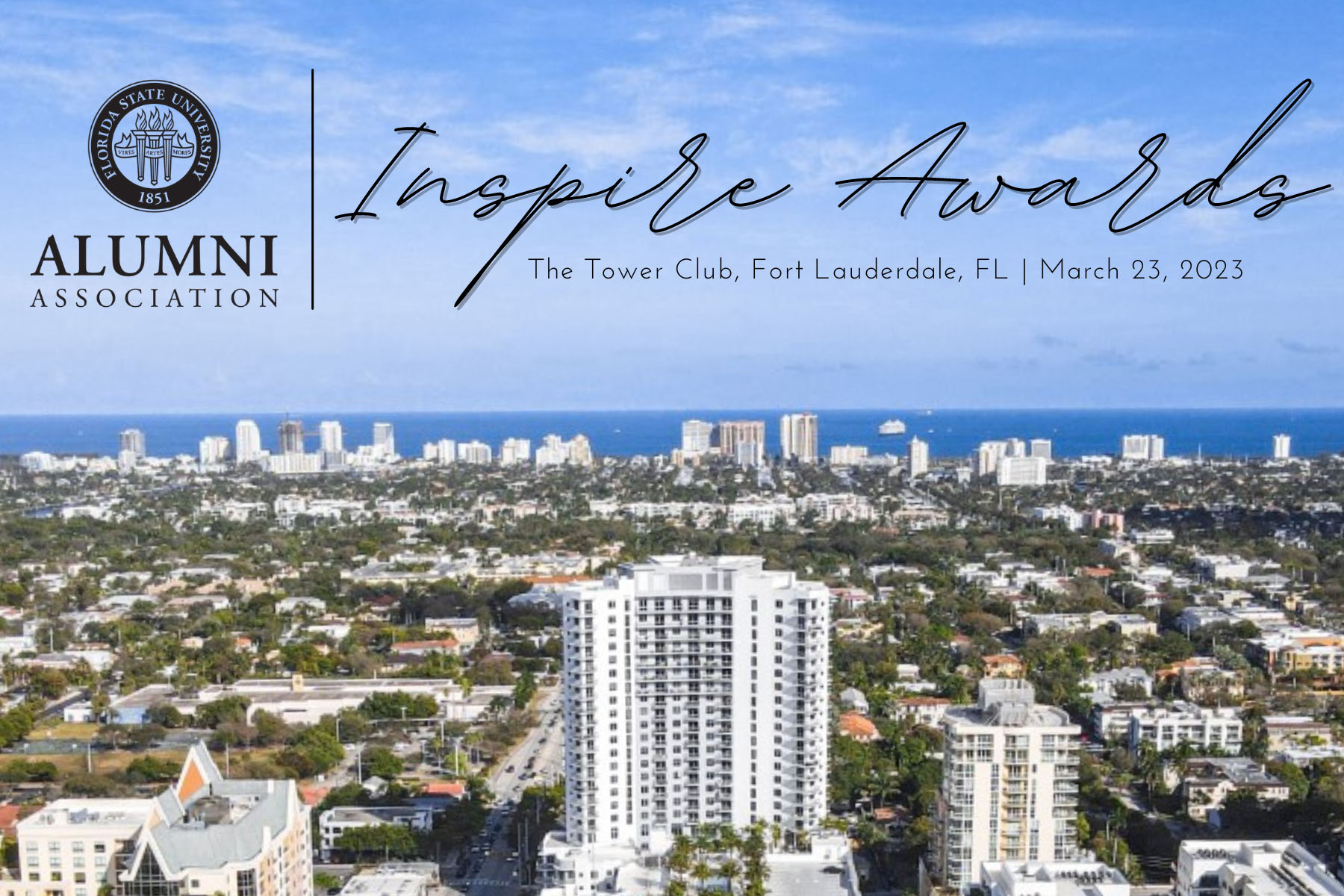 Florida State University's Alumni Association will host the Inspire Awards, presented by The Women for FSU and Kyle Cavan Jewelry in Fort Lauderdale, Fla.
The Inspire Awards is presented during Women's History Month to alumnae who have "shattered the glass ceiling" in their industries and have given back to FSU.
"At the forefront of our university's history is women. They have always had and continue to have a significant influence on the community and educational endeavors of Florida State University," said Dazi Lenoir, chair of the FSU Alumni Association's National Board of Directors. "Each of our honorees has excelled tremendously in their fields. We are excited to honor them; they make us proud to be alumni of Florida State."
Honorees will be recognized at a celebratory reception at 6 p.m. on Thursday, March 23, at the Tower Club in Fort Lauderdale. Guests will also hear honorees speak about their diverse experiences in a panel discussion led by Julie Decker, president and CEO of the FSU Alumni Association.
For more information or to register for the event, visit gonol.es/2023InspireAwards.
---
The 2023 honorees are:
---
Alison Curdt (B.A. '05, B.S. '05) – Dedman College of Hospitality
Los Angeles, California 
At 29, Alison Curdt became the youngest woman in the Professional Golf Association (PGA) to attain PGA Master Certification. In 2018, Curdt became the second woman to earn dual master professional status in the Ladies Professional Golf Association and PGA. Curdt is a Southern California PGA Teaching Hall of Fame inductee and actively plays and teaches in the Los Angeles area. Curdt has served as a mentor for the FSU Dedman College of Hospitality, helping students during a 6-week program learn more about the industry they are about to enter.
---
Vivian de las Cuevas-Diaz (B.S. '97) – College of Social Sciences and Public Policy
Coral Gables, Florida 
Vivian de las Cuevas-Diaz is an attorney in Holland & Knight's Miami office and serves as the firmwide deputy section leader of the Real Estate Section, assisting in managing the firm's nationwide real estate practice. She is experienced in handling real estate joint ventures focused on acquisition and development for her U.S.-based and international clients, and she works closely with land use and zoning lawyers in Holland & Knight's various offices across the U.S. She serves on Florida State University's Board of Trustees, the Coral Gables Community Foundation board and is a past president and foundation board member of the Cuban American Bar Association. She is also a board member of the Miami-Dade Beacon Council, a public-private partnership and the official economic development organization for Miami-Dade County.
---
---
Jennifer Engel (A.A. '97) – College of Business
Madeira Beach, Florida
Jenn Engel is the first female chief commercial sales officer in beverage alcohol wholesale distribution for Republic National Distributing Company. Engel has held positions at Anheuser-Busch, Jackson Family Wines, Wirtz Beverage and Banfi, where she was the National Business Manager for the luxury team known as Cru Artisan. Jenn served as Vice President of Sales and a member of the board of directors at Santa Margherita USA, overseeing sales and developing strategic and long-term initiatives. Jenn is a member of the Wine and Spirits Wholesalers of America (WSWA) Women's Leadership Council. In addition, Jenn continuously volunteers her time and connections to help advance the FSU Dedman College of Hospitality.
---
Dena Jalbert (MBA '10) – College of Business
Winter Park, Florida
Dena Jalbert is the founder and CEO of Align Business Advisory Services, based in Winter Park, Florida. Her experience spans many years in the "Big 4" public accounting and consulting firms, and she has served in executive positions with Fortune 500 and hyper-growth middle-market companies. As a merger and acquisitions expert, Jalbert has facilitated more than $1.5 billion of buy and sell-side transactions, including acquisitions with companies such as Visa, Bank of America, Hewlett Packard and Google. Recognized as a leader in her field, she has earned distinction as a rising star of mergers and acquisitions by The M&A Advisor magazine and one of the 2021 Top 25 Most Influential Women in Mid-Market M&A by Mergers & Acquisitions Magazine. Align was named the best mid-market M&A consultancy in the Southeast in 2019.
---
About Women for FSU
Founded in 2008, Women for FSU aims to increase awareness of opportunities for women to stay actively engaged in life at the university and educate the community on the vital role women play in the past, present and future of Florida State.
About Kyle Cavan
Kyle Cavan is a women-owned jewelry company that aims to design beautiful collections that serve as everyday reminders of one's accomplishments both big and small. More information about them and their FSU collection can be found at kylecavan.com/collections/fsu.