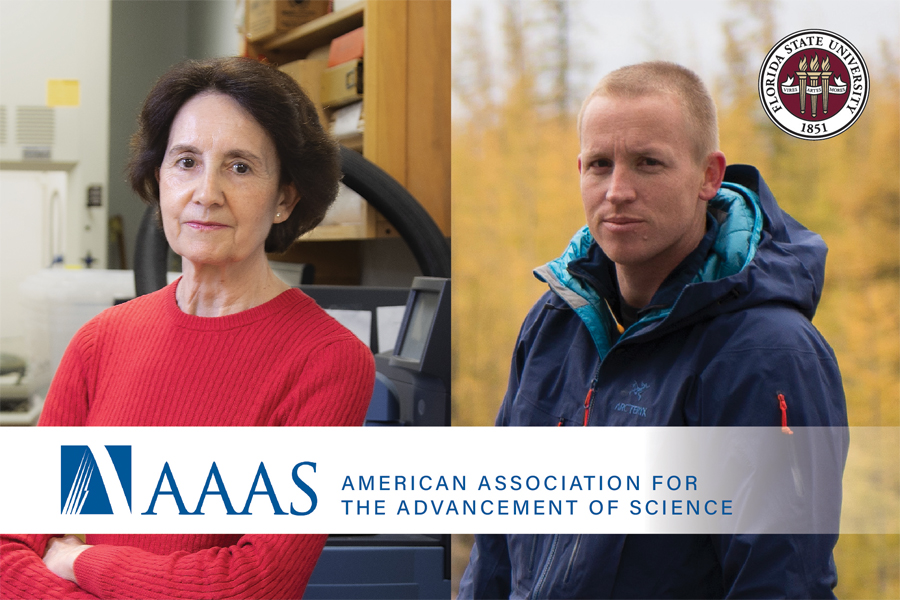 A chemical engineer developing more environmentally friendly materials and a geologist exploring the chemistry of Earth's carbon reservoirs are the latest Florida State University faculty members to be named Fellows by the American Association for the Advancement of Science, or AAAS.
Rufina Alamo, the Simon Ostrach Professor of Engineering and a distinguished research professor of Chemical and Biomedical Engineering in the FAMU-FSU College of Engineering, and Rob Spencer, a professor in the Department of Earth, Ocean and Atmospheric Science in FSU's College of Arts and Sciences, were elected by their peers to the 2022 Fellows class in recognition of their contributions to science, engineering and technology.
"Selection as an AAAS fellow is recognition of outstanding contribution to science and research," said Vice President for Research Stacey Patterson, "As we grow our research and innovation ecosystem, it's wonderful to see FSU faculty honored by their peers in this way."
The 2022 Fellows include more than 500 researchers from academia and industry whose work spans the sciences.
AAAS, formed in 1848, was the first permanent organization established to promote the development of science and engineering at a national level and represent the interests of all its disciplines. The organization is the world's largest general scientific society and publisher of the journal Science. Election as an AAAS Fellow is a lifetime honor and all Fellows are expected to meet the highest standards of professional ethics and scientific integrity.
This year's FSU honorees are:
Rufina Alamo
Alamo researches polymers, natural or manmade materials made of many small molecules linked together to form very long ones, like the beads of a necklace. Her work has focused on crystalline polymers, in which long molecule chains fold back and forth many times to form regular arrangements, instead of haphazard, amorphous shapes. AAAS recognized Alamo for contributions to this field, particularly for experiments that established the relationship between the chemical structures and properties in two types — classical polyolefins of which we use millions of tons around the world and newer, more sustainable polyethylene-like materials.
"I am very grateful to AAAS for electing me as a Fellow and to my research colleagues who I have had the privilege to work alongside," Alamo said. "It's gratifying to be recognized by my peers as having made substantial contributions in the effort to better understand polymeric materials."
Before coming to the FAMU-FSU College of Engineering in 1995, Alamo earned a bachelor's degree and a master's degree from the University of Valladolid and a doctoral degree from the Complutense University of Madrid. She was named a Fellow of the American Physical Society in 2012, and recently received a Research Creativity Award from the National Science Foundation.
Recent research by Alamo is helping develop sustainable polymers that offer environmentally friendly alternatives to oil-based ones. Synthetic polymers make possible all sorts of technology, such as food packaging, moisture-wicking clothes, fiberglass, nonstick cookware and much, much more. But most synthetic polymers are developed from petroleum, and they're not biodegradable.
"We all know that single-use plastics, such as plastic bags, plastic wrapping, beverage bottles and cups and many other types remain too long in our environment when they are discarded," Alamo said. "Together with polymer chemists, we are developing the molecules and the processes to fabricate more bio-renewable, degradable and environmentally friendly polymer materials that could substitute those that we use now."
Another recent project, funded by the National Science Foundation, explores the most effective ways to melt polymers in order to process them faster or to make them into stronger forms.
"I'm pleased to congratulate Rufina on this award," said Suvranu De, dean of the FAMU-FSU College of Engineering. "Her research has led to important advances in polymer science, work that helps improve our modern world."
Robert Spencer
Spencer's research focuses on understanding the chemical composition of the Earth's major carbon reservoirs — the soils, sediments and dissolved organic matter in marine and terrestrial ecosystems. Those reservoirs can act as sinks for carbon dioxide that would otherwise be released into the atmosphere or they can be sources of additional carbon dioxide. Spencer seeks to understand why and how reservoirs act in either way.
"Fundamentally, my research group aims to better understand the global carbon cycle and how human impacts such as climate change and land-use change are altering it," he said.
The work takes place across a range of scales, from the molecular to global level, and in all sorts of environments, from the Arctic to the tropics. Recent research has investigated the importance of Earth's ice sheets, the changing Arctic, and the effects of the La Niña phenomenon on carbon export from the Amazon River.
"Being elected as an AAAS Fellow is naturally a great honor and I'm sincerely grateful to all my colleagues and collaborators throughout the world and the support I've received here at FSU," Spencer said. "Without that, the research we undertake would not be possible."
Before joining FSU, Spencer earned a bachelor's degree and doctoral degree from Newcastle University and worked as a researcher at the University of California, Davis, and Woods Hole Research Center. He was named a Fellow of the Association for the Sciences of Limnology and Oceanography in 2017 and awarded their Yentsch-Schindler Award in 2019.
"This richly deserved award is a testament to Rob's research and mentorship," said Sam Huckaba, dean of the College of Arts and Sciences. "With it he joins a distinguished family of previous Arts and Sciences AAAS Fellows. Whether he is working here in Tallahassee or at remote field sites around the world, Rob's active program is improving our understanding of Earth science."