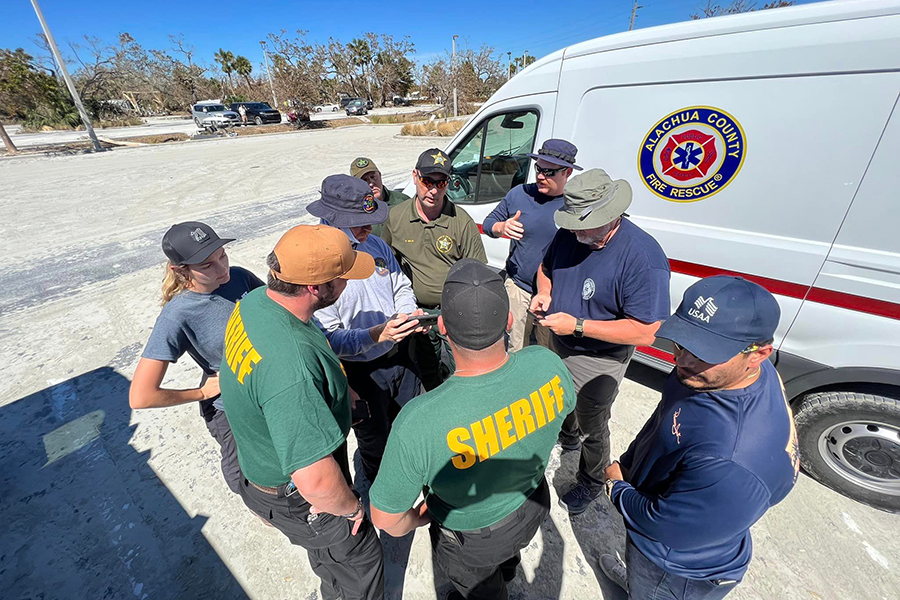 Florida State University's Emergency Management and Homeland Security Program's (EMHS) unmanned aircraft systems (UAS) team has completed its urban search and rescue work following Hurricane Ian.    
The team, housed in FSU's Center for Disaster Risk Policy (CDRP), deployed to Orlando a day before Ian made landfall in Florida on Sept. 28. The drones provide near-real-time data in the wake of hurricanes. That information is crucial in directing where resources and recovery efforts are aimed.    
CDRP Director David Merrick said the EMHS team was the lead agency in Florida UAS Task Force 1. The 10-person EMHS team included four FSU students and members of the City of Tallahassee Fire Department and the Leon County Sheriff's Office.  
"UAS operations in a disaster are complicated, requiring constant communication and coordination to avoid duplication of effort," Merrick said. "Our team provided real-time information to searchers, performed reconnaissance and built maps of impacted areas in coordination with other UAS teams." 
Merrick said other teams hailed from Boone County in Missouri, Miami-Dade Fire Rescue, Alachua County Fire Rescue, the Florida Department of Law Enforcement, Jacksonville Sheriff's Office and Okaloosa County Sheriff's Office. 
Texas A&M University's Humanitarian Robotics and AI Laboratory (HRAIL) deployed their Mobile Lab command vehicle to support data processing and communications, Merrick said.   
National Guard helicopters airlifted members of the team into some of the hardest hit areas, including Sanibel Island and Pine Island for reconnaissance and damage assessment.  
"With ground access and transportation limited, small unmanned systems were an effective tool to gather information about the worst impacts on the islands," Merrick said. 
For more information, visit http://em.fsu.edu.