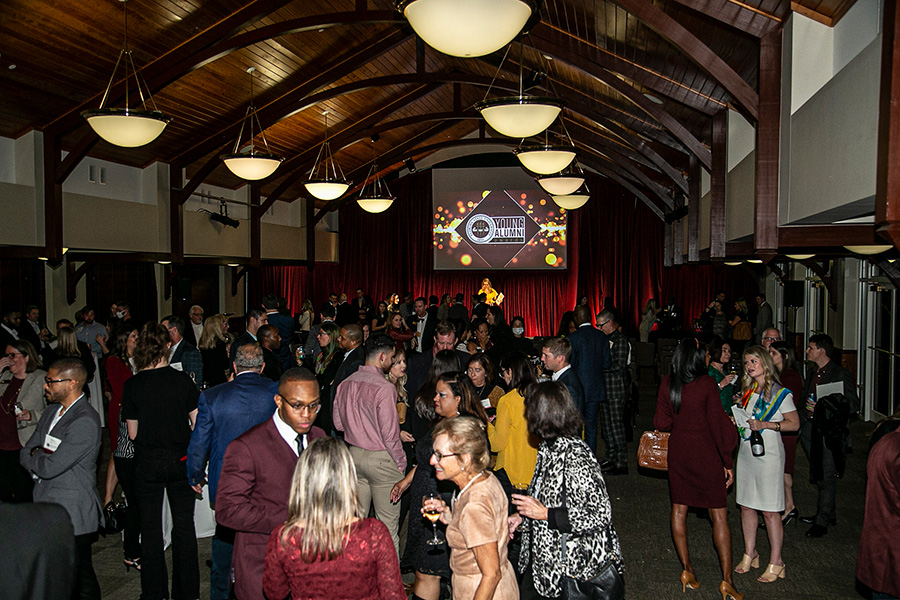 The Florida State University Alumni Association will recognize 22 young alumni for their contributions to their professions, communities and alma mater at the 10th annual Young Alumni Awards on Thursday, Sept. 29.
The 2022 Young Alumni Awards will honor 2022 Notable Noles and Reubin O'D. Askew honorees, and the ceremony will take place the day before the FSU Alumni Association kicks off its inaugural Young Alumni Reunion.
The reunion will take place during homecoming weekend and feature a welcome party, plus attendance at the Homecoming parade and block seating at the Oct. 1 FSU vs. Wake Forest Homecoming football game. Attendees will have the opportunity to meet the Young Alumni Council, participate in FSU traditions, celebrate distinguished young alumni and network with fellow FSU alumni age 35 and under.
"Over the last 10 years, the association has recognized hundreds of bright and talented young alumni," said Julie Decker, president and CEO of the FSU Alumni Association. "Our young graduates are the future of Florida State University, having achieved outstanding feats in the short time since they graduated. We are thrilled to celebrate them during the inaugural Young Alumni Homecoming Weekend. It is appropriate that during this weekend in particular students see what is possible and that our young alumni are back on campus celebrating what it means to be a Seminole forever."
The Sept. 29 awards ceremony will take place at 5:30 p.m. in the Grand Ballroom of the FSU Alumni Center.
For more information on the Young Alumni Awards and to purchase tickets, visit gonol.es/YAA22.
---
Notable Noles
The Notable Noles program recognizes the accomplishments of FSU's alumni aged 35 or younger who have made exceptional achievements and significant contributions to their profession, community, society or the university through traditional channels or innovative approaches.
The 2022 Notable Noles recipients are:
Omar Al Busaidy (M.S. '21) 
College of Social Sciences and Public Policy | CEO & founder, Global Possibilities LLC
Argentina Charles (B.A. '16, MPH '18)  
College of Social Sciences and Public Policy | Health Care-Associated Infection Prevention program manager, Florida Health
Jessica Clark, PMP (B.S. '10)
College of Communication and Information | CEO, Skye Creative Marketing
Hunter Fitch (B.S. '17)
College of Engineering | Specialist, Systems Integration & Test Engineer, L3Harris Technologies
Charles Ford III (B.S. '18)
College of Arts and Sciences | Infection preventionist, HCA Florida Aventura Hospital
Derrius Maddox (B.S. '10)
College of Criminology and Criminal Justice | Senior special agent/crisis negotiator, U.S. Department of Homeland Security
Ellyn Marder (B.S. '10)
College of Arts and Sciences | Senior epidemiologist, Washington State Department of Health
Meagan Nixon (B.A. '11)
College of Communication and Information | Founder/CEO, Big Fish Marketing
Natalie Nolan (B.S. '18)  
College of Social Sciences and Public Policy | Product marketing specialist, Co-op Solutions
Tyler Price (B.S. '11, MPA '13)
College of Social Sciences and Public Policy | Director of operations, Mercy
Vratik Sharma (M.S. '15)
College of Education | Sr. program manager, Live Sports at Amazon Ads, Amazon
Aaron Treadwell (B.S. '08)
College of Social Sciences and Public Policy | Assistant professor of history, Middle Tennessee State University; itinerant elder, African Methodist Episcopal Church
Shamar Watt (BFA '15)
College of Fine Arts | Choreographer/performer
Jordann Wilhelm (B.S. '14, JD '17)
College of Arts and Sciences, College of Law | Associate attorney, Radey Law Firm
Jared Willis, J.D. (B.S. '13)
Dedman College of Hospitality | Government affairs manager, Strategos Group
Austin Wilson (B.S. '18, M.S. '19)
College of Social Sciences and Public Policy, College of Communication and Information | NFLPA certified contract advisor, Vanguard Sports Group
Schemide Zetrenne (B.S. '19)
College of Health and Human Sciences | M.D. candidate (Class of 2025), FSU College of Medicine
The Reubin O'D. Askew Award:
Five Notable Noles will also be presented with the Reubin O'D. Askew Young Alumni Award, the highest honor bestowed upon young alumni by the FSU Alumni Association. Named in honor of former Governor Reubin Askew, this award recognizes his contributions to our state, nation and university. These young alumni continue Askew's legacy of outstanding accomplishments built on the foundation of an education from Florida State University.
The 2022 Askew Award/Notable Noles recipients are:
1st Lt. Andres Bascumbe (B.A. '12)
College of Communication and Information | Federal affairs lead, Block; first lieutenant, United States Army Reserve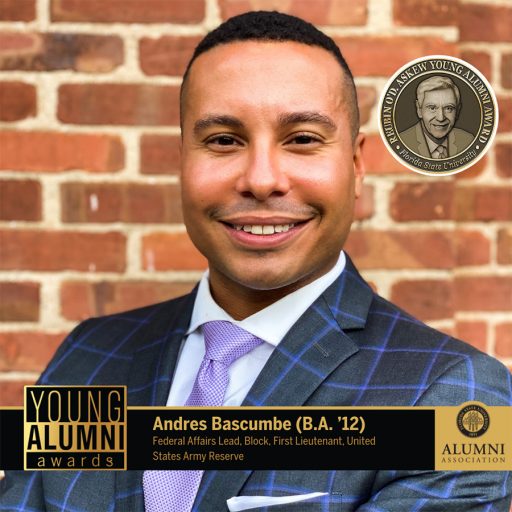 Andres Bascumbe spent five years working on Capitol Hill, most recently as counsel to Chairwoman Maxine Waters and the U.S. House of Representatives Committee on Financial Services. As a student, Bascumbe was a member of the Student Government Association's Student Senate and served as director of public relations for the Hispanic Latino Student Union. He also worked as a public relations officer and news anchor at WVFS Tallahassee. Bascumbe continues to provide significant impact as a mentor to FSU alumni looking to get their start in Washington and on Capitol Hill. Since 2018, he also has served as a council member at the FSU Alumni Association's Young Alumni Network, which hosts events such as the Seminoles' Service Panel, geared toward connecting recent graduates and veterans with various career opportunities. He also serves as a board member at the FSU Alumni Association's Pride Alumni Network and has broken barriers for LGBT servicemen and women, particularly officer candidates seeking to live openly and serve as leaders in the U.S. Army. He was the first openly gay man to serve as vice president of his class at Army Officer Candidate School and continues serving the community as a mentor in the LGBT Congressional Staff Association (LGBT CSA). Additionally, Bascumbe volunteers his time at the Whiteman Walker Legal Clinic assisting with obtaining name and gender marker changes.
Cameron Pennant (B.S. '15, M.P.A. '17)
College of Business, College of Social Sciences | Legislative manager, Charlotte County, Florida; International Affairs guest lecturer, Florida State University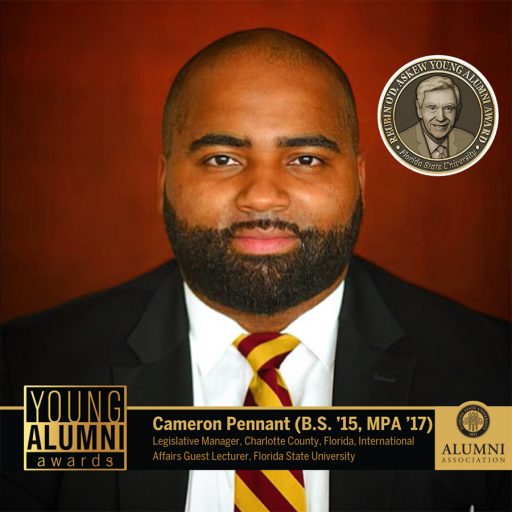 Cameron Pennant has worked in public service for over a decade and has held several key roles in the Florida Legislature. He currently represents the interests of the Charlotte County Board of County Commissioners in the Florida Legislature and the Office of the Governor, the U.S. Congress, the White House and federal regulatory agencies. He is passionate about Florida State University's Center for Academic Retention and Enhancement, or CARE, which supports first-generation students and provides equity and access to students with identities traditionally underrepresented in higher education. Pennant has mentored several students and provides strategic planning and career advice to undergraduates. In 2020, he created Pennant Scholars, the inaugural scholarship for the CARE S.C.O.P.E program, which aims to remove professional barriers to first-generation students. Pennant, the youngest member of the FSU Alumni Association's National Board of Directors, also represented the university as a co-seminar leader at the European Marshall Center for Security Studies in Garmisch-Partenkirchen, Germany. Upon his return, he became a frequent guest lecturer to students at FSU in international and domestic affairs. He cites his passion for sustainable public policy solutions as a guiding principle in his political and advocacy endeavors.
Drew Piers (B.S. '14, M.S. '18)
College of Communication and Information, College of Social Sciences | Managing director and partner, Sachs Media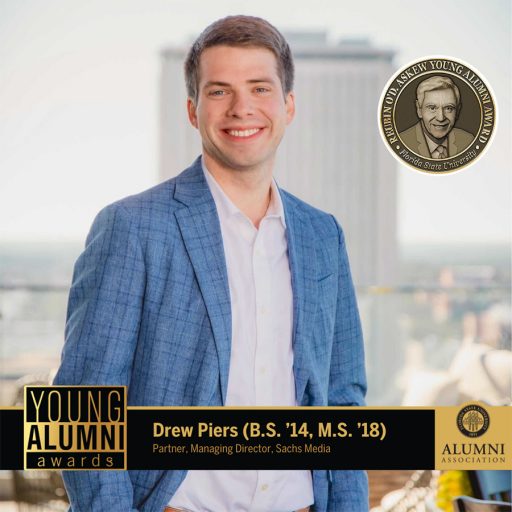 As the youngest partner at Sachs Media, Drew Piers has worked to help elevate the agency to one of the premier public relations agencies in the Southeast. Piers has led multiple successful legislative and constitutional issue-based campaigns across the country, leveraging his talent for communicating across political and creative landscapes. Though gifted in communications strategy, he also is passionate about giving back to the Tallahassee community and beyond. He has held positions for various philanthropic organizations, such as Equity Tallahassee Leon, Legal Aid Foundation, Big Brothers Big Sisters of the Big Bend and the Capital Chapter of the Florida Public Relations Association. Piers is also an adjunct professor who teaches political communications to FSU master's students and is committed to the growth of students through mentoring and supporting student organizations.
Alana Rawlinson (B.S. '10)
College of Arts & Sciences | Clinical assistant professor, University of Florida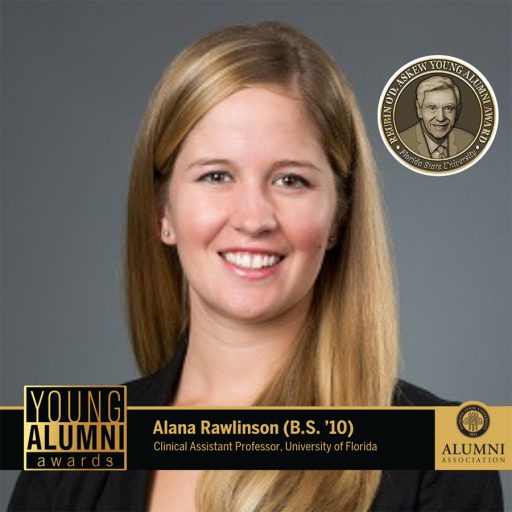 Alana Rawlinson has made numerous achievements in the field of clinical psychology since graduating summa cum laude in 2010. As a student, she received recognition including the 2010 Outstanding Senior Scholar Award, the Marion Jewell Hay Phi Beta Kappa nomination and the Department of Psychology's Howard D. Baker Undergraduate Research Award. She also served as the president of the swim club and the FSU chapter of Psi Chi honor society in psychology. She earned her Parent-Child Interaction Therapy (PCIT) certification in 2014 and her doctorate in clinical psychology from Auburn University's Child Track in 2016, then became a PCIT Within Program Trainer in 2020. During the COVID-19 pandemic, Rawlinson pivoted to provide PCIT via telehealth and maintain treatment for vulnerable populations. She also provided therapeutic support for children struggling with isolation from pandemic-related restrictions. As a clinical assistant professor, Rawlinson has become one of the most sought-after pediatric clinicians and is popular among doctoral students seeking mentorship and guidance. In 2021, she became Honors Program director for UF's College of Public Health and Health Professions. In this role, she teaches and mentors undergraduate students in research and professional development. She credits the strong mentorship she received in the FSU Honors Program for her desire to now influence the next generation of pre-health students.
Dr. Emily Townsend-Cobb (B.S. '12)
College of Health and Human Sciences | Pediatric Physical Therapist, Brooks Rehabilitation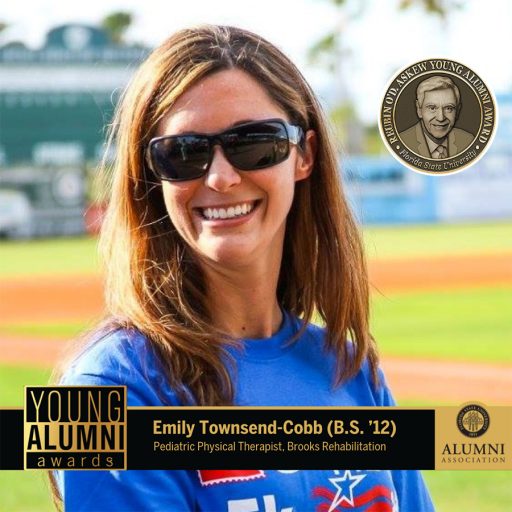 Emily Townsend-Cobb was diagnosed with an inherited eye disease called Leber's Congenital Amaurosis at the age of 3, causing her to lose her vision gradually. Despite this obstacle, Townsend-Cobb has persevered and is currently a physical therapist at Brooks Rehabilitation in Jacksonville, Florida. Cobb has served as a pediatric team lead and center manager of rehabilitation and is a member of Brook's Diversity Equity and Inclusion Council. Townsend-Cobb regularly speaks at national rehabilitation conferences regarding disability justice; most recently speaking at the national American Physical Therapy Association Combined Sections Meeting. During her time at FSU, Townsend-Cobb was a member of the Marching Chiefs leadership team and Tau Beta Sigma music sorority. Townsend-Cobb is one of only a handful of blind health care providers in the country and became the first blind Doctor of Physical Therapy when she graduated from the University of Colorado's Anschutz Medical Campus in 2015.