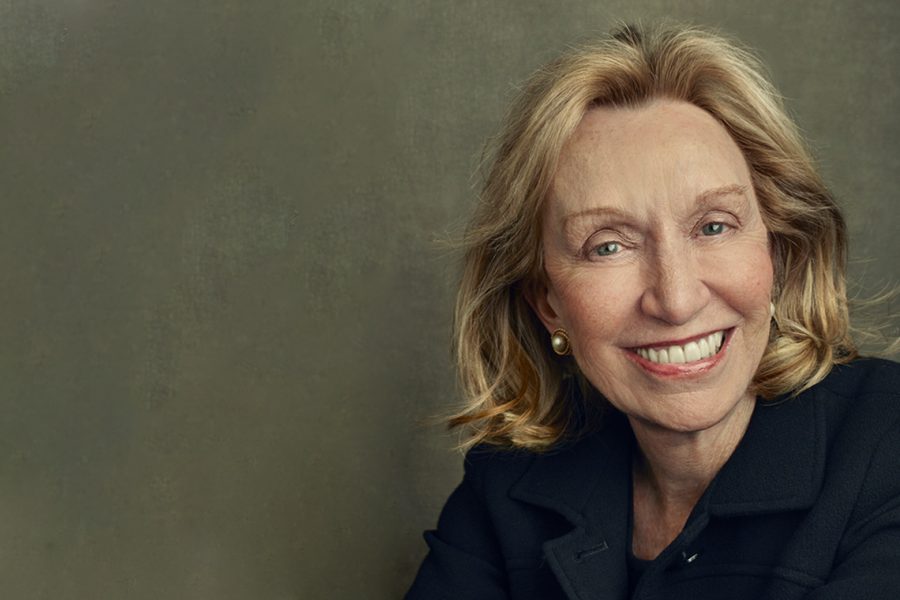 Presidential historian and Pulitzer Prize-winning author Doris Kearns Goodwin will speak at Florida State University at 7:30 p.m. Monday, Sept. 12, in Ruby Diamond Concert Hall.   
FSU's Institute of Politics (IOP@FSU), in collaboration with Opening Nights, presents "Leadership in Turbulent Times: An Evening with Doris Kearns Goodwin" as part of the IOP@FSU's Strengthening American Democracy lecture series.   
Tickets are $10 for the general public and free for FSU students who reserve a ticket. Visit bit.ly/FSU-DKG2022 to purchase or reserve tickets.  
In her decades-long career, Goodwin has established herself as a leading historian of American presidents. She won the 1995 Pulitzer Prize for history for "No Ordinary Time: Franklin and Eleanor Roosevelt: The Home Front in World War II." Her "Team of Rivals" served as the basis for Steven Spielberg's "Lincoln" and was awarded the prestigious Lincoln Prize, the inaugural Book Prize for American history and the Lincoln Leadership Prize.  
Known for her television appearances and commentary, Goodwin has frequently appeared in documentaries including Ken Burns' "Baseball" and "The Roosevelts: An Intimate History" and on news and cable networks and shows including "Meet the Press" and "The Late Show with Stephen Colbert." She played herself as a teacher on "The Simpsons" and a historian on "American Horror Story." 
She is the author of numerous other notable books, including "The Bully Pullpit: Theodore Roosevelt, William Howard Taft, and the Golden Age of Journalism" and "Leadership in Turbulent Times," which became an instant New York Times bestseller. 
Goodwin's career as a presidential historian and author was inspired when, as a 24-year-old graduate student at Harvard, she was selected to join the White House Fellows, one of America's most prestigious leadership and public service programs. Goodwin worked with President Lyndon Johnson in the White House and later assisted him in writing his memoirs. 
Her book "Lyndon Johnson and the American Dream" won critical acclaim and became a national bestseller. It was re-released in 2019 with a new foreword highlighting LBJ's accomplishments in domestic affairs. 
She also has received the Andrew Carnegie Medal, the Charles Frankel Prize, the Sarah Josepha Hale Award, the New England Book Award and the Carl Sandburg Literary Award. 
Goodwin earned a Ph.D. in government from Harvard University. She recently founded Pastimes Productions with Beth Laski to develop and produce film, television and other projects.  
This exclusive speaking engagement is not a part of Opening Nights' regular season of performances. For more information about regular season performances and tickets, visit openingnights.fsu.edu.  
Institute of Politics at Florida State University (IOP@FSU)
The IOP@FSU is a world-class, nonpartisan and nationally renowned institute created through generous support from the State of Florida in 2020. The IOP@FSU promotes civil discourse and civic engagement by students and citizens. Housed within the College of Social Sciences and Public Policy at Florida State University, the IOP@FSU supports applied political research by a cadre of world-class scholars and mobilizes the talents of alumni, students, faculty and friends within Florida's Capital City. For more, visit www.iopfsu.com. 
Opening Nights
Opening Nights at Florida State University presents compelling and distinguished artists who provide extraordinary experiences that educate, inspire and connect diverse audiences on and off campus. Opening Nights offers an annual series of performances that occur from the fall to the spring, drawing a curated, lauded selection of artists to Florida State's campus year after year – in addition to providing accessible arts education within the community. For more, visit openingnights.fsu.edu or call Opening Nights Ticket Office at 850-644-7670.