Sixtus Kuudar was preparing to leave his home in Ghana to begin a new life as a college student in Tallahassee. It was his first trip to the U.S. and, before he left, his mom implored him to make sure he had an apartment.
Kuudar found a place online and paid his rent in advance but, when he arrived, his new address turned out to be farmland. The victim of a scam, Kuudar learned that the home he paid to rent never existed. 
"I was homeless and had nowhere to live for about a month," he said, recalling what happened in 2018. 
Four years later, Kuudar is working on his second college degree — a master's at Florida State University's Jim Moran College of Entrepreneurship — and he has co-founded VisionX, an artificial intelligence and augmented reality real estate company inspired by his experience.
"I couldn't start class," he said about his initial pursuit of his undergraduate degree in computer science from Florida A&M University. "I was on the street. You can imagine being in a whole new country without having a place to live. I didn't even tell my parents because I knew they'd be panicking; they'd freak out. It was just terrible for me."
Along with co-founder and fellow Moran master's student Alexis Leonard, Kuudar aims to change the way people look for a home, via a smartphone app that provides crucial information about homes and neighborhoods in real time. They're using the resources at the Moran College and FSU to help build, test, refine and market the app.  
Their work is paying off.
VisionX has received grants, including $20,000 from the Domi Station business incubator in Tallahassee, and has cashed in on business pitch competitions, including FSU's InNOLEvation Challenge, where it won $4,000 as the "Most Scalable Business." 
The startup, one of dozens launched annually by FSU students, is an upshot of the university's commitment to growing a culture of entrepreneurship among students and faculty across campus.
Kuudar and Leonard have received multiple investment offers, and they're headed to a conference in Silicon Valley this summer at the invitation of a leading augmented reality firm. 
Throughout the process, Leonard said they've relied on the team of faculty and staff at the Moran College.
"Developing a startup can be very overwhelming, and any move can have huge implications, so having our professors there to advise us is critical," she said. "They have really helped us understand we can't just believe what we hear, and we have to go further to really understand why people want to give us this money, what their expectations are and how we can best prepare for the negotiation process. There is a whole language in business that you don't know until you've been exposed to it. Our professors have guided us and helped us learn it."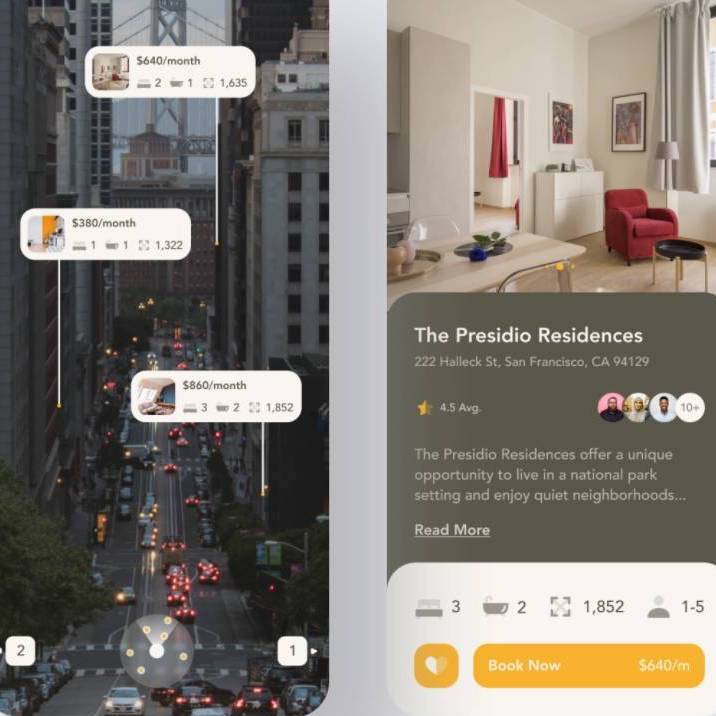 Using a smart phone's camera function to detect its surroundings, VisionX populates the screen with information about the homes and real estate the camera is pointed at. The number of bedrooms and bathrooms, square footage, price or rent and convenient links to additional information of properties are all there.
Kuudar said VisionX's search tool tailors itself to users' unique preferences by gleaning a broad array of information from what sports they like to what restaurants they frequent.
"It gets to know the type of person you are, the places that fit who you are, and it's able to suggest homes that fit your behavior," he said. "You aren't searching — you're guided."
Jeff Whalen, STEM entrepreneur in residence at the Moran College, said Kuudar and Leonard have identified a point of pain for people looking for a home and that VisionX promises to be an effective prescription.
"They are entering a market that has seen very little disruption since Zillow and Trulia came around, which was a long time ago," Whalen said. "And the in-person physicality of driving to the home, meeting the real estate agent and touring the home with them has been around forever. VisionX identifies places that fit the unique needs of buyers and allows you to view them discreetly at their leisure in an engaging process."
He added: "It also means less driving for agents and those searching for a home."
The VisionX database boasts about 2,500 Tallahassee homes, and about 1,000 people are using the app, Kuudar and Leonard said. The local real estate community has been receptive, they added, and two local agencies have signed on to use the app.
"They've demonstrated that the market demand is there," Whalen said of Leonard and Kuudar. "I think they're going to grow from here and expand through the Southeast. When it gets to that point, I think they are very well positioned for acquisition if that's what they want." 
Leonard expressed appreciation for the faculty members at the Moran College.
"Anytime we reached a crossroads or we weren't sure what to do, they were always willing and able to help us — most professors don't work with you at 8 a.m. on a Saturday to help you with a pitch," she said. 
While noting Kuudar's story, Leonard said she has seen enough people struggle through the process of buying a home to know that no matter how far VisionX goes, its aims are worthy.
"Everyone deserves a home, and we get to assist people in that process," she said. "It's really nice to know that a lot of people can benefit from what we're doing." 
For more information, visit https://jimmorancollege.fsu.edu.