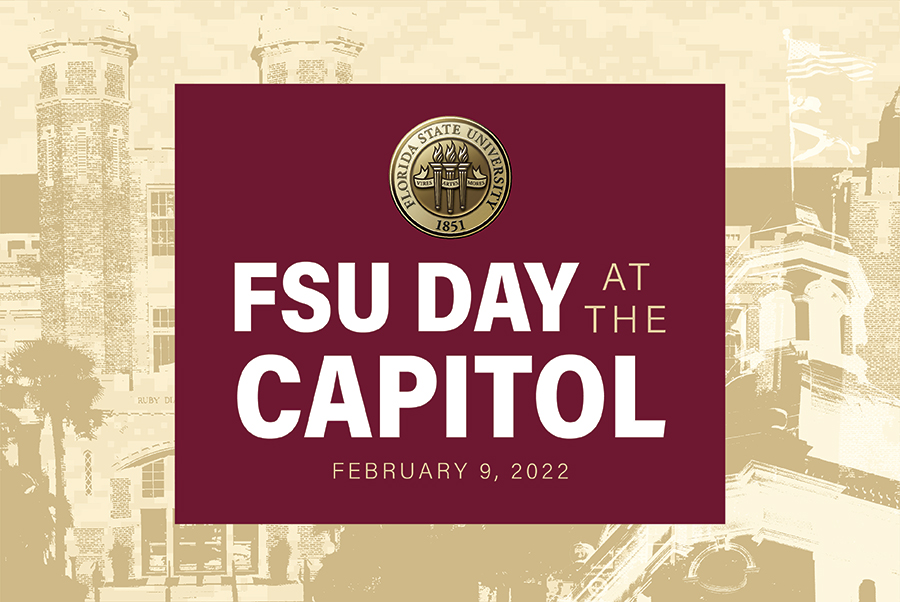 The Florida Capitol will gleam garnet and gold once again as Florida State University celebrates its academic and athletic success during FSU Day at the Capitol.
The event will take place from 10 a.m. to 2 p.m. Wednesday, Feb. 9, at the Florida Capitol, 400 S. Monroe St.
FSU Day gives the university's colleges and academic departments the opportunity to showcase their achievements and the university's significant contributions to the state through informative displays set up on the first three floors of the Capitol.
An outdoor pep rally will take place from 11:30 a.m. to 1 p.m. at the plaza between the historic and new Capitol buildings. The event will feature FSU President Richard McCullough and the university's legislative alumni, members of the three-time national championship women's soccer team along with performances by the FSU pep band, cheerleaders and Flying High Circus.
McCullough and the FSU Student Government Association will co-host "Seminole Evening" from 5:30 to 7:30 p.m. Tuesday, Feb. 8, on the 22nd floor of the Capitol. The Members of the FSU Student Government Association will recognize legislators at the reception.
All events are free and open to the public. Fans are encouraged to wear garnet and gold apparel during the festivities.
Be a part of FSU Day online!
Throughout FSU Day at the Capitol, you can stay in touch and be a part of the event by:
Following @floridastate social media accounts for the latest #FSUDay posts and shares from the Capitol, across campus and Florida.
Be sure to use the hashtag #FSUDay and follow FSU's Facebook, Twitter and Instagram.
This is also a great chance to share your FSU spirit by posting images of yourself wearing garnet and gold! Please include #FSUDay and tag @floridastate!
Share content throughout the day from the Florida State University main accounts (Facebook, Twitter and Instagram).
Watch and share the first #FSUDay video to be posted at 10 a.m. from the main Florida State social media accounts, highlighting FSU alumni and friends in the Legislature.
For more information, visit http://www.advocateforfloridastate.fsu.edu/.