The Florida State University Board of Trustees and special guests celebrated the legacy of President John Thrasher and FSU First Lady Jean Thrasher during a June 16 reception at the University Center Club.  
BOT Chairman Ed Burr emceed the event, which included remarks by former BOT chair Allan Bense, Provost Sally McRorie, and Kyle Hill, former student body president. Leon County Commissioner Rick Minor and County Administrator Vince Long also presented a proclamation in President Thrasher's honor.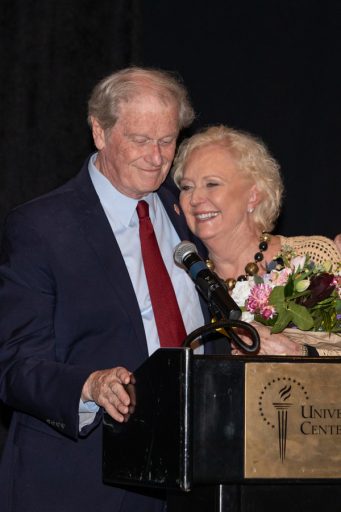 Bense, who served as board chair during the presidential search in 2014, said President Thrasher will be remembered for the exceptional character he demonstrated over his tenure. 
"You will live long in memory among the greatest of the people who have led this university," Bense said. "Your legacy will be one of enormous influence. It will be remembered as one of fairness, respect for professors, respect for staff, respect for students and a reverence for the traditions of this great university above all. But mostly, you will be known for your humility." 
McRorie recognized the Thrashers for their efforts to champion student success and increase the university's national profile.  
"Making a difference is what John and Jean Thrasher do," she said. "We — their faculty, staff and administrative leaders — will be forever grateful for the amazing difference they have made here." 
Hill, representing the student body presidents over the past seven years, remarked how the Thrashers created a warm and familial environment at FSU. 
"I think young men and women need to hear two things over and over to be successful," said Kyle Hill, who served as FSU's student body president in 2017-2018. "I'm proud of you,' and 'You have what it takes.' As student body president, I got to hear that from you — and I think that was your message to all students." 

Thrasher thanked his leadership team, as well as the students, faculty, staff and alumni and members of the community for supporting him and Florida State University. 
"As I look around this room, I see so many folks who have meant so much to Jean and I," he said. "You've been supportive of us, but you love this university, too, just like we do, and that to me is what makes Florida State great. 
"People who volunteer every single day because they care about this university, and they care about the young people. We are blessed to have some of the best and brightest young people, and they are going out and making a difference in the world. And that's what's special about this place. That's why we get up every single day." 
The event also featured a special video presentation, a performance of the "Hymn to the Garnet and Gold" by the University Singers and closing remarks by the Rev. R.B. Holmes of Bethel Missionary Baptist Church in Tallahassee. 
Share your gratitude and appreciation for President John Thrasher and FSU First Lady Jean Thrasher by signing the guest book at thrasherlegacy.fsu.edu.