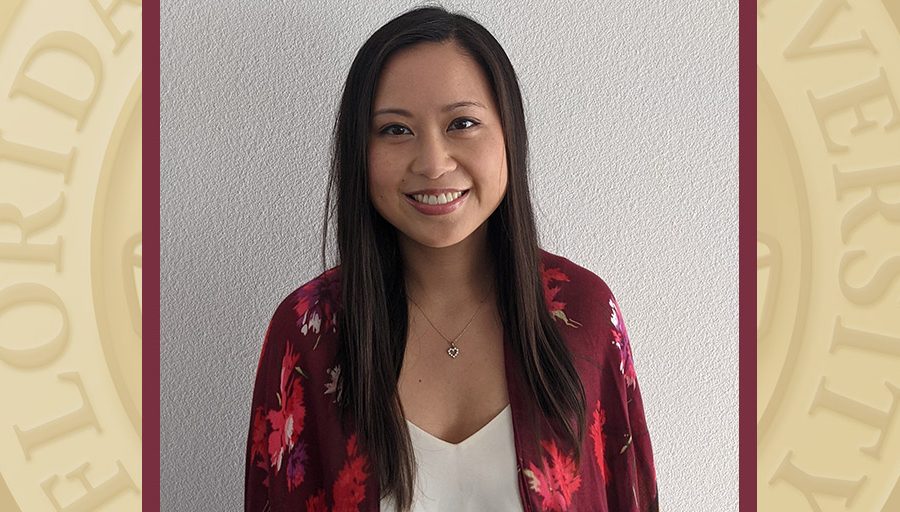 A Florida State University English professor has been awarded a fellowship from the Andrew W. Mellon Foundation.
Assistant Professor Frances Tran will receive a Career Enhancement Fellowship administered by the Institute for Citizens & Scholars and funded by the Andrew W. Mellon Foundation. Her fellowship term runs from June 1 through Dec. 31.
Tran, who came to FSU in 2018, earned her doctorate at the Graduate Center of the City University of New York in 2016 and specializes in contemporary Asian American and multiethnic literatures and popular culture.
"Apart from the more practical benefits it affords, I am especially honored to receive this fellowship because of its mission to support scholar-teachers who are committed to advancing racial justice," Tran said. "The effort to create more room for minoritized subjects, voices and knowledges in the academy is what animates my research and teaching, so it feels wonderful to receive recognition for this work."
Tran's research draws on science and speculative fictions to explore the practices and pedagogies they illuminate for critiquing the violence of racialization and social inequity.
The Career Enhancement Fellowship seeks to increase the presence of underrepresented junior and other faculty members in the humanities, social sciences and arts by creating career development opportunities for selected fellows with promising research projects. The 2021 fellows are drawn from a variety of institutions from across the U.S. and work in such disciplines as African American studies, English, women's and gender studies, sociology and more.
Tran was selected as a fellow based on her proposal for a manuscript project, "Sensory Acts: On the Spectacle of Asian Racialization and the Politics of Futurism." She will receive a six-month sabbatical stipend of $15,000; a research, travel, or publication stipend of $750; mentoring; and invitation to a professional development retreat.
Because of ongoing COVID-19 restrictions, this year's planned summer retreat will be held virtually.
"Winning this fellowship means a lot because it gives me the time and resources to focus on the development of my book manuscript," she said.
The manuscript project takes inspiration from the growing body of cultural productions and scholarship on Afrofuturism, indigenous futurisms and other ethnofuturisms that aim to reclaim "the future" for minoritized subjects who have been historically written out, excluded from, or denied access to livable futures. Through such futurisms, minoritized authors, artists and activists demonstrate the power of speculative language and tropes to realize worlds defined by flourishing life instead of normalized death.
"The urgency of this work is captured in ongoing struggles against anti-Black racism and for indigenous sovereignty, which illuminate how the present and future remain sites of material contestation," Tran said. "As an Asian Americanist scholar, however, I have also had to grapple with the ways in which something like Asian futurism, a genre that includes techno-orientalist fantasies, narratives of 'rising Asia,' and speculative fiction, does not align comfortably with the call for livable futures — which is also a call for livable presents — that animates Black Lives Matter and Afrofuturist aesthetics."
The 2021 fellows were selected from a highly competitive pool of applicants and represent unique perspectives within their disciplines and are committed to increasing diversity and inclusion on campus through service and research.
Robert O. Lawton Professor and English department chair Gary Taylor praised Tran for her scholarship and highlighted the outstanding significance of her achievement.
"Dr. Tran is one of only eight faculty from English departments all over the country to receive this prestigious, and extremely competitive, fellowship," Taylor said. "This award confirms our assessment of what a promising scholar and teacher she is. She has already had a significant impact on our entire department — above and beyond what her research and her teaching have given to the students lucky enough to take her classes."
For 75 years, the Institute for Citizens & Scholars has helped shape American higher education, preparing leaders and engaging networks of people and organizations to meet urgent education challenges, with the goal of creating an informed and hopeful citizenry.