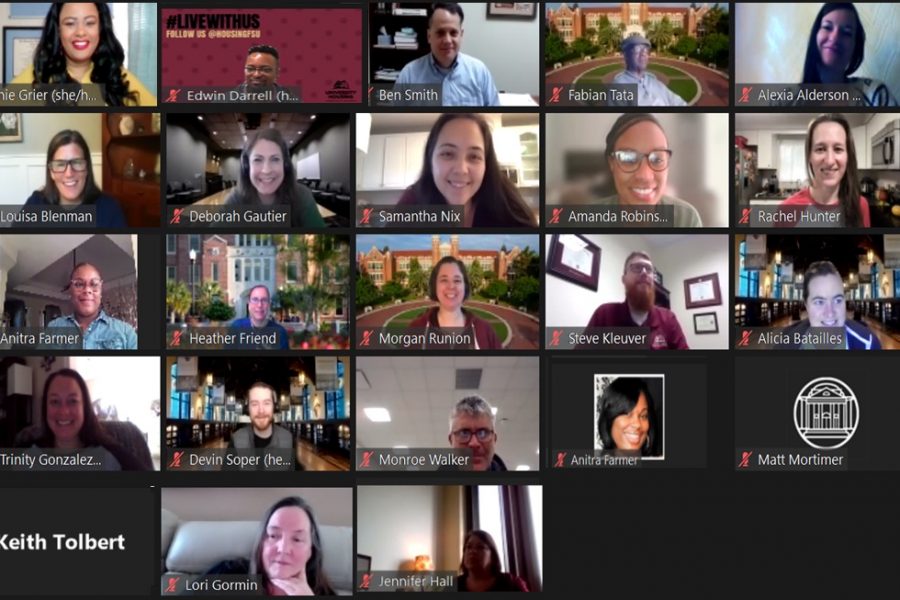 The Advance Leadership Development Program (ALDP) at Florida State University announced its class of 2020-21 graduates Friday.
The eight-month, cohort-based professional development program wrapped up on April 2, 2021 with a group comprised of 25 faculty and staff members.  
ALDP is sponsored by the Office of Human Resources and is a training certificate program designed to foster the growth and development of high-performing leaders and emerging leaders at Florida State University. 
During this academic year, participants engaged in a series of targeted virtual professional development workshops designed to:    
Expand leadership knowledge and skills for today's changing higher education environment

 

Increase knowledge and impact in leading teams

 

Enhance effectiveness in current roles

 

Increase commitment to a strategic and innovative culture

 

Strengthen FSU's diverse culture by building networks to increase collaboration

 
FSU employs a high-performing workforce and strives to retain that talent by providing professional development opportunities such as ALDP to build on existing strengths and skillsets.  
Facilitators for the 2020-2021 program sessions were Cameron Beatty, assistant professor of educational leadership and policy studies; Randy Blass, Executive Director of the Jim Moran Institute for Global Entrepreneurship and Professor in the College of Business; Kyle Clark, Vice President for Finance and Administration; Kathleen Daly, former Associate Vice President, University Relations; Carolyn Egan, FSU General Counsel; Susan Fiorito, Dean of the Jim Moran College of Entrepreneurship; Renisha Gibbs, Associate Vice President for Human Resources and the Finance and Administration Chief of Staff; Annie Grier, Senior Coordinator for Diversity & Inclusion, Office of Equity, Diversity and Inclusion; Kathy Guthrie, Associate Professor, Educational Leadership and Policy Studies; and Lynn Hogan, Assistant Provost for Quality Enhancement and Director of Liberal Studies.   
Members of the 2020-2021 ALDP Cohort:
Alicia Batailles, Center for Undergraduate Research and Academic Engagement
Louisa Blenman, International Programs
Alexia Chamberlynn, Gift Services
Edwin Darrell, University Housing
Dana Davis, Facilities Finance/UBA
Anitra Farmer, Transportation and Parking Services
Heather Friend, Office of Inspector General Services
Deborah Gautier, Engineering Research & Graduate Studies 
Trinity Gonzalez, Oglesby Union
Lori Gormin, Information Technology Services 
Annie Grier, Office of Human Resources
Jennifer Hall, Office of Financial Aid
Rachel Hunter, School of Dance
Steve Kleuver, University Housing
Casey Laurienzo, Office of Procurement Services
Matt Mortimer, College of Law/ITAPP
Samantha Nix, Institutional Research
Amanda Robinson, Athletics – Sports Medicine
Morgan Runion, Facilities
Benjamin Smith, School of Physician Assistant Practice
Devin Soper, University Libraries
Fabian Tata, Center for Academic Retention & Enhancement
Keith Tolbert, FSU Foundation
Nicole Troelstrup, University Counseling Center 
Monroe Walker, Information Technology Services
For additional information about the program, visit the Human Resources website. For questions about the program, contact the Office of Training and Organizational Development at training@fsu.edu or (850) 644-8724.