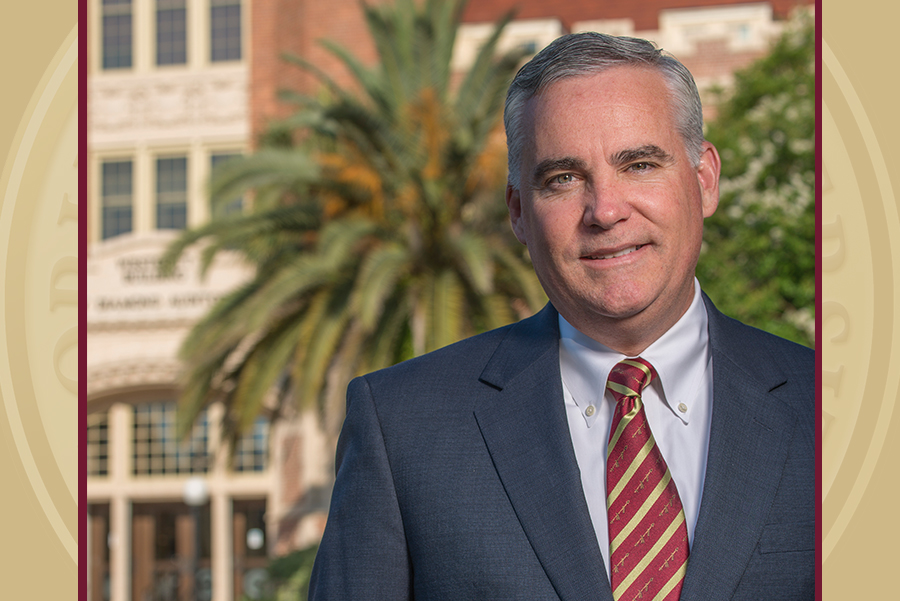 Florida State University President John Thrasher announced today the appointment of Michael "Mike" Brady as FSU's Faculty Athletics Representative (FAR). Brady, the Department Chair and Bob Sasser Professor of Marketing at Florida State will begin his role July 1.
"I am extremely pleased that Mike has agreed to serve in this vital role," Thrasher said. "He has been a leader on our campus and brings a unique set of skills to this position, which I believe is one of the most important on any campus."
Brady will replace Pam Perrewé, Robert O. Lawton Distinguished Professor and Haywood and Betty Taylor, Eminent Scholar of Business Administration, who is retiring.
"Our student-athletes, the university and the Atlantic Coast Conference benefitted so much from Dr. Perrewé's outstanding work in this role for nine years, and I want to express my sincere appreciation for all she has done," Thrasher said.
In addition to his 18 years on the FSU faculty, Brady is an affiliated faculty member or honorary professor at the University of Maryland, Arizona State University, the University of Washington, the University of Queensland, Australia, UIBE, China. His primary research interest lies at the intersection of customers and employees in frontline service transactions.
"We simply could not ask for a faculty member with better knowledge of intercollegiate athletics and the student-athlete experience than Mike," said FSU Vice President and Director of Athletics David Coburn. "He has great experience having served on our athletics board, and we are most grateful that he has agreed to serve in this capacity."
Brady has won numerous awards, including the Christopher Lovelock Career Contributions to the Service Discipline Award, Academy of Marketing Science and University outstanding teacher awards, and the William R. Jones award for mentoring minority doctoral students. He is a member of the Board of Directors of the American Marketing Association (AMA), past president of the AMA Academic Council, and an associate editor for the Journal of the Academy of Marketing Science. He is the current editor-in-chief of the Journal of Service Research.
"I am thrilled to serve FSU in such an important way and especially proud to be back involved with the day-to-day activities of the athletics program," Brady said. "Thanks to President Thrasher for trusting me with such an important role."
A native of Jacksonville, Florida, Brady played four years of baseball at Florida State and then professional baseball in the Los Angeles Dodgers organization. His father, Jim Brady, is the former president of Jacksonville University and played in the major leagues for the Detroit Tigers. He and his wife, MJ, have two children, Jack and Mary Kate.