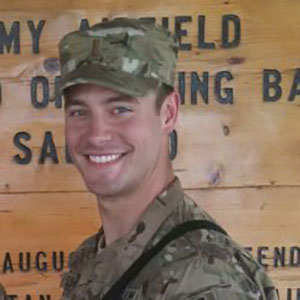 Friends, military members, veterans and Florida State University community members around the world are joining together this month to honor the life and legacy of a beloved FSU alumnus and decorated soldier.
The eighth annual 2nd Lt. Justin Sisson 5K Run/Walk for the Fallen commemorates and celebrates the life and legacy of Sisson, an FSU and FSU Army ROTC alumnus, who was killed in action in Afghanistan in June 2013.
The event is also a fundraiser for the Justin Sisson Outstanding Cadet Scholarship fund, which as of 2021, has provided nearly 30 scholarships to deserving FSU ROTC cadets and student veterans who embody Sisson's courage, dedication and devotion to family and country.
The COVID-19 pandemic has pushed this year's race into a virtual format, and racers will have from 7 a.m., Saturday, March 13, to 7 a.m., Sunday, March 21, to complete their run or walk.
"Despite the challenges the COVID-19 pandemic has presented for our FSU ROTC community, it is important we take time to remember Justin's sacrifice and celebrate his life," said Army Maj. Michael Smith, professor of military science. "We usually incorporate a virtual component into this race, so participants from around the world can join in from wherever they are stationed, and that gave us a great advantage in moving to an entirely virtual format for 2021."
Sisson attended Florida State on an ROTC scholarship after turning down two separate appointments to the U.S. Military Academy at West Point. During his freshman year at FSU, Sisson joined the National Guard to get a better understanding of what the soldiers he would eventually lead needed in an officer. He then chose to deploy for a year to Mosul, Iraq, as a private, first class, between his sophomore and junior years at FSU.
Upon returning to the university in 2010, Sisson completed his education and earned the George C. Marshall Award as the top cadet in FSU ROTC. Following his 2012 graduation, he was commissioned as a second lieutenant and assigned to the Army's 101st Airborne Division, based at Fort Campbell, Kentucky. Sisson deployed to Afghanistan in 2013 and was leading his platoon and providing security for Afghans when he was killed by a suicide bomber.
"Second lieutenant Sisson fully embodied what it meant to be selfless, caring, hardworking and dependable. His legacy is an example for us in the Seminole Battalion to follow, to strive to make a difference in other people's lives, just as he has made a difference in ours," said Cadet Perrin Austin, a hospitality major and 2019 Sisson scholarship recipient who will commission active duty this spring into the Quartermaster Corps.
The 2020 iteration of the event took place just before the coronavirus pandemic drove suspension of in-person events at FSU, and the Sisson family looks forward to seeing Justin's fellow soldiers and the people who knew him and hearing their stories each year.
"We are excited to continue the tradition of the 'run/walk with Justin' for the 8th consecutive year. Not only does this event honor our son's memory and adds to his legacy, but it is for a great cause," said Sisson's mother and father, Phyllis and Kevin. "Supporting the education of future leaders and those who have so selflessly served is an honor for us. In addition, this event has offered an opportunity for many of our current soldiers, veterans, and members of the military community to come together to share and heal. We know Justin would be proud."
Those interested may register via Eventbrite until the morning of race week and are invited to tag photos and videos of their run with #RunForJustin.
Event participants are encouraged to join the Sisson 5K community by logging their race on the Strava activity app using the group name "8th Annual Sisson 5K" and this Strava group link. 
Members of the FSU community who wish to support the scholarship directly may read more about Sisson or make a gift to the Justin Sisson Outstanding Cadet Scholarship fund using the FSU Foundation's Spark platform.