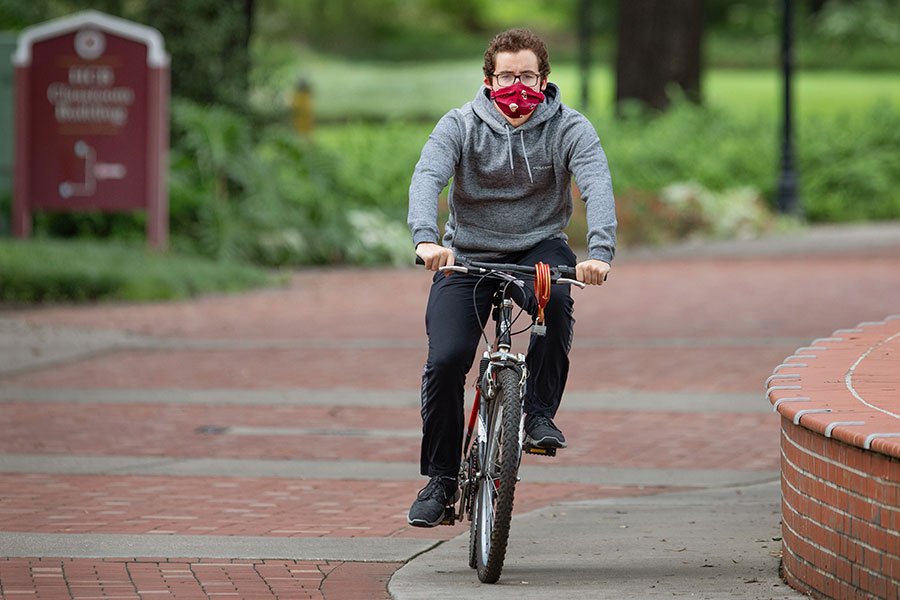 Florida State University has been recognized as a Silver-Level Bicycle Friendly University with an award from the League of American Bicyclists, the premier grassroots advocacy organization encouraging better bicycling and protecting the rights of people who bike.
The award recognizes FSU's achievements in promoting and enabling safe, accessible bicycling on campus.
"It is so energizing to have Florida State University among our cohort of 212 Bicycle Friendly Universities across the country," said Bill Nesper, executive director of the League of American Bicyclists. "These colleges and universities are leading by building healthy environments where people can safely get around while improving the well-being of their community by enabling access to sustainable transportation options."
The Bicycle Friendly University program now includes 212 colleges and universities in 47 states and the District of Columbia, and is part of the League's Bicycle Friendly America program, which also awards communities and businesses with certifications as part of its mission to create a Bicycle Friendly America.
"FSU is honored to be recognized as a Silver-Level Bicycle Friendly Campus as this recognition helps highlight our efforts to improve our bicycling culture as we strive to decrease our reliance on single-occupancy automobiles as the primary mode of transportation on-campus," said Richard Rind, director of Transportation and Parking Services at FSU.
FSU encourages bicycling as an easy option for transportation by equipping all Seminole Express and StarMetro buses with easy-to-use bike racks and providing bicycle racks outside of almost every building on campus. Sustainable Campus' reCycle Bike program also supports bicycling as a convenient mode of transportation by renting refurbished bicycles to FSU students.
"The Silver-Level Bicycle Friendly Campus designation helps to illustrate the work that is happening across FSU to make our university more sustainable," said Cyndel Brunell, engagement coordinator for Sustainable Campus. "By supporting bike commuters with a Bicycle Friendly Campus and programs like reCycle Bike, we are able to do our part to reduce transportation-related emissions."
To learn more about biking around campus, visit transportation.fsu.edu/bicycles.