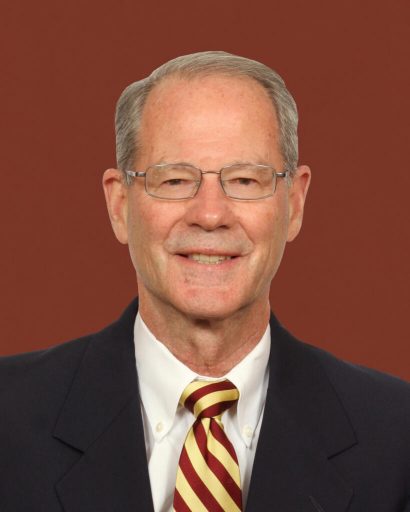 Florida State University President John Thrasher announced the promotion of David Coburn to vice president and director of Intercollegiate Athletics Friday during a report to the university's Board of Trustees.
Coburn became Florida State's 12th full-time Athletics Director in May 2019 after serving as the interim athletic director the previous eight months. He has guided the department through arguably the most challenging period in the history of intercollegiate athletics due to the unpredictability of the COVID-19 pandemic.
"David Coburn has shown extraordinary leadership during these uncertain times," Thrasher said. "He's had to make some tough decisions over the past year, and when this pandemic is over, I'm confident that his sound judgment and experience will inevitably help to strengthen our championship Athletics programs."
Under Coburn's leadership, Florida State student-athletes and coaches have navigated tremendous obstacles during the pandemic, while incorporating safety protocols into daily operations, instituting mass COVID-19 testing and adjusting competition schedules on a moment's notice.
Last year, FSU athletics teams enjoyed across-the-board success before collegiate sports were forced to stop competition in March 2020 due to the COVID-19 pandemic. Overall, FSU had five teams ranked in the Top 10 nationally, and 10 of its 13 spring sports ranked among the Top 25 in 2019-2020.
During Coburn's first year leading the athletic department in 2018-2019, Florida State placed seventh in the Learfield IMG College Directors' Cup. It was the highest finish for any ACC school and also the highest-ranking for FSU athletics in a decade. FSU soccer captured the NCAA National Championship, baseball reached the College World Series, men's basketball advanced to the Sweet 16 of the NCAA Tournament and 19 of FSU's sports participated in NCAA Championship play.
Before taking the helm in Athletics, Coburn served as chief of staff to both FSU President Eric Barron and Thrasher.
He is a 34-year veteran of the Florida legislative process, most recently serving as staff director of the Florida Senate Committee on Ways and Means before coming to FSU. He served as chief of staff of the House of Representatives under two different Speakers and as Chief of Staff of the Senate under Senate President Ken Pruitt. He also served as director of Planning and Budgeting for Gov. Lawton Chiles from 1992-1994.
Coburn is a triple Florida State alumnus having earned a bachelor's degree, a master's degree in urban and regional planning and a Juris Doctorate from the FSU College of Law.