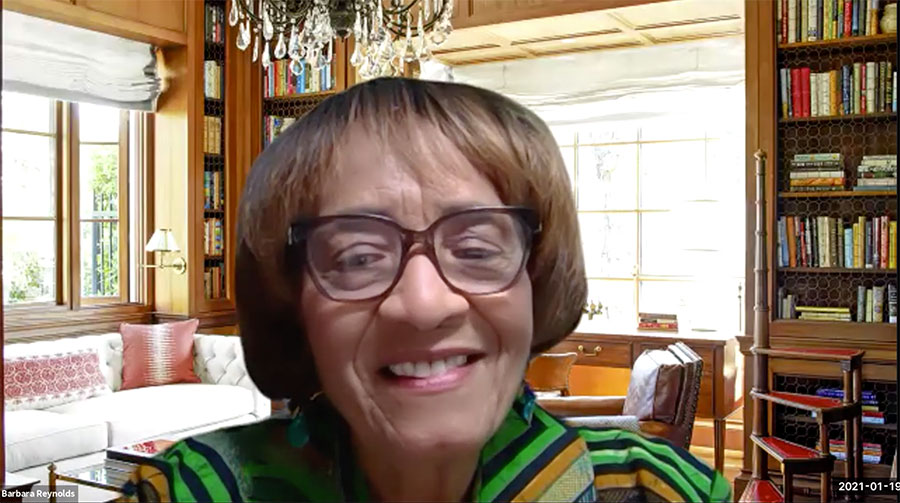 Students, faculty and staff at Florida State University gathered virtually for an evening of dialogue and discourse to honor the legacy of Coretta Scott King during the MLK Commemoration Celebration Tuesday, Jan. 19.
The event featured award-winning journalist, author and minister Barbara Reynolds, whose most notable work is "My Life, My Love, My Legacy," Coretta Scott King's memoir as told to Reynolds. Assistant Professor Shantel Buggs from the College of Social Sciences and Public Policy facilitated the conversation with Reynolds, which highlighted Scott King's contributions to the civil rights movement.
Describing Scott King as a profile of grace and dignity, Reynolds was quick to point out that it didn't start that way. As a teenager, Scott King picked cotton to earn money so she could attend high school. Her vocal talent led her to earn a scholarship to the New England Conservatory of Music in Boston, where she became a trained concert singer and met her future husband, Martin Luther King Jr.
"Although she was married to Martin, Coretta Scott King was also married to the movement," Reynolds said. "She was courageous, and the degree of her courage was what so impressed me and still does to this day."
The late reverend's wife took on a career in social justice that was analogous to her husband's.
Scott King was a member of the USA Delegation to the United Nations and sat on a commission that helped pick judges for the federal courts. She was credited as being the main force behind the election of President Jimmy Carter and became president of the King Center, where she trained thousands of law enforcement and gang members to move with the principles of non-violence.
Scott King also is credited with preserving her husband's legacy. It took her 15 years and 10 million signatures before the first federal King holiday was celebrated in 1986.
"The tragedy of it is that this woman put 15 years into doing something they said couldn't be done, and we don't think of her birthday, which is April 21," Reynolds said. "It's my dream for her that one day we will give her honors for building the drive to do something that they said would never be done."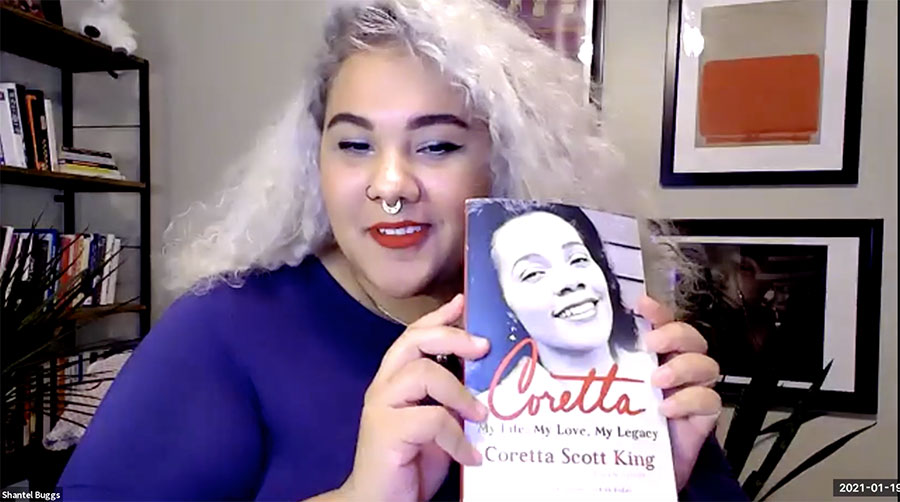 To honor Scott King's legacy and to keep the King dream flourishing, Reynolds told attendees to keep bending the arc of the universe toward justice.
"What you're doing at Florida State is lifting up the dream," Reynolds said. "The more we talk about it, the more things will get done. We have to remember that many of us are living the dream right now, and we've got to keep it moving, because as King said, the arc of the universe always bends toward justice, and we need to keep bending it until there is justice."
Reynolds' talk followed opening remarks by FSU President John Thrasher and host Annie Grier, FSU's senior coordinator for Diversity and Inclusion. Thrasher noted that the events of the past year have proven there's still much work to do, but that students give him hope for the future.
"Our students are already making their mark on the world through service and engagement, and they are addressing many of the things that were important to King: human rights, social justice and economic opportunity," Thrasher said. "Now more than ever, it is imperative that we keep King's dream alive."
Grier told the audience that crafting her remarks had been difficult because as a Black woman, she took this event personally, and she invited attendees to do the same.
"As a Black woman myself, it was challenging to try to put into words what I think and how I feel when it comes to understanding and applying the words of King," Grier said. "Writing this introduction was so challenging because I took it personally. It was not about performing well, but about communicating, perhaps to people who were hearing it for the first time, what this week and what King's legacy means to me."
Following those remarks, event organizers honored faculty and staff members for their contributions to the campus community. Gregory Harris, associate dean for Academic Affairs in the College of Human Sciences, and Earl Levison, senior administrative specialist in the Office of the Vice President for Student Affairs, received the Martin Luther King Jr. Distinguished Service Award.
Harris shared words from one of King's most famous sermons: "Darkness cannot drive out darkness; only light can do that. Hate cannot drive out hate; only love can do that."
"I'm deeply humbled and extremely excited to receive this award," Levison said. "I look forward to continuing to serve our campus and local community through acts of service and continue to try and be a difference maker."
Challen Wellington, a graduate assistant at the Center for Leadership & Social Change, presented the 2020 Dr. Martin Luther King Jr. Book Stipend Awards. The stipends support FSU students completing their education and are available on a competitive basis to undergraduate and graduate students. The awards are endowed by the Office of the Vice President for Student Affairs, the FSU National Black Alumni and the New Student & Family programs.
This year's scholarship recipients were:
Alexis Butler
Jaze Shaw-Young
Victoria Paul
Arlisha McQueen
Joshlyn Thomas
Travis Waters
Faculty, staff and administrators who completed the FSU Diversity & Inclusion Certificate were also recognized at the ceremony. The goal of the program is to find ways in which members of the FSU community can assist in creating a welcoming and inclusive campus for all.
This year's certificate recipients were:
Muhammad Janneh, Facilities (Housing)
Ann Glennie, Classics
David Bateman-Schieler, Center for Leadership & Social Change
Tara Baldrick-Morrone, Religion
Makana Craig, PCC Nurse Anesthesia Program
Misun Lee, doctoral student, The Reubin O'D. Askew School of Public Administration and Policy