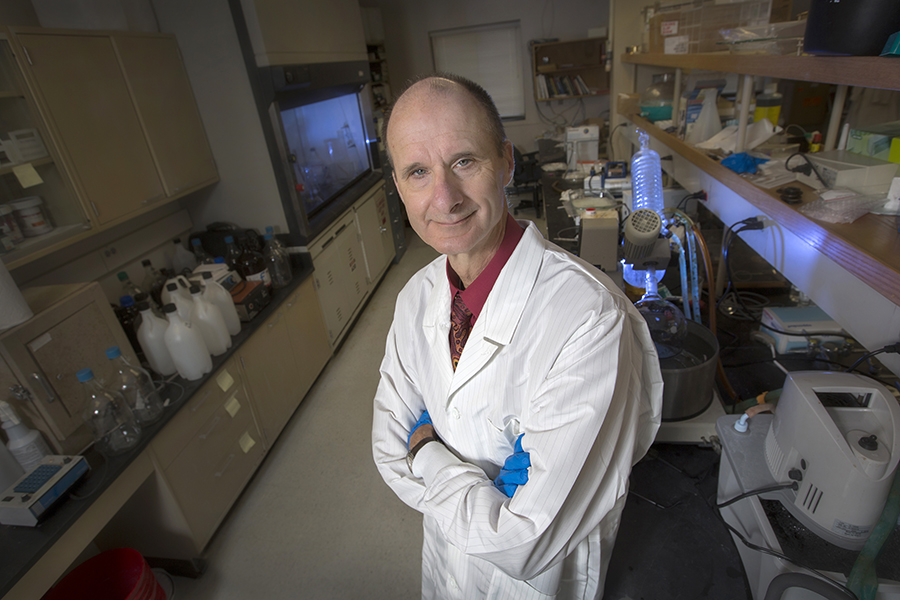 A Christmas gift can have a lasting impact.  
For Gary K. Ostrander, it was a GI Joe scuba diver he received when he was about 8. 
"I became enamored with scuba diving and going under water, and then I saw Jacques Cousteau and I said 'OK, you have diving, and you have science,'" said Ostrander, an accomplished biologist and the Florida State University Vice President for Research. "And I've never wavered from that. I just find the whole underwater world a fascinating place, and there's so much we don't know about it." 
Now, after spending the past 25 years focused on administrative roles at three universities – including more than eight at FSU – Ostrander is returning to the laboratory to spend the next phase of his career fully focused on his own research, some of which takes place underwater.  
Ostrander's last day as vice president will be Dec. 31. On Jan. 1, his sole duty will be as a faculty member in the College of Medicine. 
"While this is a very rewarding and exciting position, I have always said that I would someday like to return to one of the very best jobs on this campus," Ostrander wrote in a letter to faculty earlier this year. 
Ostrander made his decision to step down last January, but at the time, nobody had any idea that most of 2020 would be spent dealing with the fallout of the COVID-19 pandemic. He initially envisioned an uneventful transition out of the job, gradually handing the reins over to Interim Vice President for Research Laurel Fulkerson while he thought about which research projects to pursue.  
Instead, it has involved working at a breakneck pace, developing policies to scale down research operations while protecting critical work and complying with ever-changing policies from funding agencies. It also required leading a monumental effort to set up a testing laboratory for the campus and local community in partnership with Tallahassee Memorial Healthcare.  
"I thought I'd be reading research papers at night, figuring out what I wanted to do and maybe setting up some field work," he said. "That obviously hasn't happened. I haven't even thought about it." 
Ostrander, who grew up in Washington, started his research career with graduate and postdoctoral work at the University of Washington, making stops at Oklahoma State University, Johns Hopkins University and University of Hawaii before taking the position of Vice President for Research at Florida State in 2012.  
His research initially focused on coral reefs and sharks, but he's also pivoted to examine viral therapeutics and holds patents related to the treatment of influenza, zika and COVID-19. He has authored/co-authored more than 90 peer-reviewed publications, edited four books and co-authored a field guide. 
In recent years though, he has spent the bulk of his time focused on his administrative duties, expanding the role of research at Florida State.  
"Under Gary's brilliant leadership FSU has reached record levels of research funding year after year contributing mightily to FSU's stellar trajectory in national rankings and research productivity," said FSU Graduate School Dean Mark Riley. 
The research operation has grown substantially over the past nine years, with grant money from the National Institutes of Health doubling, and total external funding for research reaching a record $251 million this past year. Ostrander also has poured more than $28 million into startup packages to attract rising stars and senior faculty to the university.  
Though a core part of his job description is to grow the research funding portfolio, Ostrander also came into his position with a deep appreciation for the arts and humanities and their role in the university. He plays the piano and drums – his wife Frances surprised him with a drum set last Christmas – and during his time at Johns Hopkins University, he became friends with Morton and Tobia Mower, owners of the world's largest private collection of Rembrandt etchings. 
In 2013, Ostrander convinced the Mowers to bring their collection to FSU for a special, two-week exhibition: "A Fortnight of Rembrandt: Selected Etchings from the Mower Collection." The event shattered attendance records at the FSU Museum of Fine Arts and brought in more than 12,000 visitors.  
Anne Coldiron, the Krafft Professor of English, said Ostrander's interest in the greater university community made him both a more visionary and pragmatic leader. 
"Not only creative and shrewd in promoting FSU's and researchers' interests, he is also deeply humane," Coldiron said. "Too many academics are narrowly interested in their own specialty, but Ostrander understands arts and humanities as well, because he has a rare, capacious understanding of what a research university can be. He gets the dollars right but also understands value in research that isn't about dollars." 
Ostrander's broad interest in the value of the university also led to bolstered business connections for FSU. He created the Research Community Partner Award specifically to recognize the contributions Big Bend residents have made to the research enterprise at Florida State.  
Ed Mansouri, founder and CEO of WeatherSTEM, received the award in 2016 in recognition for his work on the board of the FSU Coastal and Marine Laboratory and his assistance in helping commercialize Autism Navigator, a project from the College of Medicine.  
Mansouri noted that his relationship with Ostrander also led to several WeatherStem stations – mobile, hyperlocal weather systems – being placed at several locations around the university and at the FSU campus in the Republic of Panama.  
"It is hard to put into words the tremendous support and encouragement Dr. Ostrander has meant to my WeatherSTEM company," Mansouri said. "Helping us implement WeatherSTEM at our first international location at the FSU Panama City Campus in Central America is just one of numerous opportunities he has created for WeatherSTEM." 
Mansouri said he's looking forward to seeing what Ostrander does as a member of the faculty.  
"I am fortunate to be a colleague of his and even more blessed to be his friend," Mansouri said. 
With the ongoing obstacles related to the pandemic, Ostrander acknowledged he probably will be working right through Dec. 31 to finish out his time as vice president for Research.  
However, he said he is excited to think ahead to the future — about spending more time with his wife, son, stepchildren and grandkids, about reading more books and pursuing his passion for underwater photography.  
But he's also excited for the work.  
He already has received invitations from colleagues at the National Institutes of Health and several marine laboratories to collaborate. He's also considering what type of students he could take on in the coming years and what classes he'd like to teach.  
"I'm very fortunate that people think I'm still relevant and want to work with me," he said.