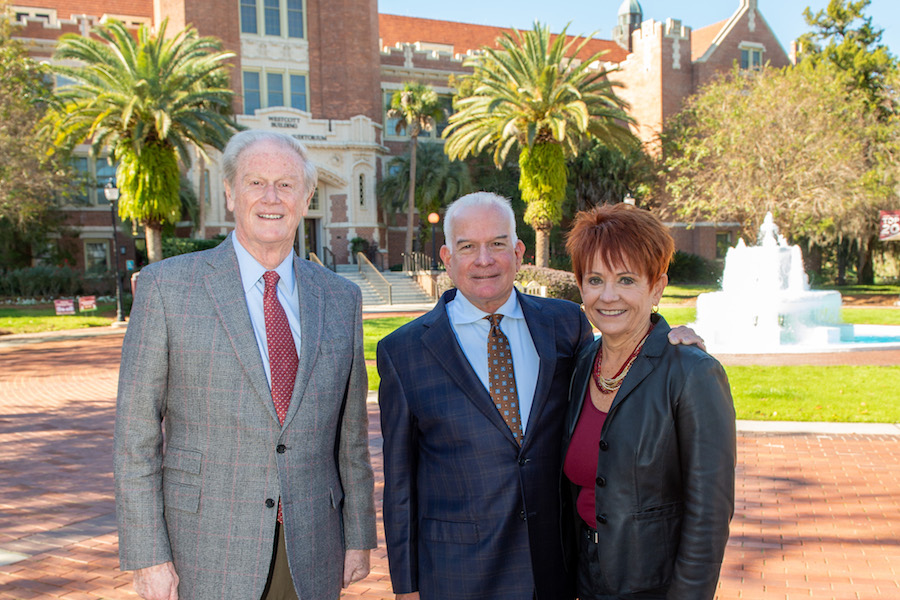 A pair of Florida State University graduates are giving back to the place where they say their success started with a $1.25 million gift to the FSU College of Business. 
Gail and Bob Knight, an entrepreneurial couple who built and grew the largest event photography company in the world, say they have been successful because they invested in each other as much as in their Tallahassee-based business. Now, they want to share their success with their alma mater.
The couple's $1.25 million gift will establish the Gail and Bob Knight Auditorium in Legacy Hall, the FSU College of Business's new home. They consider their gift an investment in both the College of Business and the next generation of Seminoles.
"We couldn't be happier to give back to the university because it is where Gail and I met and started our company," said Bob, who graduated in 1981 with a degree in speech communications. "FSU is such an important part of our story, not only because we are alums, but also because FSU students and the administration were our first clients."
Gail, who earned an accounting degree in 1982, said the gift was an especially appropriate one given their company's focus on event photography. 
"As a College of Business grad, it's an honor to know that Bob and I will have our name on the new auditorium," she said. "We were joking that, considering how much of our time professionally and personally was spent in auditoriums taking pictures of graduation ceremonies, we like the idea of having an influence in FSU's newest presentation venue."
When the couple met at FSU in 1979, Bob had a fledgling photography business focused on taking pictures at fraternity and sorority events. He hired Gail shortly after meeting her and the company began a remarkable upward trajectory that would take the business — and their relationship — to new heights.
Married in 1984, the Knights led Bob Knight Photography (now Iconic Group) through several decades of growth and prosperity, employing tens of thousands of FSU students as part-time photographers, salespeople and office staff along the way. With Bob as CEO and Gail as CFO, their company successfully navigated the transition into the digital age and the impact the internet and digital photography would have on their industry. After several strategic acquisitions and mergers, including portfolios for universities across the country and the Boston and New York City marathons, their company reached nearly $100 million in annual revenue.
The Knights chronicled their decades-long journey in a book titled "Married To It: How an Entrepreneurial Couple Built a Photography Empire by Investing in Their Customers, Staff and Each Other," which will be featured at Tallahassee's Word of South Music and Literature festival next April and is available in hardback or audiobook on Amazon.
"Gail and Bob's gift will have a major and lasting influence on our college and our students," said College of Business Dean Michael Hartline. "Legacy Hall is monumental to our upward rise and the named auditorium will be one of the most impressive aspects of our new building. We are proud of the Knight's remarkable success and very grateful they chose to share their success with the college and our students into the future."