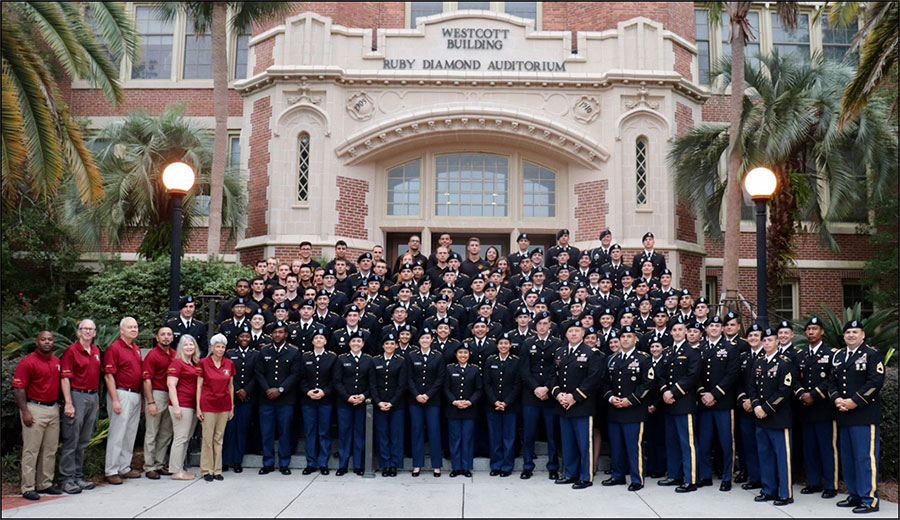 Florida State University's Reserve Officer Training Corps has a longstanding history with the university. With the support of FSU leadership, the ROTC program has been recognized as one of the nation's best.Florida State University's Reserve Officer Training Corps is one of the nation's best, according to U.S. Army Cadet Command, which oversees the nation's ROTC programs.
FSU's ROTC joins seven other programs selected as a 2019 recipient of the MacArthur Award, which recognizes the ideals of "duty, honor and country" as advocated by the late Douglas MacArthur. It is presented jointly by Cadet Command and the Gen. Douglas MacArthur Foundation. Winners were selected from a pool of 275 programs across the country.
Specifically, the award is based on a combination of success in cadet performance, retention rate and cadet standing on the command's National Order of Merit list.
Lt. Col. and Professor of Military Science Keith Pruett, who directs FSU's ROTC program, said he couldn't be prouder of the cadets in his group.
"They are operating at levels that I would have not dreamed of 20 years ago when I was a cadet," he said. "Their situational understanding, concept of operations, all those things are miles ahead of where my generation was when we graduated."
Pruett added: "To be one of eight to win that award, you've got to do something special to separate yourselves, and there is something special here at FSU."
He also credited FSU leadership for investing in the program with facility renovations, automation upgrades and making land available for its use.
"The university is going above and beyond when it comes to investing in our cadets and the program," Pruett said.
Cadet Command and the MacArthur Foundation have bestowed the award since 1989. This is the first time FSU's ROTC program has won.
Visit armyrotc.fsu.edu for more information.