Florida State University is a global community of students, scholars, researchers and alumni. Now, FSU's international reach will be accessible around the globe through the new, revolutionary website "GradWorld FSU."
Similar to Google Earth, GradWorld FSU displays a variety of personalized videos from a number of departments and colleges on campus for the purpose of showcasing graduate student achievements and their tremendous contributions to the university and the world at large.
"This is an extraordinary opportunity for everyone around the world to see our students' and researchers' passion, interests and research goals and learn more about Florida State University," said Mark Riley, dean of The Graduate School. "Our goal is to highlight FSU's brilliant students, postdocs and faculty as well as attract potential graduate students to apply to Florida State and join this great scholarly community."
Inspired by the late FSU chemistry professor and Nobel Laureate Sir Harry Kroto's GEOSET project, Riley and The Graduate School embarked on an initiative to develop an interactive mapping website and video archive for all FSU degree-seeking or professional graduate students, postdoctoral scholars, alumni and faculty to showcase their research.
"I knew that Mark had a great idea, but it was definitely one that intimidated me because I had absolutely no experience in developing a website of this magnitude," said James Beck, who served as The Graduate School's webmaster when they started the project in 2017.
Beck enlisted the help of University Communications Assistant Director of Creative Services for Web Rodney Johnson, and they teamed up with Tom Cruz of GEOSET Studios, University Libraries and the Center for Intensive English Studies to create the massive website.
"We're thrilled that we could help Dean Riley bring Sir Harry Kroto's vision to life," Johnson said. "This is an incredible tool that showcases the success and global reach of the FSU community."
Two years later, they've collected more than 250 videos from graduate students, postdoctoral researchers, faculty and alumni, representing over 30 countries and nearly 70 different degree programs. The database is sortable by country of origin, language, college, degree program and degree level. GradWorld FSU also features videos from the "Digital Narratives" project, led by Adrienne Stephenson, assistant dean of The Graduate School.
To increase the website's global reach, international participants are asked to record two videos — one in English and one in their native tongue — with the hope of inspiring their countrymen and countrywomen to apply to Florida State. Director Patrick Kennell and EAP Instructor/Coordinator Maria Mendoza from the  Center for Intensive English Studies review those videos to ensure quality assurance.
In having the international participants produce a video in their native language, they are able to share their experiences at FSU more easily with their family and friends at home, who may not speak English as their primary language.
"The hope is that such stories and encouraging thoughts will also inspire new, prospective graduate students to join the FSU family," Beck said. "I cannot be prouder of this site."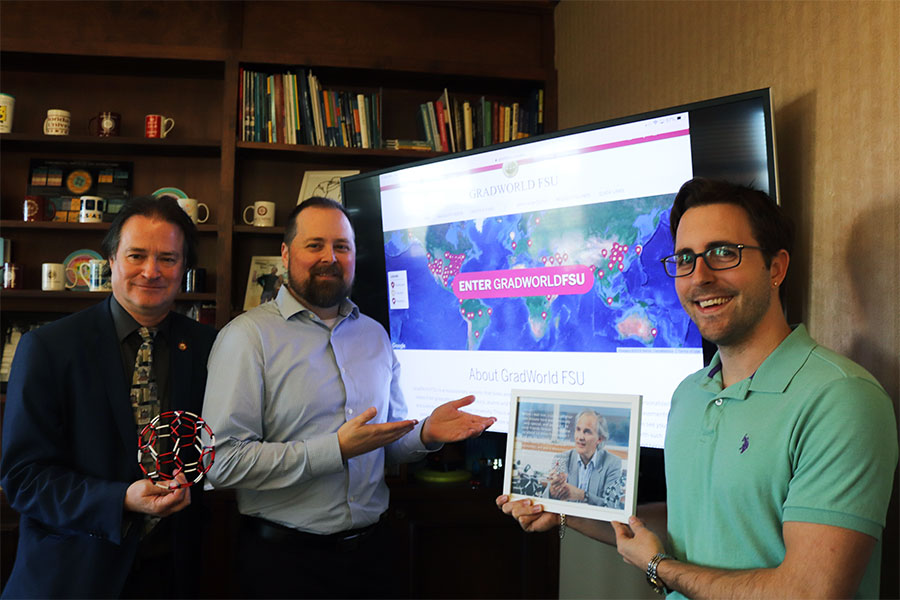 Riley's goal is to keep adding to GradWorld FSU with a constant stream of videos, and he encourages graduate students to create videos of their own and upload them.
"Once others see these individuals talking with such enthusiasm and excitement about all of the amazing things they are doing, they too will want to join in on the fun and become part of this great scholarly community at Florida State," Riley said.
Riley also pointed out the professional benefits to creating a video for GradWorld FSU as it gives students an opportunity to showcase their personality, research, skills and passion.
"In today's competitive job market, crafting a short video could be the deciding factor that helps a student shine and land their dream job," Riley said. "Video productions can show employers that students are determined, motivated and highly engaged individuals who want to make a difference."
For more information on GradWorld FSU or to create a video, visit http://gradworld.fsu.edu.