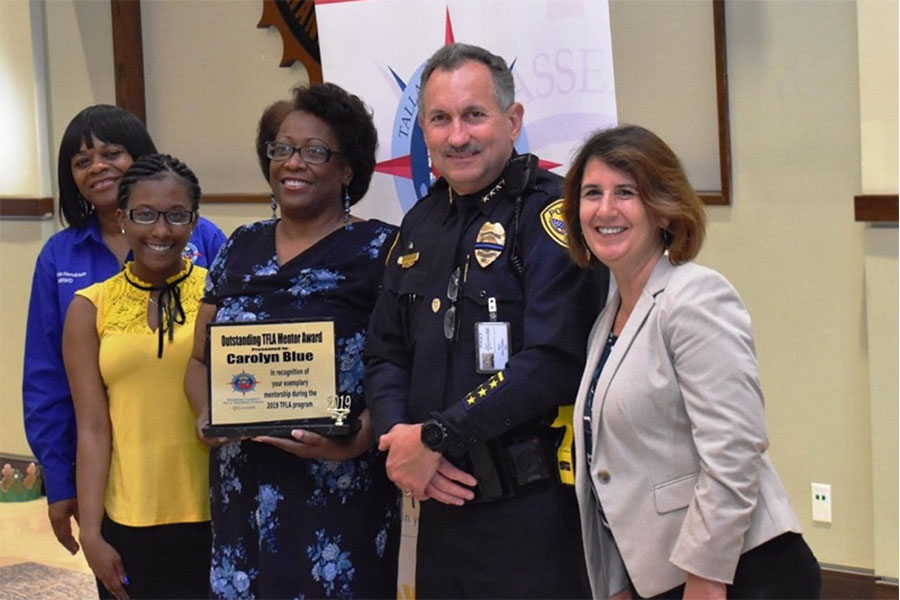 For the past four years, Florida State University has participated in the Tallahassee Future Leaders Academy (TFLA) to provide local teens with a summer employment experience.
The TFLA program is sponsored by the City of Tallahassee, which partners with area organizations, businesses and colleges to provide summer jobs for more than 200 local youth, ages 15-19. The program is devoted to providing community high school students with mentorship, work experience and professional development.
Each year, FSU's Office of Human Resources, in conjunction with departments across campus, sponsors the TFLA program for the university by hosting events, coordinating the employment of students and providing students with campus tours and information during FSU Day.
This summer, FSU hired 15 TFLA students to work in a variety of departments on campus for six weeks. Students were mentored by department managers, who focused on improving interpersonal skills and enhancing self-esteem.
At the end of their employment, students were asked to nominate a supervisor who provided "guidance and devotion that had a significant, positive impact during their six weeks of employment" for the TFLA Outstanding Mentor Award.
Carolyn Blue, a senior administrative specialist at the College of Medicine, was selected as one of four recipients of this year's Outstanding Mentor Award.
Blue's nominator wrote, "Under her mentorship, I learned about how research is conducted at Florida State University, [sic] the importance of an IRB (Institutional Review Board), [sic] and why there should be oversight of research projects."
The nominator also described how Blue instilled the importance of a good work ethic, along with the training and knowledge they learned on the job. They also said Blue has a "heart of gold" and working with her was a "joy that will never be forgotten."
The 2019 TFLA Outstanding Youth Award winner also had an FSU connection. Raymon Johnson, who was employed by FSU's Office of Institutional Research, worked on the Florida State University Fact Book. He was nominated by Heather Epstein in Institutional Research.
Epstein wrote, "Raymon has made a massive positive impression on our office and represents everything that a Tallahassee Future Leader embodies – character, positivity and determination for a job well done."
Associate Vice President for Human Resources Renisha Gibbs said, "It is such an extraordinary opportunity for our staff to mentor these students by participating in TFLA. We look forward to not only providing guidance and professional development, but also showing them what sets FSU apart from other employers."