The National Council on Family Relations (NCFR) has selected Joe Grzywacz, the Norejane Hendrickson Professor of Family & Child Sciences at Florida State University, as a 2019 recipient of the Felix Bera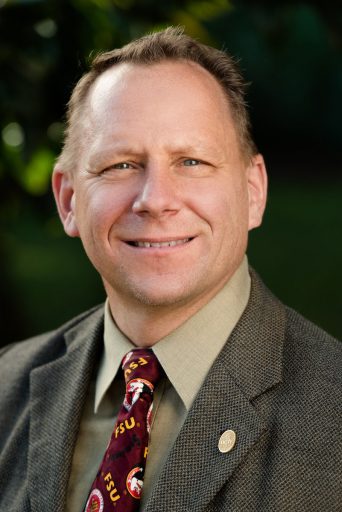 rdo Scholarship Award in recognition of his outstanding mentorship to students and colleagues during his career.
Grzywacz was one of two NCFR members to receive the annual award, which is given in honor of Felix Berardo, a well-known and beloved professor from the University of Florida whose exceptional mentorship helped many students become outstanding leaders in the family field. Award winners take their mentorship beyond classroom teaching and provide students with support, guidance and opportunities for professional development.
"I'm completely humbled by this honor," Grzywacz said. "It is particularly special because I've learned the nomination was started by a diverse group of existing students and supported by faculty around the country whom I have had the good fortune to work with. I owe each of them a debt of gratitude for letting me learn from them."
Grzywacz' primary interest is aiding adults in poverty by eliminating social injustices that threaten their families and enable disease and disability. Since joining the College of Human Sciences in 2015, he has been involved in numerous studies and has received significant media coverage for the increasing relevance of his research to some of today's most urgent issues.
As chair of the Department of Family and Child Sciences at FSU, Grzywacz is well-known for his encouragement and student engagement. Cortnie Baity, a doctoral candidate in human development and family science, is one of Grzywacz' graduate students. She said she admires Grzywacz for his candid support and is thankful for the opportunity to be working alongside him.
"As an adviser, Dr. Grzywacz has been instrumental in my success from the very beginning up to now, and I expect nothing less in the future," Baity said. "He has consistently demonstrated dedication to my development, serving as a bridge to opportunities and encouragement, introducing me to faculty members in the field who have overlapping research interests with my area of study and helping me cultivate a mindset necessary for conquering my Ph.D."
The last FSU faculty member to receive this award was now-retired Professor Kay Pasley in 2011.