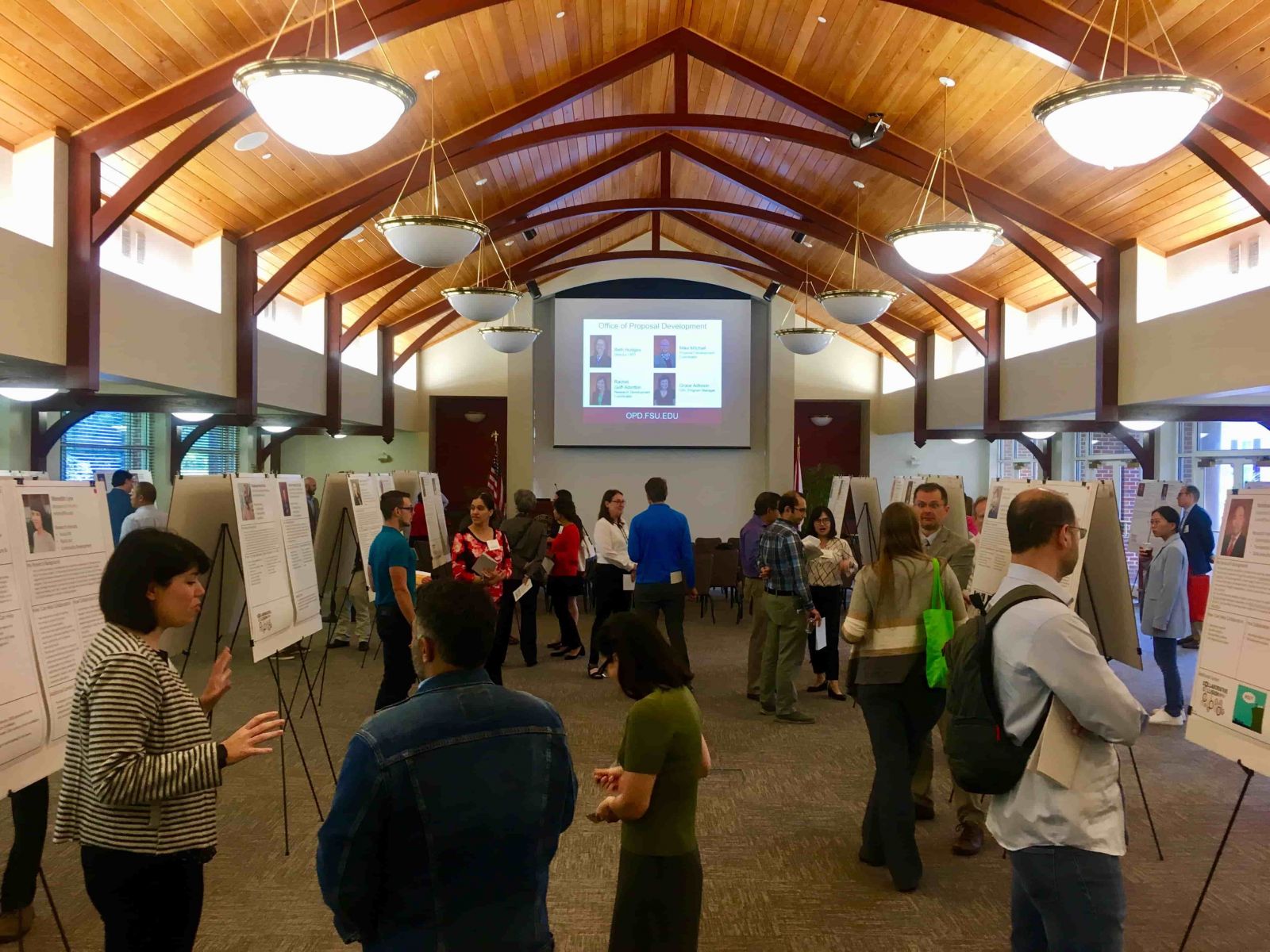 Florida State University faculty members of varying departments, disciplines and research interests spent the evening of April 16 commingling with colleagues during the Spring 2019 Collaborative Collision, a networking event designed to convene researchers from across campus to discuss potential collaborations surrounding one defined topic.
Tuesday's topic of discussion, disaster resiliency, took on particular significance in the wake of the devastation unleashed by Hurricane Michael and with the 2019 hurricane season rapidly approaching.
"Collaborative Collision events always provide excellent opportunities for faculty members to meet with their colleagues and discuss new ways to address some of our most urgent problems," said Vice President for Research Gary K. Ostrander. "Disaster resiliency is especially important. It will take expertise and innovation from across disciplines to make sure communities are better prepared to withstand and recover from disasters in the future."
During the event, held at the FSU Alumni Center, faculty members perused an array of posters outlining their colleagues' specific research agendas and potential avenues for collaboration.
Conversations bridged disparate disciplines ranging from psychology to urban and regional planning to mechanical engineering as more than 50 participating researchers discussed ways to wed their unique perspectives in projects that approach the issue of disaster resiliency with new experimental and intellectual impetus.
"With our faculty being so involved with their teaching and research in their own departments and colleges, it can be a challenge to meet colleagues outside of their areas, or to even know where to look for them across our diverse campus," said Beth Hodges, director of the Office of Proposal Development, which organizes the event. "Collaborative Collision provides the perfect opportunity for our faculty to meet with researchers from other disciplines to discuss their work and to form new and unique collaborative research efforts."
This year, the Office of Proposal Development announced that competitive funding would be available to faculty partnerships forged at Collaborative Collision events. The seed fund, which provides up to $25,000 to the most promising new team formed from connections made at Collaborative Collision, is intended to position budding faculty partnerships to seek additional external funding for their new research initiatives.
"Our office is entering its fifth year, and we're involved in several activities to help faculty and encourage collaboration," Hodges said. "It's exciting to see those programs performing so well."
For more information about the Collaborative Collision program, visit the Office of Proposal Development website.