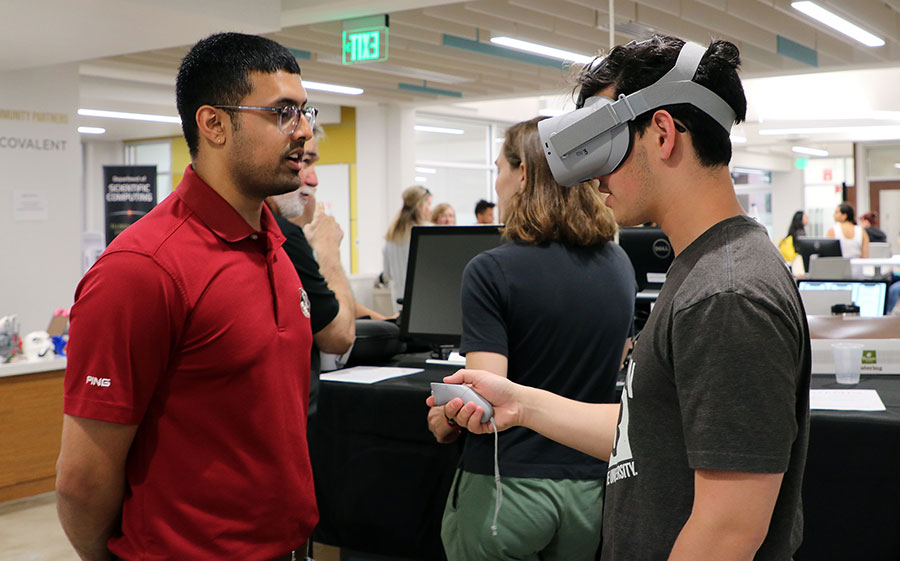 Digital innovation was in the air during Florida State University's DIGITECH event April 10 at the Innovation Hub.
FSU students, alumni and faculty enthusiastically shared their inventions with attendees and fellow innovators at the eighth annual competition.
Some of the exhibits on display included an app that will allow you to make informed decisions about your diet, a text device that operates like a walkie talky and even an at-home sexually transmitted infection screening device.
Participants presented for chances to win a $1,000 Shark Tank cash prize and crystal trophies presented each year to some of the best and brightest ideas.
"Students need acknowledgement for their hard work and effort, and we need to drive more innovation and creativity on this campus," said Innovation Hub Director Ken Baldauf. "It's great to see these students, who oftentimes work in isolation, actually bring their work out of the closet and have people really appreciate it and find out that they can contribute to others' education and interests."
DIGITECH is about interdisciplinary work and bringing students from different departments under one roof to show how they are creating connections and using technology in their field of study, Baldauf said.
Aliya Kordich, a senior in media communication studies, presented "Antidote," an app designed to help users assess the toxins in their daily diets and find alternatives to common eating habits that may contribute to better overall health.
"I'm not an IT person, but I took a class that talked about what technology can do for health, which prompted me to get a certificate in health IT," Kordich said. "Personally, I had no expectations coming into this experience, but I've had so many positive responses. I've met developers interested in connecting, and I've talked to people who already have investors. If anything, it's inspiring."
Clarens Jarbeth recently graduated with a Master's in Public Health from FSU. He showcased his at-home STD and STI screening device.
"This is a project I'm very excited to share with the world," said Jarbeth, who's been working on the device with faculty at the FSU College of Medicine. "I'm excited to bring it to the forefront after working on it in secret for so many years."
He said it's important that the university continue to provide opportunities for innovation.
"I think DIGITECH fosters great ingenuity," Jarbeth said. "A lot of these problems we experience now we weren't experiencing before, so we need younger and newer minds to be nurtured and cultivated in order to come up with projects like these."
Another group of student innovators from the Department of Interior Design used computer programs, editing software and virtual reality to show potential clients how they could transform and design a space to meet their needs.
"I came to FSU specifically for the interior design program," said interior design student Eva Neri. "It's great to have a university that supports these innovative technologies, especially in our profession where there are a lot of old ways to do it. But with all the new technologies coming out, it's really the only way to stay up-to-date and competitive going into the real world."
DIGITECH showcased other interactive exhibitions featuring innovative designs by students and faculty. The coveted DIGITECH crystal trophies were awarded based on five categories: 
Best in Show: Innovation, in the spirit of Vires, the Best in Show for Innovation award goes to the exhibit that best demonstrates strength and influence through the innovative use of technologies.
Winner: Aquasist
Students: Dominic Balistreri, Kylie Halbert, Kevin Nicholas, Ebony Luster
Best in Show: Expression, in the spirit of Artes, the Best in Show for Expression award goes to the exhibit that best demonstrates the application of digital technologies skill for expressing ideas and feelings.
Winner: Mystic Resonance
Students: Lincoln Sandham, Nick Batina
Best in Show: Contribution, in the spirit of Mores, the Best in Show for Contribution award goes to the exhibit that best demonstrates strength of character by contributing to others.
Winner: Everybody's got STDs
Students: Clarens Jarbath, Nkechi Emetuche, Charles Robbins
Campus Choice Award, goes to the most popular exhibit decided by votes cast online by DIGITECH attendees.
Winner: Xpose Art Exhibit
Students: Eva Neri, Baili Martin, Alanna Frierson
$1,000 Shark Tank, chosen by four judges as the most innovative entrepreneurial design.
Winner: SubletU
Students: Josh Arnold and Landon Rogers
DIGITECH, is part of Florida State's two-week Student Innovation Celebration.
For more information about the event, visit innovation.fsu.edu/digitech.
For more information about the Innovation Hub, visit innovation.fsu.edu.