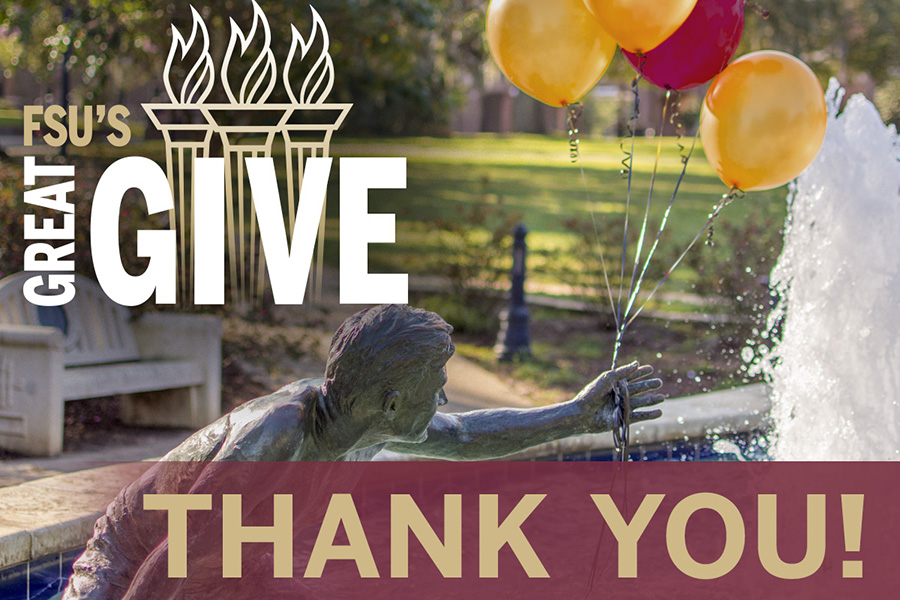 Florida State University supporters across the country came together to do something great during FSU's Great Give, the university's 36-hour giving campaign. In its eighth year, FSU's Great Give surpassed its $500,000 goal, raising $774,979 for academic projects, programs, scholarships and student activities at the university.
The annual event, which took place March 28-29, drew support from 3,835 donors, including 3,065 who were Florida State alumni.
"We are truly grateful to every FSU supporter who helped us not only achieve, but exceed our goal during FSU's Great Give," said Robyn Bertram, donor engagement officer for the Florida State University Foundation Office of Annual Giving. "More importantly, 56 campus projects received critical funding during this campaign."
Throughout the campaign, 13 incentive challenges totaling more than $28,500 fostered a friendly competition among FSU's donors to give back and boost their chosen project's chances to receive additional funds. This year, $3,500 was awarded to the College of Music for having the greatest number of first-time donors (203) to the FSU Foundation during the 36 hours.
Additional highlights from the event include:
The Marching Chiefs: D-Day 75 Parade in Normandy project won the $8,000 incentive grand prize with the most donors (681) during the 36-hour campaign.
The Women in Math, Science and Engineering (WIMSE) Fund; the Internship Fund; Chemical and Biomedical Engineering Scholarships; and the Study Abroad Scholarship Fund also claimed incentive wins.
Donors provided $103,000 in challenge matching funds for various projects.
The 2020 FSU's Great Give will take place March 26-27. Donors may still make a gift to Florida State by visiting give.fsu.edu or calling (850) 644-6000.