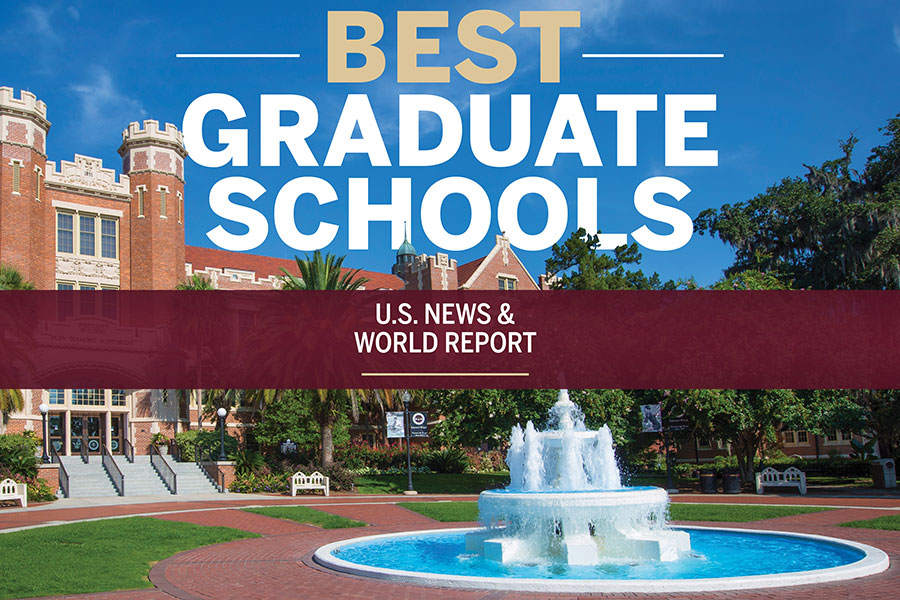 Florida State University's graduate programs are on the rise, according to U.S. News & World Report's 2020 edition of "Best Graduate Schools."
FSU's graduate programs in social work, public affairs and education all made significant jumps in the publication's annual rankings, released March 12.
"Florida State University's continued upward trajectory in the U.S. News & World Report graduate rankings reflect the university's excellence as one of the top research institutions in nation," said Sally McRorie, provost and executive vice president for Academic Affairs. "Our rising national prominence is evidence of the across-the-board quality of our graduate programs and our top-notch faculty."
The College of Social Work's graduate programs soared five spots to No. 33 in the latest national rankings and checked in at No. 20 among public universities. The college has jumped 11 places since 2016.
"The College of Social Work's rise in the rankings reflects the work of our talented faculty, the dedicated support of our staff, and the excellence demonstrated daily by our students and alumni in the field," said Jim Clark, dean of the College of Social Work. "We are moving ahead because of the tremendous support the college receives from so many of our colleagues in the FSU leadership, especially Provost McRorie and President Thrasher, who understand the high value of social work education, scholarship and service. I also must note the ongoing support of our alumni who are helping us do great things with their financial gifts and active participation as board members, advisers and advocates."
Florida State's Reubin O'D. Askew School of Public Administration and Policy cracked the Top 25 among graduate public affairs programs, moving up three spots from last year to No. 25. The Askew School's local government management program also climbed four places to No. 8 and rose to No. 7 among public universities.
"We're proud to see that this ranking reflects the college's and program's commitment to scholarship with impact, amplified by our location in Florida's capital city," said Tim Chapin, dean of the College of Social Sciences and Public Policy, which houses the Askew School. "The college is home to many policy-orientated programs that share the core values of evidence-based policymaking, community engagement and innovation in research and practice."
Florida State's College of Education vaulted seven spots to No. 39 and placed No. 28 among public universities. The college's specialty programs also were recognized as some of the best in the nation: Higher Education Administration (No. 16), Curriculum (No. 18), Special Education (No. 20) and Educational Psychology (No. 21).
"The College of Education is committed to providing our students with an outstanding educational experience that will prepare them to make a positive impact on future generations," said Damon Andrew, dean of the College of Education. "Our upward movement in the national rankings at both the college and program levels reflects our commitment to be student focused and innovation driven."
Each year, U.S. News & World Report ranks professional school programs in business, education, engineering, law, medicine and nursing, including specialties in each area. The Best Graduate Schools rankings in these areas are based on two types of data: expert opinions about program excellence and statistical indicators that measure the quality of a school's faculty, research and students. Beyond the six major disciplines ranked annually, U.S. News also periodically ranks programs in science, social sciences and humanities, health and many other areas based solely on academic experts' ratings.