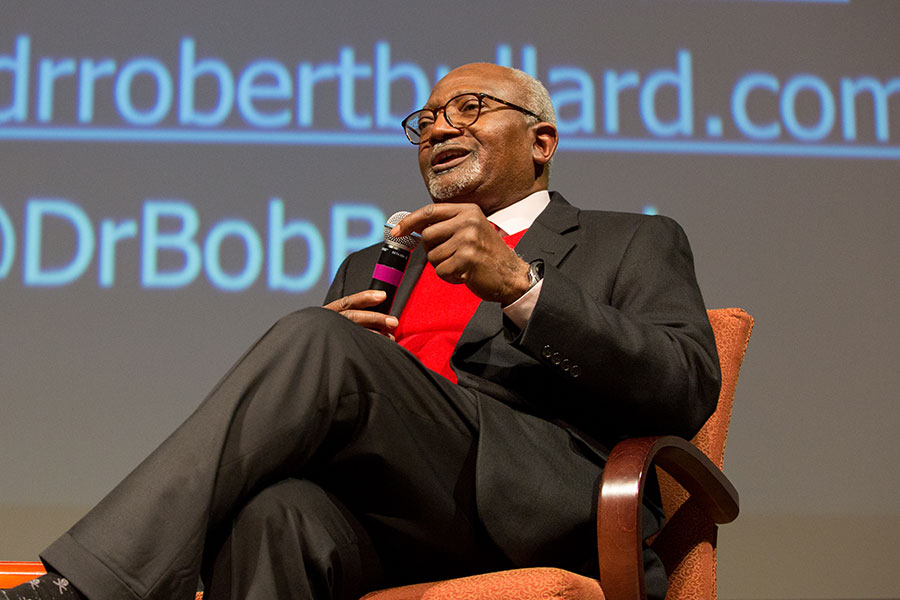 Robert Bullard, a noted scholar and author, often described as "The Father of Environmental Justice," visited Florida State University Wednesday, March 6, to discuss environmental justice issues taking place around the world.
Bullard, a distinguished professor of urban planning and environmental policy at Texas Southern University, first participated in a panel discussion with the faculty of FSU's African-American studies program at the Black Student Union. He then delivered the lecture "Building Just and Sustainable Communities in the Era of Climate Change" at Ruby Diamond Concert Hall.
The events were sponsored by FSU Sustainable Campus, the College of Social Sciences and Public Policy, Union Productions and the FSU Office of Student Sustainability.
The panel, "Surviving Segregation in Race, Space and Power," addressed the many facets of environmental justice issues taking place globally and in America.
Each professor had an opportunity to talk about how they see those issues in their areas of study.
Adam Bledsoe, an assistant professor of geography, talked about his research expertise in black geographies, social movements and the African diaspora in the Americas.
"Legally people of African descent can no longer be owned but in many ways the afterlife of slavery is still with us," Bledsoe said. "The assumption is that spaces in which black people live and are occupied by people of African descent are not legibly occupied. People of African descent are still treated as if they don't have rights over their own bodies or the spaces in which they inhabit."
Sociology professor Katrinell Davis talked about the continuing issues of the Flint Water crisis. Her research interests include urban inequalities, poverty and social determinants of health.
"Despite the narrative that the responsibility must be placed on individuals and community groups to overcome the existing hurdles in Black space, the truth is that our focus must continue to be on state action," Davis said.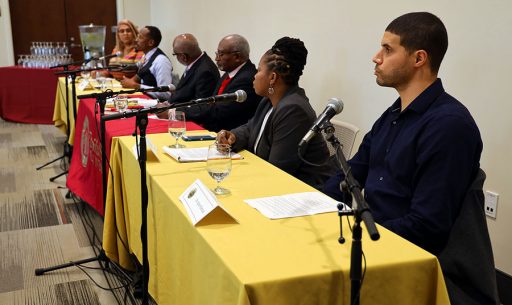 Bullard, the co-founder of the HBCU Climate Change Consortium and an award-winning author of 18 books on race, equity and environmental justice, reviewed some of the titles of his literary career and gave a brief synopsis.
In 2000 he authored "Dumping in Dixie: Race, Class, And Environmental Quality," which discussed the efforts of five African-American Communities, empowered by the civil rights movement to link environmentalism with issues of social justice. Bullard said that book emphasized the South as a place that birthed slavery, the civil rights movement and the environmental justice movement.
Another book, "Wrong Complexion for Protection," traces government response to natural disasters.
"When the government responds or not responds, sometimes the response can be more dangerous or hazardous than the event itself," Bullard said. "The cure can be deadlier than the disease."
Bullard said the environmental justice movement helped to redefine what the environment is and what it isn't. For the movement, it includes the physical spaces where someone lives, works, plays, learns and worships.
"The movement speaks to the issue of how people relate to each other and how people relate to the environment," Bullard said. "It looks at various power arrangements. All spaces are not created equal, some spaces give opportunity, and then you go next door to the next zip code and you have lack of opportunity."
According to Bullard, a zip code is one of the most powerful predictors of health and well-being.
"Tell me your zip code and I can tell you how healthy you are," he said. "I can tell you what's in that neighborhood and who has opportunity and who does not and we have great tools and maps that can show that graphically and it's hard as hell to argue with a map."
Bullard urged those in attendance to help students find the interdisciplinary connections of environmental justice and continue the work he started.
"I'm so proud to have the students of my students doing this work. Forty years ago it was just three of us doing it, and I recruited those two," Bullard said. "We need our young people to be able to work across the board, across generations and across disciplines. We also need community and university partnerships."
One young person inspired by the panel discussion was sophomore Cyanne John-McClean.
"The discussion made me realize that even though I'm black and attending a predominantly white institution, there's still so much more I can be doing to be involved in the Tallahassee community," John-McClean said. "Today's event inspired me to figure out while I have two more years left here, what else do I want to do in regards to environmental racism? What can I do to make sure that people my age, and that look like me, are aware of what's going on and what else we can be doing as a community?"
The first 100 FSU students that arrived for the lecture received a free copy of Bullard's "The Wrong Complexion for Protection."