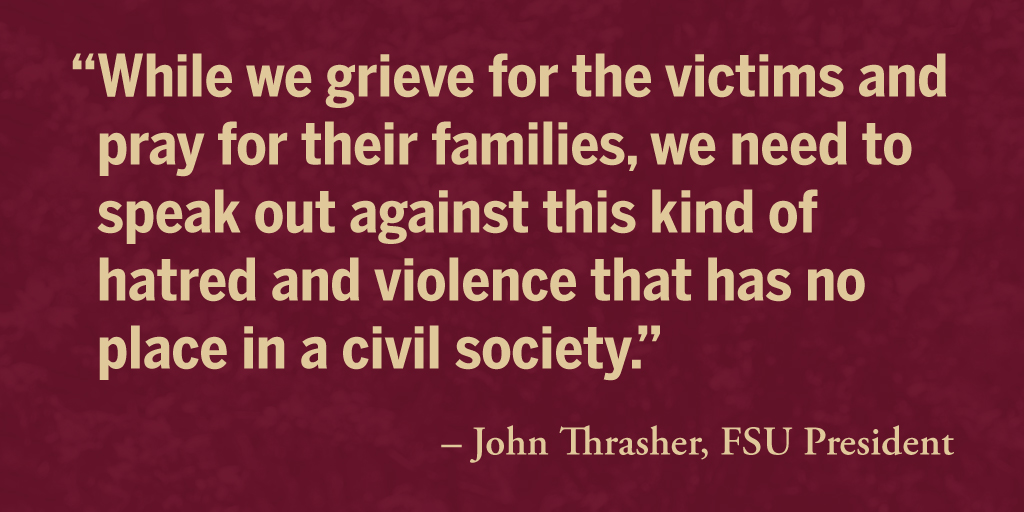 Dear FSU Community,
I am deeply saddened — and deeply troubled — by this weekend's shooting at Pittsburgh's Tree of Life Synagogue — the deadliest anti-Semitic attack in U.S. history. While we grieve for the victims and pray for their families, we need to speak out against this kind of hatred and violence that has no place in a civil society. The fact that this happened in a place of worship is especially heartbreaking, and I know that the entire FSU family stands with me in condemning any acts that create fear and terror.
We know this is a frightening time, and I would like to reaffirm that the safety of everyone in our campus community will always be my highest priority. This horrific shooting affects us all, but particularly those in our Jewish community. I would like our Jewish faculty, staff and students to know we stand with you and are here to support you in any way we can. Counselors are available to help as we struggle to comprehend this tragedy.
Tonight, I will be joining Vice President for Student Affairs Amy Hecht and other senior administrators for a 6:30 p.m. service of mourning and reflection at Temple Israel in Tallahassee. At 8 p.m. Tuesday, a campus-wide vigil will be held at Langford Green where our community can gather to find peace and share comfort.
At times like these, we are reminded of our strength as an institution of higher learning. No matter what our differences — whether race, religion, ethnicity, national origin, sexual orientation or gender identity — Florida State is a welcoming place for all, and we share the values of acceptance, respect and civility.
Sincerely,
John Thrasher
President