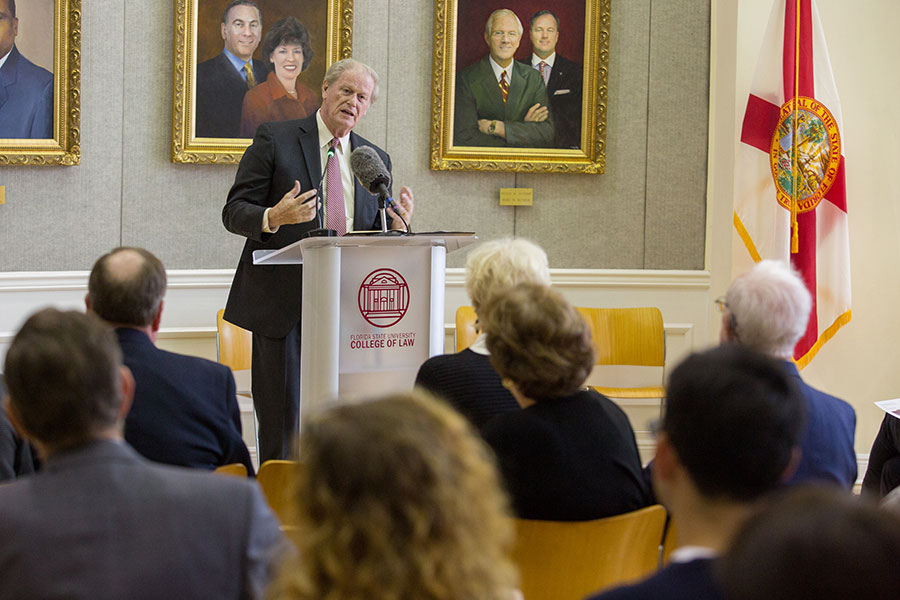 Florida State University's Reubin O'D. Askew School of Public Administration and Policy featured FSU President John Thrasher at this year's Joe Cresse Ethics in Government Lecture Series on Thursday, Oct. 25.
The lecture series, in its 10th year, hosts distinguished speakers on a variety of topics that focus on ethics in government and honors the memory of Joe Cresse and his 45 years of service to the people of Florida — including an eight-year tenure as state budget director and a long term on the Public Service Commission.
Thrasher began his talk with one of Cresse's favorite sayings known as the Optimist's Creed which says, "As you go through life, whatever be your goal, keep your eye upon the doughnut and not on the hole."
"I didn't know Joe very well, but I just loved his positive outlook on life," Thrasher said. "I share that same sense of optimism. In fact, that sense of hopefulness and confidence about the future is what led me to seek out opportunities to serve my community and state in the first place."
Thrasher's political career began with his 1986 election to the Clay County School Board. He was elected as a state representative in 1992 and served four terms, the last as Speaker of the House.
In his lecture, "From Politician to President: Politics, Public Policy and Higher Education," Thrasher detailed his journey from being pushed into the political arena with some urging from his beloved wife Jean, to achieving his dream job of becoming president of his alma mater.
Thrasher earned a bachelor's degree in business from Florida State in 1965. After serving in the U.S. Army, he returned to his alma mater to earn a law degree with honors in 1972.
"It's been an incredible honor for me to serve as FSU's 15th president, and something I never could have imagined all those years ago when I was a student here," he said. "Sometimes I have to pinch myself."
Thrasher also offered insights on the conjunction of government and higher education. Although few in number, he highlighted other successful politicians who went on to lead prestigious universities like Florida State.
"I do think today's university presidents, especially those at public universities should have some political skills if they are relying on state funding," he said. "They need to understand that lawmakers are faced with competing needs and limited public dollars."
Thrasher closed by reflecting on some his largest challenges to date as FSU's chief executive, including the Strozier Library shooting, just 10 days after taking office, the death of FSU fraternity pledge Andrew Coffey and three years of campus closures due to hurricanes.
The president said those were the times when Florida State really showed him what the school is made of and that Florida State is a family that pulls together and supports each other no matter what.
"This family has also supported me, and I could not be more grateful," he said. "And when times do get tough, I do as Joe Cresse once advised, and I keep my eye on the doughnut and not on the hole."
Earlier that day, as part of the lecture series, Thrasher participated in a panel discussion "Politics, Public Policy and the University Presidency." The event, held at the DeVoe L. Moore Center, was standing room only and was a lively discussion that reflected on the history of politics and higher education in Florida. It also provided insight on what could be accomplished when lawmakers work together, despite political differences.
Joining Thrasher on the panel were FSU President Emeritus and Professor of Law Talbot "Sandy" D'Alemberte; U.S. Rep. Al Lawson of the 5th Congressional District; and Carol Weissert, Leroy Collins Eminent Scholar, professor of political science and director of the Leroy Collins Institute. Stephen MacNamara, professor in the FSU College of Communication and Information, served as panel moderator.