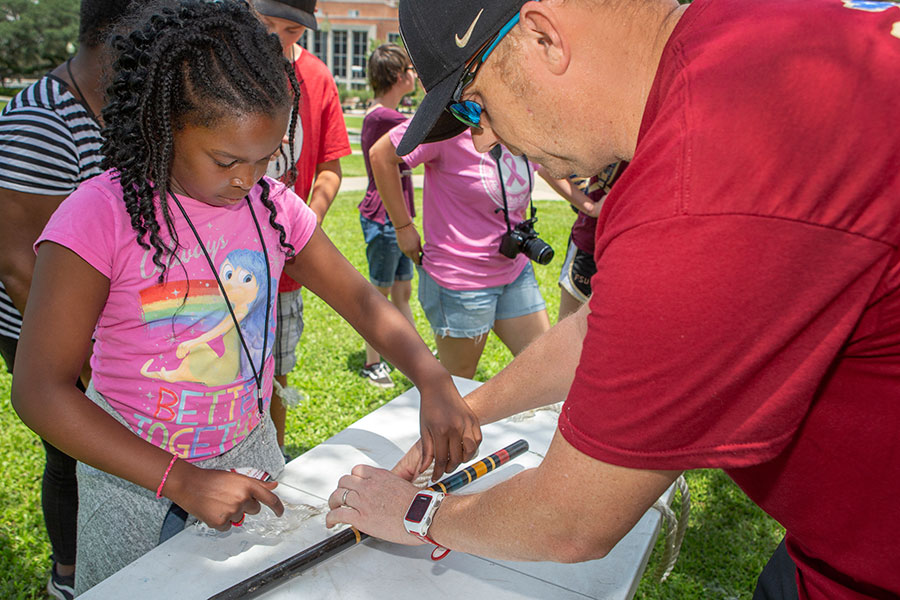 Local middle schoolers got a chance to experience life on a college campus for a week in June thanks to the Florida State University College of Social Work's annual Arts and Athletics Summer Camp. Now in its seventh year, the camp touts the benefits of higher education and transforms the mindsets of students who might not see themselves as college material.
The camp, created by former social work dean and professor Nick Mazza, is an opportunity for kids ages 11 to 14 to grow and learn. At the same time FSU social work students serving as camp counselors receive inspiration of their own.
This year, the camp expanded from one to two weeks, reaching nearly 50 youth — almost double the amount served in previous years.
Rising ninth-grader, Mike Townsend couldn't wait to return for his final year as a camper.
"This is a nice camp where I can have fun and meet new people," he said. "I was excited to come back. I learned so much here. I learned how to control my anger and not take it out on everybody, but instead be nice and encourage people."
Alex Givens, a graduate student in FSU's sport management program, serves as the camp's director. She said it is the excitement of Townsend and other campers that keeps her and fellow camp counselors coming back year after year, despite the long hours spent planning and executing the camp.
Givens started planning this year's camp as soon as the previous one ended last June. As camp director, she is responsible for finding other students to serve as counselors, recruiting campers, creating the schedule and finding campus and community partners. Givens said those tasks ultimately helped her find her own career path.
"Through this camp I now know what I want to do," Givens said, "I want to plan camps — go into event management. I originally got into this because I wanted to get into social work. By working with this camp my passions grew."
For five days, campers participate in a variety of activities from making friendship bracelets and other art projects to tackling obstacle courses with student veterans and athletes. They also hear from students with FSU's Center for Academic Retention and Enhancement (CARE), which provides preparation, orientation and academic support programming for students who are among the first in their family to attend college.
For the past three years, the program has targeted foster youth.
"We know we're not going to break through to every kid, but we have had kids have their 'aha moment' here and who knows what they're going to do in the future now," Givens said. "What they experience in a week with this camp may have completely changed their path.
FSU Assistant Professor Lisa Schelbe provides the faculty leadership for the camp. She said she would love nothing more than to inspire steps in the right direction.
"I'm a social worker first," Scheble said. "Social work is what feeds my soul and getting a chance to impact the youth is really important to me. The exposure at this age matters. Research consistently says by age 13, children know if they're going to college."
Schelbe has served as the faculty supervisor over the camp for the past three years. Under her leadership the camp has expanded and now includes a research component. Campers do entrance and exit interviews that ask questions about their self-esteem, self-confidence and overall interest in higher education.
"Even though some of these kids live less than a couple miles away, they may have never stepped foot on a college campus," Schelbe said. "Many of them are first generation, so the university allowing us to have these kids come on campus is transformative."
Schelbe and her research team also do qualitative interviews with camp counselors.
"Camp counselors are very clear that one of the mechanisms that we are seeing the transformation in students is through relationships," Schelbe said. "The relationships that campers form with camp counselors, student-athletes, our university partners and themselves is really increasing their confidence and self-efficacy."
Schelbe said the results of her research are evidence that the weeklong interventions are working. Camp counselors report seeing a transformation in the campers in the five days they are together.
"The take-home message is that these short interventions may be incredibly promising for youth development," she said.
Camp organizers hope it will continue to expand organically and remain largely student-run. It's the camp counselors who do most of the legwork — getting donations for program support and materials.
This year, despite doubling the number of participants, the camp was able to operate at the same cost as previous years.
They are taking steps now to bring their model outside the FSU campus by working with local agencies that serve foster youth in the broader Big Bend area.
"I think it's a quality program that's really connecting FSU to the community," Schelbe said. "Our campers love it, we get a lot of great feedback from the students and I hope to continue on the trajectory we're on."