For Florida State University junior Abdullah Derosier, an Unconquered Scholar who came to FSU his freshman year with only a suitcase and 15 cents to his name, getting the basics for college was a challenge.
Thanks to Chuck It For Charity, a partnership between FSU Sustainable Campus and University Housing, Derosier and other students facing hardships are able to get the necessities for college at no cost.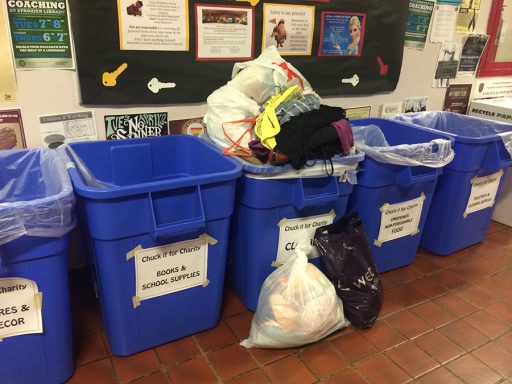 For the past 10 years, the program has been collecting unwanted items when students move out of residence halls after the spring semester. Many students are unable to take all of their belongings with them when they head home for the summer, leaving behind a sea of still-usable items.
Over the past decade, Chuck It For Charity has collected more than 100 tons of unwanted items such as furnishings, microwaves, school supplies, food and housewares and given them a second life, rather than dumping them in a landfill.
"Our message is, 'don't throw it out — reuse or donate it'," said Elizabeth Swiman, director of FSU Sustainable Campus. "This program is so unique because we don't sell our stuff, we give all of it to those in need. It's a great way for students to give back by simply donating their unwanted items so they can be reused by someone else."
"Our partnership with the Unconquered Scholars Program is so great because it's students speaking on behalf of other students," Swiman said. "They understand each other's struggles and needs and know what items will be the most useful."
Derosier, a Polk County native, was homeless and staying with a friend before making his way to FSU. Once on campus, he was grateful for a place to call his own, but when it came to getting basic necessities for school and his new home, things got pricey.
"One of the keys to success is being comfortable in your own space," Derosier said. "You don't realize how much the little things cost — a broom here, a lamp there — it adds up quickly."
The double major in interdisciplinary social science and risk management had only the basics, like one set of sheets and a comforter, and even though he took great care of his items, things still happen.
"One of the things I've noticed is how wasteful people can be," Derosier said. "They take their belongings for granted and assume when one breaks they can just go buy a new one instead of trying to fix it. They don't realize some people don't have that luxury."
When Derosier's bed set got ruined, he was going to have to spend the winter sleeping in the cold — until he mentioned his situation to a friend and fellow Unconquered Scholar.
"You don't realize how cold Florida can get until you don't have a blanket," Derosier said. "I was trying to save up for a new one because it's hard to focus and do well when your basic needs aren't met."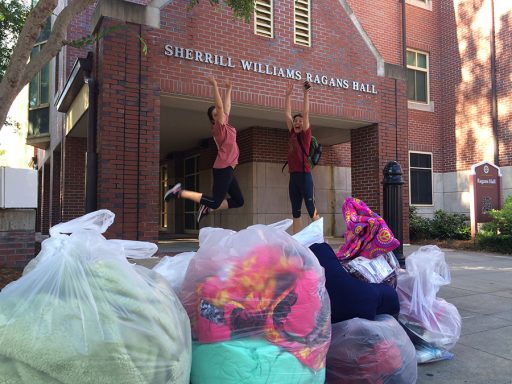 Derosier's friend knew how to help. He went to Chuck It For Charity and came across a like-new comforter, which he immediately grabbed and brought to a thankful Derosier.
"That act of kindness went a long way," Derosier said. "It inspired me and made me want to help my fellow peers because I didn't want them to have to go through that type of situation. Every time I go to Chuck It For Charity, I think about giving back."
After seeing firsthand the huge impact one simple donation can make, Derosier is now a regular volunteer at Chuck It For Charity.
"If it's not broken, why throw it away," Derosier said. "These items can be utilized in so many other ways, and that's why this program is so great. It's not only helping people who need it, but it's also helping the environment."
Aside from making sure students have the housing items they need, Chuck It For Charity also collects nonperishable food items that help fill the Unconquered Scholar's food pantry, the Snack Shelf.
"No one should ever have to worry about where their next meal is coming from," Derosier said. "Before just throwing something out, stop and think about if someone else could use it. It doesn't take a lot of time but it could make a huge difference."
The Chuck It For Charity event runs from Thursday, May 3, through Saturday, May 5. For more information or to volunteer, visit sustainablecampus.fsu.edu.