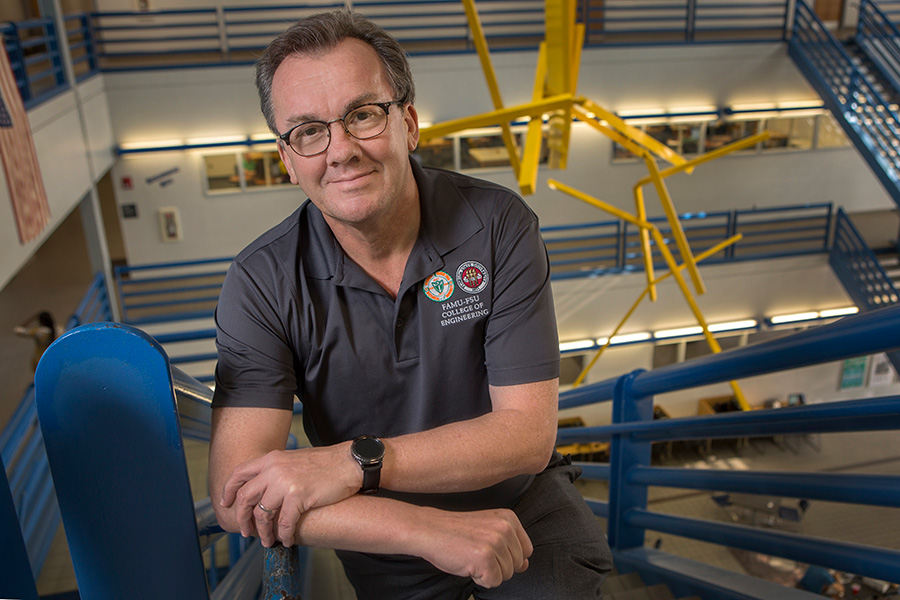 For J. Murray Gibson, there is an intimate connection between art and science.
"Creativity and intuition are key to art and science," said Gibson, the dean of the Florida A&M-Florida State University College of Engineering. "The most inventive engineers I have met are highly intuitive."
Gibson, who plays the piano in his spare time, believes that engineering and science are often mistakenly thought to be completely mechanistic. He wants to break that stereotype and encourage creative young people to pursue these careers.
For that reason, he is excited to lead the FAMU-FSU College of Engineering as dean, a position he has held for a little more than a year. Both the FAMU and FSU provosts announced his hiring in June 2016, and he's been running full speed since then.
"We see so many opportunities here with the college," he said. "It is such a unique situation and, honestly, that's what drew me here."
The College of Engineering is a one-of-a-kind program. In 1982, Florida lawmakers agreed there would be only one engineering program in Florida's capital city and the two universities would jointly operate it, sharing a budget and administrative responsibilities. Faculty technically belong to one university or the other for budgetary purposes but have privileges at each university. The classes have a mix of students from both universities.
The challenges of two universities with different perspectives running one college are substantial, but Gibson only sees potential.
"FSU has amazing research capabilities to bring to the table, and FAMU as a historically black university is a highly successful and leading producer of diverse STEM graduates," Gibson said. "These capabilities are not combined anywhere else, yet combining these is essential to advancing equal opportunity in engineering education. And we can leverage our uniqueness to secure resources that will benefit both universities. I view my mission as opening up engineering careers to those who have great potential but may not have had opportunity."
When Gibson took the job, he left his position as founding dean of Northeastern University's College of Science where he helped raise $26 million in philanthropic funds over five years and worked with faculty to raise annual research funding by 50 percent.
Increasing the College of Engineering's research funding and gaining additional support from the Florida Legislature are key components of his plans here. He wants to hire new faculty, recruit more students and build on already existing expertise in aerospace and transportation, energy and materials, healthy aging and green infrastructure.
The college already has significant accomplishments to build on, he said.
For example, over the last five years, the college has graduated more than 2,000 engineers from FAMU and FSU, brought $100 million in federal research funding to Florida, had a faculty member elected to the National Academy of Inventors and created a half-dozen spinoff companies. It's also been recognized nationally with the Felbinger Award for Diversity in Engineering Education.
"The hope and dream is to grow the College of Engineering," he said. "Primarily that's through faculty but also students, especially graduate students. And through that, we can bring in more research dollars to Florida, provide a richer research and entrepreneurial education to our students and create more economic development opportunities in the region."
Gibson, who earned a doctorate in physics from the University of Cambridge, has had a long career as a researcher, educator and administrator. He worked for 11 years at the renowned Bell Laboratories in New Jersey, where he pioneered the use of advanced electron microscopy techniques to help develop semiconductor nanostructures that are used today in computer technology. He also worked as a professor of engineering at University of Illinois in Urbana-Champaign and was director of the Advanced Photon Source at Argonne National Laboratory in Chicago.
He made his first visit to Tallahassee in 2005 to collaborate with scientists at the National High Magnetic Field Laboratory through a connection with MagLab director Greg Boebinger, a former Bell Labs colleague. While it was a fruitful collaboration, the best outcome was that on one of his visits, he met his wife, Faye, a Tallahassee native.
Then again, it was a merging of art and science. Gibson, the physicist, married a graphic designer. And Faye, he said, has been an integral part of his work at the college.
"Faye and I view this job as a mission, and her skills are a huge asset. She is my hardest working unpaid employee," Gibson joked. "With her graphic design experience, she has helped us define our brand. But I especially value her soft skills — she volunteered to feed the hundreds of students who study during finals until midnight in our building, and she put flower pots and welcome signs outside the door on the first day of classes."
These are small changes perhaps, Gibson said, but they all go toward creating an environment for success in the college.
"In my life, I have learned that relationships only work when there is mutual respect," he said. "I am working to have each of our partner universities and their stakeholders recognize that the other university brings something unique to the table. Together we can do things we could not accomplish alone. I am very glad that the leadership of each institution share that vision, and that I am empowered to lead this unique enterprise."