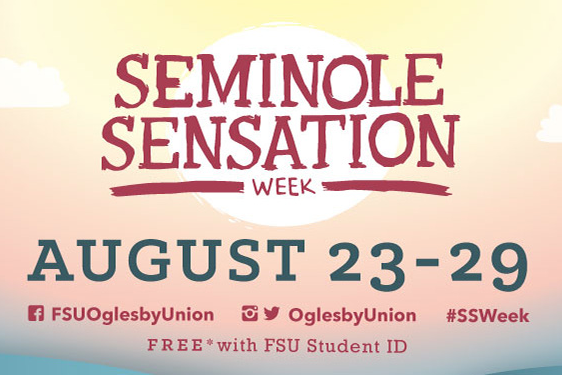 As the beginning of the fall semester approaches, Florida State University will host Seminole Sensation Week, an annual weeklong tradition, full of exciting events that promotes student involvement on campus.
There is a wide array of activities across campus for students from Wednesday, Aug. 23, to Tuesday, Aug. 29, that help introduce them to a variety of campus organizations and provide a platform for them to connect with other students who share common interests.
"Seminole Sensation Week is filled with many fun, free events for students to reconnect with friends or make new ones, while discovering all the exciting ways to become part of the FSU community," said Christina Schaefer, program coordinator of Student Activities.
A prominent event during the week is the New Student Convocation and President's Welcome, which takes place at 1:30 p.m. Sunday, Aug. 27. Florida Commissioner of Agriculture Adam Putnam will be the keynote speaker. The Convocation is immediately followed by the President's Welcome, a reception where students have the opportunity to meet with their academic dean, faculty, staff and other current students. Both events will take place at the Donald L. Tucker Civic Center, 505 W. Pensacola St.
Some highlights of this year's Seminole Sensation Week include:
Wednesday, Aug. 23
Inflatables on the Union Green
Magician Nash Fung
Thursday, Aug. 24
Traditions BBQ
Food Truck on the Union Green
Performance by Hypnotist Doug Thompson
Late Nite Pancakes
Friday, Aug. 25
BBQ and Slip N' Slide
Lego Block Party
FSU Luau
Friday Night Bites
Saturday, Aug. 26
Taste of Tallahassee
Last Call Before Fall featuring Tank and the Bangas, Hundred Waters and Hop Along
Comedian Solomon Giorgio
Glow Noles
Monday, Aug. 28
First Day Breakfast
Tuesday, Aug. 29
Involvement Fair & Seminole Showcase
Other activities offered during the week are: bowling, movie showings, trivia, speed friending, paint-a-pot and karaoke. Students also will have the opportunity to get their photo taken to celebrate the first day of school, whether it's their first semester or their final year on campus.
Events to help students learn about how they can get involved on campus and stay safe include a bike safety class, the Involvement Fair and the Student Activities Center and Student Government Association Open House.
All events are free with a valid, gold FSU ID. For a complete schedule, click here.