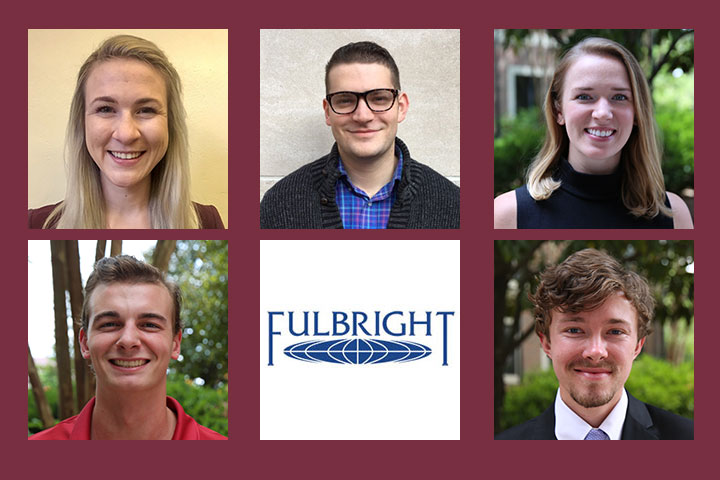 Five exceptional Florida State University graduate students and recent alumni will spend the 2017-2018 academic year teaching English or conducting research projects abroad as a part of the Fulbright U.S. Student Program.
The program, administered by the Department of State's Bureau of Educational and Cultural Affairs, offers grants for graduating college seniors, graduate students, young professionals and artists to study, research and/or teach English in participating countries around the world for one year.
"It is always a thrill when Florida State University students are recognized for their commitment to our global community," said Craig Filar, associate dean of Undergraduate Studies and director of the Office of National Fellowships. "Their success in this prestigious program demonstrates each scholar's dedication to impactful global engagement and is indicative of our students' determination to become accomplished global citizens."
Two of FSU's recipients earned study/research grants, which allow awardees to design their own academic projects in collaboration with advisers at foreign universities or other institutes of higher learning from one of 140 participating countries around the world.
Three recipients will participate in the English Teaching Assistant program, which places Fulbright scholars in classrooms abroad to assist local English teachers and to serve as cultural ambassadors for the U.S.
The recipients of the Fulbright U.S. Student Program study/research grants are:
Mia Hartley, 23, St. Pete Beach, Fla.
Hartley, who earned a bachelor's degree in music therapy in May, will study at the Royal Holloway, University of London where she will pursue a master's degree in ethnomusicology with a focus on the integration of people with disabilities into the U.K. arts culture.
"I am still in disbelief that I have received such an incredible opportunity," Hartley said. "My journey to becoming a Fulbright awardee involved a lot of edits and life-changing decisions involving my career path. The application process alone led me to a better understanding of myself and what I aspire to do. I owe such a tremendous thank you to those at the FSU Office of National Fellowships for their unquestionable dedication to students and our success."
Jesse Marks, 24, Jacksonville, Fla.
Marks, who earned a bachelor's degree in Middle East studies in August 2016 and is currently the Herbert Scoville Jr. Fellow at the Stimson Center in Washington, D.C., will spend the year in Jordan studying the management of the eventual return and reintegration of Syrian refugees in Jordan to a postconflict Syria.
"It is the highest honor for me to represent United States as a Fulbright fellow in Jordan," Marks said. "But more importantly for me, it is affirming that the Fulbright-Jordan Commission valued my research on Syrian refugees and see it as a strategic opportunity to both strengthen American-Jordanian relations and positively impact the futures of Syrian refugees in Jordan. It is not just an achievement for me, but it is one I share with those at FSU who played a significant role in my academic and personal development."
The recipients of the English Teaching Assistantship grants are:
Chelsea Elzinga, 26, Portland, Ore.
Elzinga, who earned bachelor's degrees in art history and French in 2013, will teach English in Luxembourg at both the high school and university levels. She also intends to work with students on a mapping project that translates sensory experiences into language and location, thereby promoting a stronger linguistic and cultural understanding.
"As a Fulbright grantee to Luxembourg, I am honored to be part of an international tradition of exchange and look forward to living in a trilingual country where multiplicity generates rich cultural understanding," Elzinga said.
Noah Gomez, 22, Sanford, Fla.
Gomez, who earned degrees in French language and interdisciplinary studies in May, will be teaching English at the University of Luxembourg and surrounding high schools. He also plans to participate in a community outreach program and to continue work on a creative writing project.
"It's quite an honor to represent the U.S. abroad, and I can't think of a better way to do so than through sharing language," Gomez said. "Through my own studies, I've seen what language has to offer the individual and the global community. The Fulbright grant allows me to give back what I've received over the past four years."
Brendan Rempert, 22, Bradenton, Fla.
Rempert, who earned a bachelor's degree in media and communication studies in May, will teach English in Kanchipuram, India, for nine months.
"Becoming a Fulbright Scholar has served as a testimony to everything that FSU has provided for me and the immense support from the people associated with the university," Rempert said.