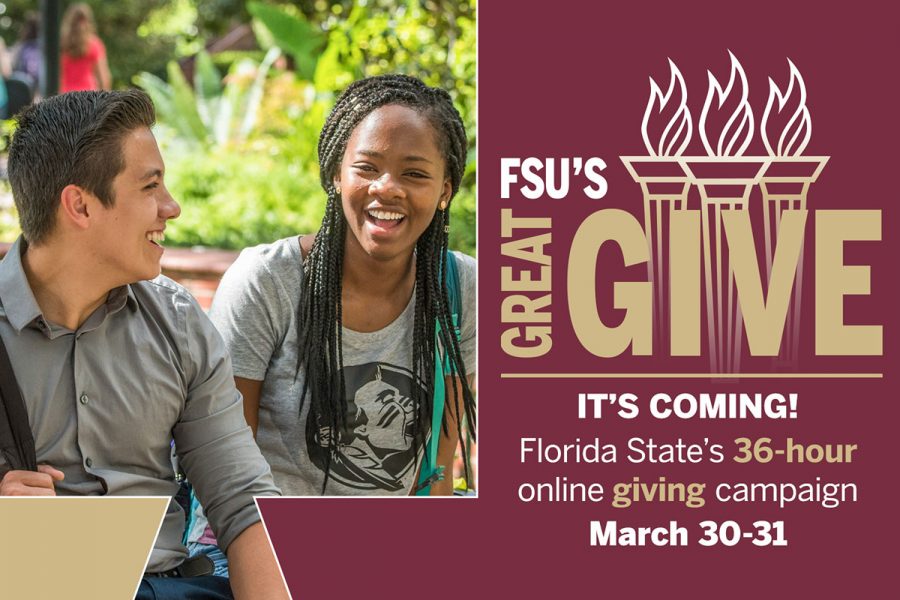 Friends of Florida State University around the globe will unite by participating in the sixth annual FSU's Great Give, a 36-hour online giving campaign that supports a wide variety of academic projects, programs, scholarships and student activities at FSU. 
Gifts can be made online at greatgive.fsu.edu from 9 a.m. March 30 to 9 p.m. March 31. Last year, FSU's Great Give had its most successful campaign to date—raising more than $208,000 from 1,729 donors, a 28 and 40 percent increase from the previous year, respectively. 
Supporters can give online to various initiatives throughout the university—from student veterans programs to campus sustainability. FSU colleges and units have created their own featured projects, which will be showcased using the sparkFSU crowdfunding platform. 
This year, FSU's Great Give is challenging Seminole Club members to give to the CARE program, which helps provide traditionally underrepresented students equity and access to an FSU education. 
"We think this will foster the competitive spirit that is inherent in Seminole fans and alumni and translate into even more gifts to help first-generation college students succeed at FSU," said Robyn Bertram, donor engagement officer for the Florida State University Foundation Office of Annual Giving. 
Additionally, FSU's Great Give will have a variety of incentives funded by FSU Foundation board members, including a $5,000 grand prize for the college, unit or project with the greatest number of alumni donors during FSU's Great Give. 
"The 10 incentives keep the momentum going throughout the entire 36 hours," Bertram said. "Many of the projects also have matching gift incentives that allow donors to double their impact." 
Throughout the 36-hour campaign, supporters may receive project updates and giving totals by liking FSU's Great Give on Facebook or by following FSU's Great Give on Twitter. 
Those unable to make a gift online can do so by check or by phone in advance of the Great Give. Please note that gifts should be earmarked for the Great Give. Checks must be received by the FSU Foundation by 4 p.m. March 31. Donors may select any FSU Foundation fund for their Great Give contribution.