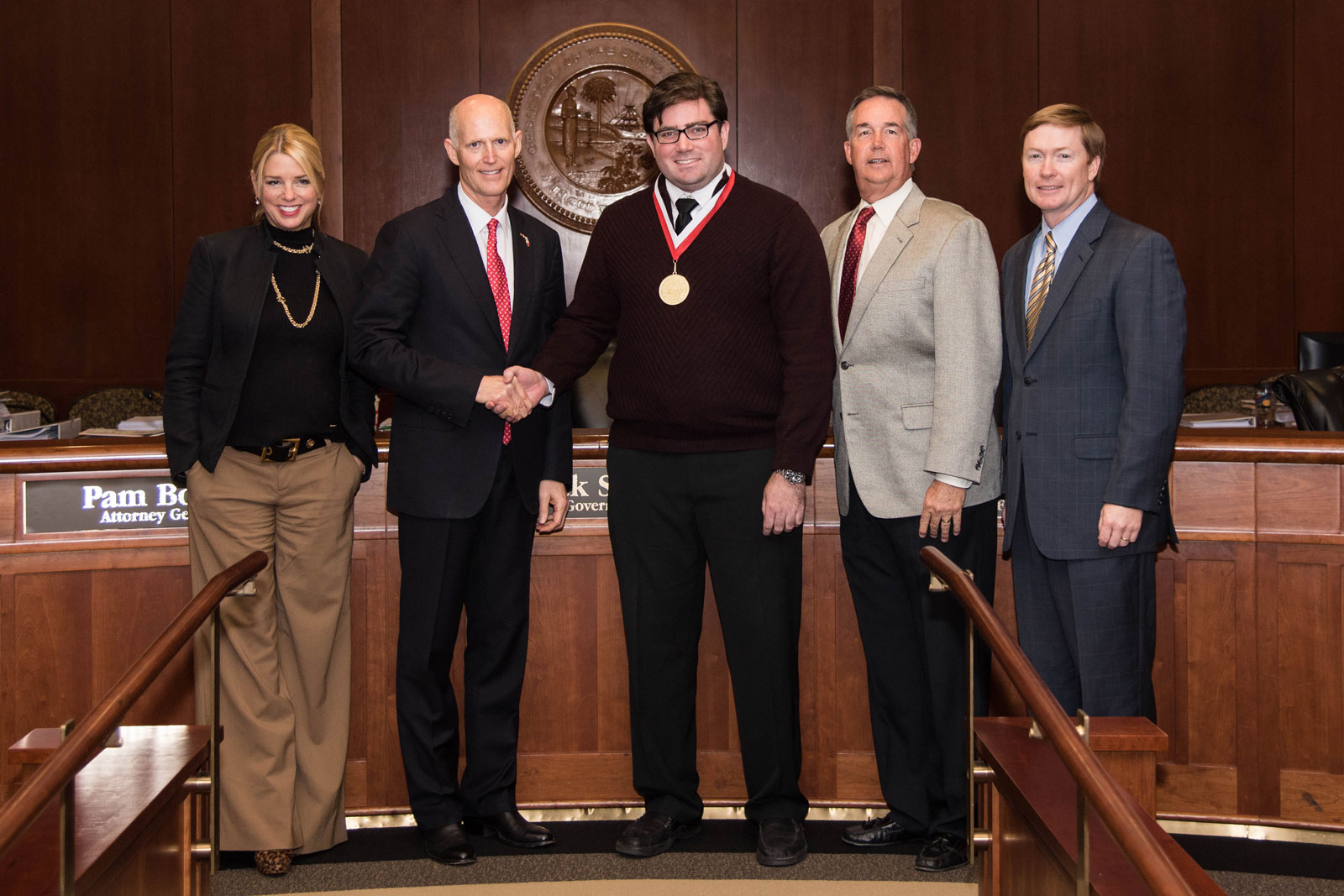 A Florida State University graduate who developed his entrepreneurial expertise with training from the Jim Moran Institute for Global Entrepreneurship and the Jim Moran School of Entrepreneurship has earned one of Florida's top business awards.
Gov. Rick Scott today presented the Governor's Young Entrepreneur Award to James Stage, a 2016 FSU alumnus who created the educational software business Queralyze.
Stage said he was honored to be recognized, especially since developing and running a successful startup was never something he imagined.
"I wanted to be Jason Bourne or a lawyer," Stage said with a laugh. "Working for myself never seemed to be a possibility, least of all in education. The support I have received from my family, community and educators at the Jim Moran Institute and Jim Moran School has been overwhelming. I wouldn't be where I am right now without that invaluable support. I will forever be indebted to them for helping me create a business that will impact students' lives so positively," Stage said.
Queralyze sells educational software designed to help students improve critical thinking skills in research and writing. Stage says the platform moves students beyond rote learning and gives them sharp skills to examine issues and ask the right questions.
Stage graduated in 2015 with bachelor's degrees in international affairs and political science. In addition, he minored in entrepreneurship. Stage went on to earn a master's degree from the College of Education in instructional systems and learning technologies in 2016.
Wendy Plant, director of the Center for Student Engagement at the Jim Moran School of Entrepreneurship, said Stage has been an extraordinary leader and valuable asset to Florida State's entrepreneurial community.
"He was our emcee for the annual '7 Under 30 Speaker Series' event for two years in a row and just recently, he was the event coordinator for the 'HackEd' event," Plant said. "This is an exciting time for Queralyze and we at the Jim Moran School of Entrepreneurship are very proud of James' accomplishments."
Stage's entrepreneurial journey began with Queralyze in 2013 along with business partners Mason Roth and Steve Sherman. In 2014, their startup gained acceptance into Florida State's InNOLEvation Center — a business incubator currently at the Jim Moran School of Entrepreneurship. Queralyze distinguished itself with top finishes in several student-focused startup competitions.
In 2015, FSU's College of Education asked Stage to serve as a graduate entrepreneur in residence because of his knowledge, passion and dedication to entrepreneurship. In that position, he worked to integrate entrepreneurial training into the college's curriculum.
In 2017, Queralyze partnered with Eastern Florida State College to identify new efficiencies and enhancements to the school's remedial education program.
Mike Campbell, one of Stage's longtime mentors, said it had been an honor to help his student grow as an entrepreneur.
"He understands his company's value proposition to his clients and has the passion for education," said Campbell, director of North Florida Operations for the Jim Moran Institute for Global Entrepreneurship. "I look forward to seeing James being very successful in his industry."
About the Jim Moran School of Entrepreneurship
In December 2015, Florida State University announced the creation of the nation's largest interdisciplinary, degree-granting school of entrepreneurship, the Jim Moran School of Entrepreneurship, as part of a major gift from Jan Moran and The Jim Moran Foundation. Students will participate in traditional case study learning along with innovative hands-on application and experiences. Students accepted in the inaugural 2017-2018 class will graduate with a Bachelor of Science or Bachelor of Arts in Entrepreneurship.