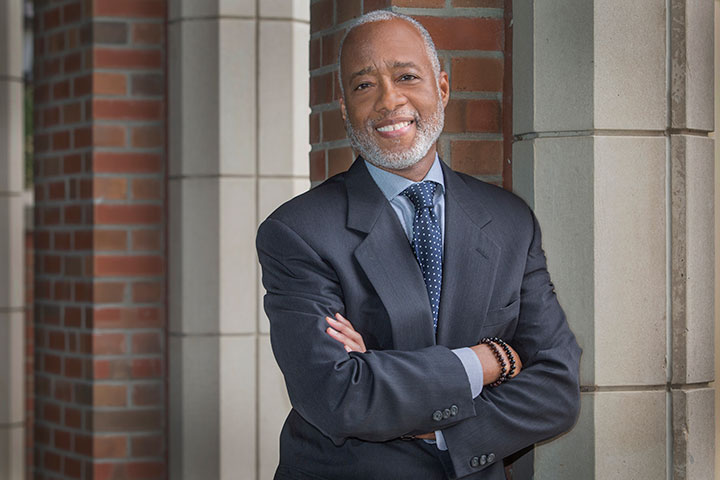 Norman Anderson, an eminent psychologist and member of the National Academy of Medicine, will join the Florida State University faculty with primary appointments as a research professor in both the College of Social Work and the College of Nursing. He also will serve as assistant vice president for research and academic affairs. 
"We are extremely excited to have Norman Anderson joining us at Florida State University," said Vice President for Research Gary K. Ostrander. "His breadth of expertise and leadership is a boon to our faculty. The mentoring he can provide to our young faculty will be especially valuable as they grow in their careers and work to build their research portfolios." 
Anderson will focus on mentoring young faculty, building new interdisciplinary programs and enhancing existing research programs by looking for new opportunities for funding. As assistant vice president for research and academic affairs, Anderson will work with the vice president for Research, the vice president for Faculty Development and the provost to enhance opportunities for faculty success across the university.  
His first day at FSU will be Jan. 17. 
"I am very much looking forward to joining the Florida State University family," Anderson said. "The university is clearly on a growth trajectory as evidenced by its outstanding faculty scholarship and innovative student programs, and its rise in the national rankings. One of the things that excites me about working at FSU is the opportunity to collaborate with faculty and administrative leaders to develop creative ways to facilitate the continued growth and upward trajectory of the university." 
Anderson served as CEO of the American Psychological Association for 13 years. Prior to joining APA, he was an associate director of the National Institutes of Health and founding director of the NIH Office of Behavioral and Social Sciences Research. At NIH, Anderson facilitated growth in behavioral and social sciences research and in interdisciplinary research, across all of the institutes and centers of the NIH. 
In addition to his leadership roles, Anderson was a tenured associate professor of medical psychology and of psychology at Duke University, and was a professor of health and social behavior at the Harvard School of Public Health. He is well known for his research and writing on health and behavior, as well as racial, ethnic and economic health disparities. 
He co-edited the book "Interdisciplinary research: Case Studies From Health and Social Science,"was editor-in-chief of the two-volume "Encyclopedia of Health and Behavior,"and co-edited the book "Understanding Racial and Ethnic differences in Health in Late Life: A Research Agenda," which was published by the National Academy of Sciences Press. 
College of Nursing Dean Judith McFetridge-Durdle said the college was delighted to welcome him to its faculty.  
"Dr. Anderson is an outstanding scholar with an international reputation for leadership and research in health disparities," McFetridge-Durdle said. "The faculty and staff in the College of Nursing are excited and energized by his appointment and look forward to working with him to further our research agenda and interdisciplinary partnerships." 
Anderson will also have an appointment to the College of Social Work. 
"I am confident that his presence will create exciting opportunities for our faculty and students," said College of Social Work Dean James Clark. "His distinguished career reflects the kind of experience and expertise that will significantly inform our efforts to advance effective, interdisciplinary translational research. I personally look forward to working with Norman and to have the chance to learn from him over the coming months and years of collaboration." 
Anderson holds four honorary doctorates and is a fellow of the American Association for the Advancement of Science, the Association for Psychological Science, the American Psychological Association, the Academy of Behavioral Medicine Research and the Society of Behavioral Medicine. 
A graduate of North Carolina Central University, Anderson earned his master's and doctoral degrees in clinical psychology from the University of North Carolina at Greensboro. He received additional clinical and research training at the schools of medicine at Brown and Duke universities, including postdoctoral fellowships in psychophysiology and aging at Duke.