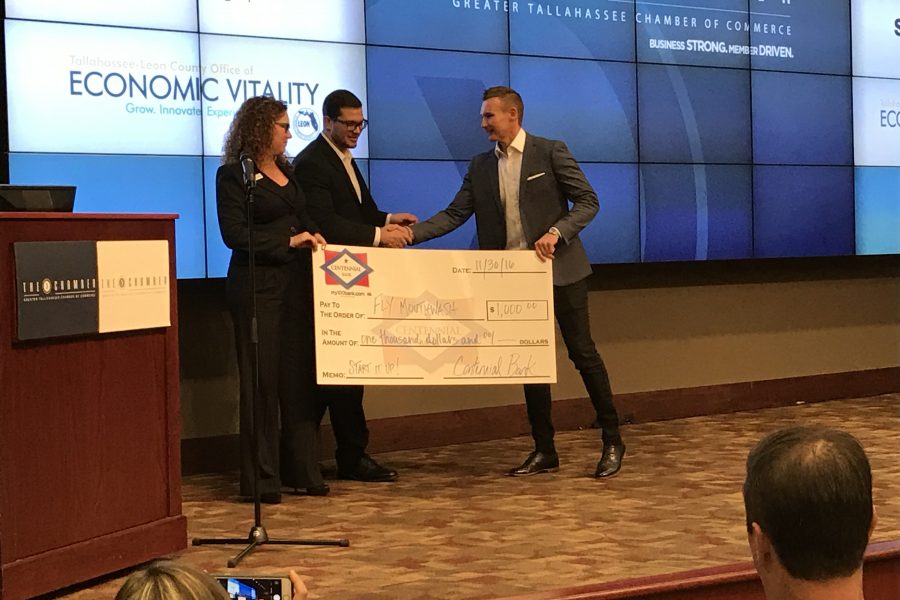 Florida State University student Nick Telford has won a $1,000 award from the Tallahassee Chamber Entrepreneurial Forum to support his startup business, Fly Mouthwash.
Telford, the co-founder of Fly Mouthwash, is one of the 11 startup business teams involved in Domi Station's "Get Started" program. The Chamber selected three teams to participate in the forum.
Fly Mouthwash is a highly concentrated form of mouthwash that's as portable as a pack of gum or mints, but gives you the same freshness, feeling and effectiveness of an at-home mouthwash. You can use it several different ways: add a squirt to an ounce of water, squirt directly in your mouth and then take a sip of water, or just squirt a little in your mouth for a fresh burst.
"I was first introduced to Nick this past summer when he pitched Simply Swish (his former business name) at 1 Million Cups, an event sponsored by the Kauffman Foundation that takes place weekly at Domi Station," said Wendy Plant, FSU's director of the Center for Student Engagement. "Nick joined the InNOLEvation® Center at the Jim Moran School of Entrepreneurship immediately after that meeting and has been working extremely hard to get his business ready to launch."
In addition to Telford, the other two presenters were Adrianne Kautz of One Fresh Pillow and Sam Brown of Career Mojo. Presenters were given five minutes to pitch their business ideas to the audience. After the presentations, the audience voted for their favorite business using a Tallahassee Chamber phone app. Telford received the most votes.
Telford said the entrepreneurial forum was awesome.
"This was an all-around incredible and humbling experience from start to finish. We found out a couple of weeks ago that we'd be pitching in front of a large audience. After the initial excitement started to wear off, I'm sure all three startups could attest to some nerves creeping in as we got closer to presentation day. That being said, we all walked in extremely ready as Dominick (the head of Get Started) met with us numerous times to help improve our pitches. Our preparation definitely helped because Adrianne and Sam's pitches blew the audience away, as well. I'd also like to thank the InNOLEvation Center, Domi Station and my partners Michael Bracciale and Tracey Priest for helping me get ready to go. This was a great day for Fly Mouthwash and I can't wait to see what the future holds!"
For more information about the Center for Student Engagement and how to get involved, visit business.fsu.edu/centerforse.
About the Jim Moran School of Entrepreneurship
In December 2015, Florida State University announced the creation of the nation's largest interdisciplinary, degree-granting school of entrepreneurship, the Jim Moran School of Entrepreneurship, as part of a major gift from Jan Moran and The Jim Moran Foundation. Students participate in traditional case study learning along with innovative hands-on application and experiences. Students accepted in the inaugural 2017-2018 class will graduate with a Bachelor of Science or Bachelor of Arts in entrepreneurship. Learn more at www.jimmoranschool.fsu.edu.