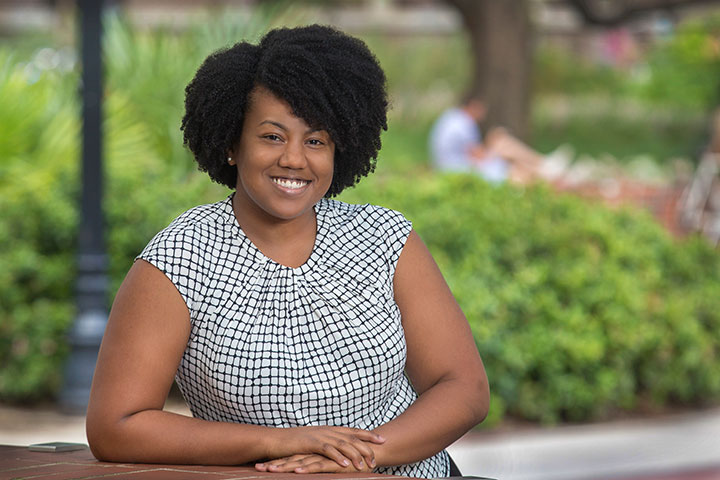 A Florida State University doctoral student has been awarded a $120,000 grant through a new program trying to diversify the future generation of policy development leaders.
Patrice Williams is one of 40 traditionally underrepresented students who will join the first cohort of Health Policy Research Scholars, a new program led by Johns Hopkins University and supported by the Robert Wood Johnson Foundation (RWJF). She was selected from a pool of more than 200 applicants.
"It really just means the world," Williams said. "When this opportunity came, it was just a stamp that I'm on the right track, that my hard work paid off. "
Williams, who grew up in Sunrise, Fla., will pursue her doctoral studies through Florida State's Department of Urban and Regional Planning. She always knew she wanted to be a doctor whether she had a medical degree or a Ph.D., but after years of taking out loans to pursue bachelor's degrees in music and biomathematics and a master's in public heath from FSU, she knew if she returned to school for a third time she would need some financial help.
Her dream of a doctoral education at no charge is now coming true with the help of the Robert Wood Johnson Foundation, which will give her $30,000 each year for the next four years.
Williams said she knows the grant will open new doors and allow her to have experiences she otherwise never would have had. But apart from the prestige of being selected, she's just happy her schooling is paid for.
"It was just a sigh of relief that, for once, I'm starting school and I don't have to worry about money," Williams said. "I can just breathe. I can just go to school and focus on school."
Through the program, Williams will join scholars from across the country to collaborate and innovate to solve persistent challenges and advance a culture of health — one that places well-being at the center of every aspect of life.
"These scholars are dedicated to advancing their field in a way that makes a positive and significant impact on their communities," said Harolyn M.E. Belcher, program director for the Health Policy Research Scholars Center for Diversity in Public Health Leadership Training and Professor of Pediatrics at Johns Hopkins. "In order to do so, they're willing to forge a new path, learn how to do things differently and work collaboratively to achieve a healthier, more equitable society."
Williams plans to study how gentrification affects the health of people in disadvantaged populations.
"I'm looking at what are all the health effects on this particular group," Williams said. "Gentrification does have a lot of positives, but it should be something that benefits all and not just the people who can afford to live in these new areas."
She drew from her own experiences growing up for inspiration in her studies.
"I was diagnosed with a condition, and I saw it in my own life," Williams said. "I saw I lived in a food desert. I had to drive over 10 miles to get to the nearest grocery store that had reasonably priced food that I needed to eat to keep my condition under control."
In addition to taking a required online course relating to health policy each semester, Williams will spend her summers doing research at RWJF partner institutions such as Johns Hopkins or the University of California. She will also spend a summer in Washington, D.C., learning about federal health policy, and how it's created.
As a grant recipient, Williams had to step down from her position as FSU's coordinator for the Council on Research and Creativity. She said that position greatly prepared her in applying for this grant. Williams said she is grateful for the other opportunities she's had at FSU and was confident in her decision to pursue her doctoral degree with the university. 
"Florida State has been home — it's the place that helped me grow into who I am today," Williams said. "I love the people that I've met here. The people that I'm going to be interacting with have always been so supportive, and I wanted a place where I knew I'd be successful."
Williams is looking forward to helping others grow in the future and said it is her Jamaican heritage that inspires her to pay it forward.
"The Jamaican motto is 'out of many one people' so my family has always seen that their community is much bigger than them. Even when they had very little, they were always willing to help others and look behind to see how can we help others get where we are," Williams said. "So with that engrained in our household, even with going for this Ph.D., I'm not looking at what I've achieved and not caring about the person behind me. I'm making sure I can help them achieve the same or better."