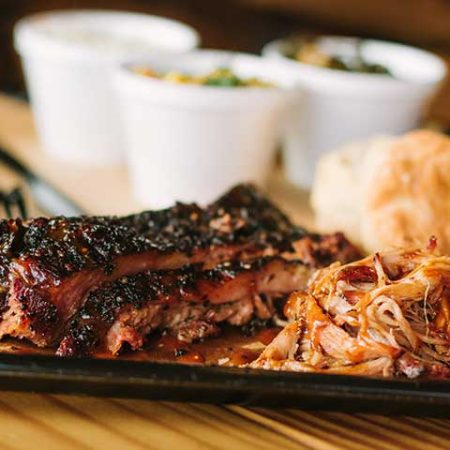 4 Rivers Smokehouse will open its second Tallahassee location on the Florida State University campus during the fall semester.
The new restaurant will be located at FSU's Oglesby Union and will offer an abbreviated menu including 4 Rivers traditional favorites such as smoked brisket and pulled pork, sandwiches and a variety of savory, home-style side items. The unique location will also feature college-friendly specials such as the "Brown Bag Special" and "Tacos on Tuesday." 
"Florida State University is thrilled to partner with alumnus John Rivers and welcome the 4 Rivers Smokehouse to our campus," said Kyle Clark, vice president for Finance and Administration. "It gives our students, faculty and visitors another great dining option." 
Rivers, chef and owner of 4 Rivers Smokehouse, is a graduate of Florida State University College of Business, where he serves on the Board of Governors. Rivers strives to support the local community through exceptional products, steadfast customer service and uncompromised integrity.  
"As a fellow Seminole, I am thrilled to bring 4 Rivers Smokehouse signature barbecue to the heart of Florida State's campus," Rivers said. "The positive feedback and support we have received from the Tallahassee community has been tremendous. It is a true honor to be here, and we look forward to serving our friends at this special university." 
In addition, 4 Rivers will cater the 65th Annual FSU Alumni Association Kickoff Luncheon at 11:30 a.m. Friday, Aug. 26, at the Donald L. Tucker Civic Center. 
Established in Winter Park, Fla., in 2009, 4 Rivers Smokehouse is a family-owned smokehouse specializing in traditional favorites such as 18-hour smoked brisket and homemade Southern sides, as well as bold new twists of flavor and ingredient combinations in its sandwiches. It currently has 13 operating locations spanning the state of Florida with plans to expand to Atlanta in 2017. The popularity of 4 Rivers Smokehouse has garnered national recognition and honors from publications including Nation's Restaurant News, Food & Wine, Bon Appetit, Zagat.com, USA Today, Cigar Aficionado, Business Insider, Cooking Light Magazine and Paula Deen Magazine. 
The Oglesby Union location's hours will be 10:30 a.m. to 8 p.m. Monday through Thursday, and 10:30 a.m. to 6 p.m. Friday and Saturday.  
For additional information about 4 Rivers Smokehouse or to inquire about catering opportunities, visit www.4rsmokehouse.com.