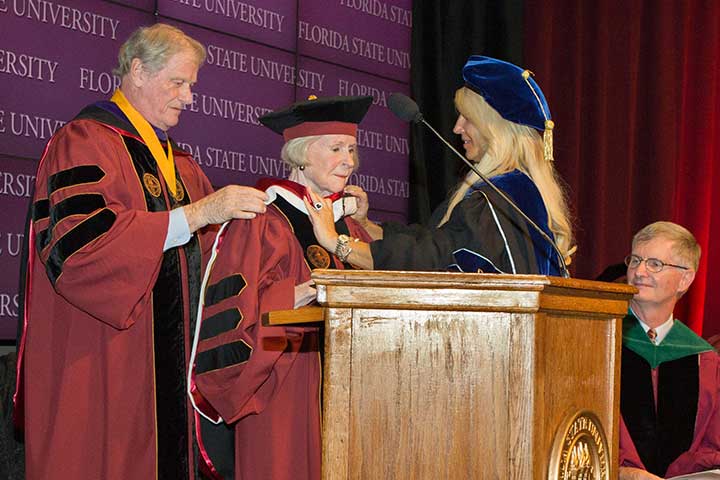 Florida State University granted an Honorary Doctor of Humane Letters degree to Grace Dansby, Tallahassee businesswoman and philanthropist, on Tuesday, Aug. 9. She is one of the founders of Southern Bank and Super-Lube.
Dansby has served on numerous community and charitable boards, including a decade as chair of the Tallahassee Memorial HealthCare Foundation's Board of Trustees.
John Fogarty, dean of the FSU College of Medicine, who spoke at the ceremony, called Dansby "one of the pillars of our medical community."
Fogarty thanked Dansby for establishing the Sherrill and Grace Dansby Scholarship Endowment for Medical Education in 2013, which he said helps pave the way for students with limited means.
Dansby attended Florida State University in 1947-1948. She became an enduring presence at university events and demonstrated a long-standing commitment to her alma mater by making other contributions, like a significant gift to the Sliger Endowment in Economics in 1984.
Andy Miller, president of Seminole Boosters, Inc., recalled Dansby's leadership on the committee that raised seed money to launch the University Center initiative in 1989.
"Grace's leadership style is quiet and very much behind the scenes," Miller said. "She speaks softly and carries a big stick. Grace has given a lifetime of support to Florida State University."
Provost Sally McRorie read the citation that stated, "You took your civic-mindedness a step further, using your considerable financial means to leave Tallahassee better than you found it with your far-reaching philanthropy. Never seeking the spotlight, you gave out of a desire to move institutions forward and demonstrate leadership."
President John Thrasher hooded Dansby as he conferred the honorary degree, and asked if she'd like to say a few words.
Dansby said she has had many exciting events happen in her long and good life — being accepted as a freshman into what was then Florida State College for Women and attending the university the exact year the institution would transition to becoming co-ed, flying around the world on the Concorde and even helping run the Olympic torch through Tallahassee in July 1996.
But after accepting the honorary degree from Florida State University among family and friends, Dansby said, "What a privilege."
Dansby said the ceremony made her reflect on her time at Florida State, and how she's been able to see the university undergo so many changes and watch it grow over the years.
"It's just a wonderful university … really close to my heart," she said.
Dansby, a member of Alpha Gamma Delta international women's fraternity, closed her short and sweet speech by reciting its motto, "Live with purpose."
"And with God's help, I will continue to help others and live with purpose," she said.
She thanked her friends and family for supporting her. She also recognized other FSU faculty and staff for the honor, including President Thrasher, who she met in 1973 after he completed law school at Florida State.
Dansby hired the law firm where Thrasher was a junior associate in Daytona Beach.
"We go back a long way," Thrasher said. "And I know everyone sitting here is testimony to your incredible generosity, your incredible kindness, your incredible giving spirit and the way you do — it is just remarkable."
Each year, the FSU Honorary Degree Committee, an advisory committee appointed by the president to represent the university community, considers nominations for an honorary degree. Any active or retired faculty member, member of the university community or friend of the university may suggest potential honorary degree recipients to the committee.
Nominations are considered at any time of the year. In general, the committee intends to honor people of outstanding achievement who have gained national or international recognition or made a significant scholarly, creative, public, business or humane contribution to the United States or to Florida State University.