International weather and climate expert Marshall Shepherd spelled out a roadmap to success for Florida State University graduates by using a term that will always be very easy to remember for them.
N – O – L – E – S.
Shepherd spoke at the first of Florida State's three spring commencement ceremonies held April 29 and 30, at the Donald L. Tucker Civic Center. FSU President John Thrasher presided over all three ceremonies as the university awarded degrees to nearly 6,200 graduating students.
During Friday night's commencement ceremony, Shepherd, a three-time alumnus of Florida State, began his remarks with an assurance.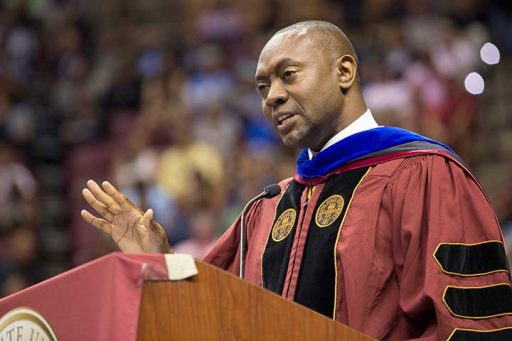 Despite his status as head of the University of Georgia's Program in Atmospheric Sciences, he said that if the Seminoles ever played the Georgia Bulldogs, he would always pull for the 'Noles.
"It's important to note that I serve on the University of Georgia Athletic Association's Board of Directors, but after that remark in this age of webcasts, I might not be serving any more," joked Shepherd, who also serves as Georgia Athletic Association Professor at Georgia.
To encourage the graduates in their lives ahead, Shepherd deconstructed the nickname 'Noles to give them his perspective on their FSU education and a verbal roadmap for success.
N for "Now": Graduates should embrace the idea that this is their time, and rather than resting on the laurels of their degrees, take their degrees and move toward new goals."Take that degree the way Dalvin Cook takes the ball and run toward the 'goals' line," he said.
O for "Outstanding": Graduates should remember that they have received an outstanding education at FSU."When someone asks me, 'Marshall, why didn't you go to an Ivy League,' I say, 'I did go to an Ivy League — for meteorology,'" he said of Florida State's nationally regarded meteorology program.
L for "Learning": Graduates should embrace lifelong learning."If you stop learning, you're turning your back on the legacy that you've gained at this great university," he said. "I challenge you, whatever you do, to continue to learn."
E for "Expand your radius": Graduates should strive to increase their knowledge and sphere of influence, and to grow in tolerance for other viewpoints."One of the greatest values of attending Florida State University was not my classes or the textbooks, but the experience of interacting and matriculating with someone who looked different that I did, with someone who thought about the world differently than I did," he said.
S for "Serendipity": Graduates should not underestimate the power of the unexpected or unplanned to enrich their lives."Seize those unexpected moments of serendipity," he said.
Shepherd earned a bachelor's and master's degree in physical meteorology and was the first African-American to earn a doctorate in meteorology from Florida State.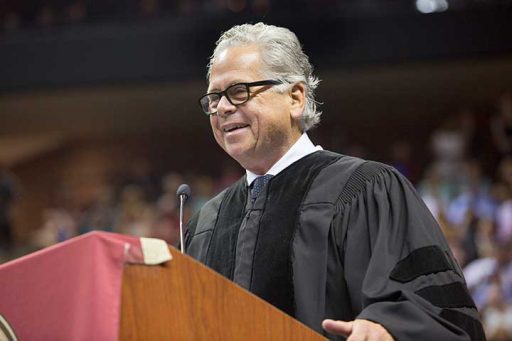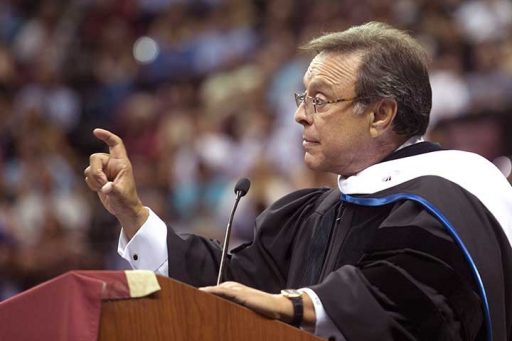 A second Florida State alumnus spoke at Saturday morning's ceremony.
College of Business alumnus Jeff Gargiulo is vintner and owner of Gargiulo Vineyards in California's Napa Valley and one of the nation's most sought-after cabernet producers. He is a former CEO and president of citrus giant Sunkist. He earned a bachelor's degree in business/marketing from Florida State in 1974.
Gargiulo served up concise sips of exquisite fine advice in his commencement address. The wine maker urged graduates to "use your youth, build your people network, get involved and pursue your passions."
And while Gargiulo's passion certainly includes wine making, the speaker revealed another of his lifelong passions as an example: playing rock guitar.
Gargiulo turned that passion into his first entrepreneurial endeavor while still a student at FSU in the early 1970s. Long before the Internet, Amazon and overnight shipping, he sold and distributed guitars to the Tallahassee community.
After negotiating an impressive 40 percent discount with a prominent Miami guitar store, Gargiulo would purchase the instruments c.o.d. (cash on delivery) by telephone and arrange for shipment from Miami to Tallahassee via bus. (No FedEx in those days.) Reselling at a markup to customers in Tallahassee, including the FSU College of Music, Gargiulo earned enough money to purchase the guitar of his dreams for himself.
Today, Gargiulo still pursues his passion for guitar. The executive and philanthropist plays guitar in a rock band at charitable events on famous stages and venues throughout California.
The Napa Valley vintner uncorked his final serving of advice with this prediction for FSU's 2016 vintage: "You all have the potential to be the greatest graduating class Florida State has ever produced. Go for it, go Noles, make us proud!"
Saturday afternoon's graduates heard from Miguel "Mike" Fernandez, chairman of MBF Healthcare Partners of Coral Gables, Fla., a private equity firm that invests in healthcare service companies nationwide. Fernandez shared wisdom from his life's journey of coming to the United States as a penniless 12-year-old Cuban immigrant and going on to build dozens of successful companies while creating tens of thousands of jobs.
"You have one life and your life can be a book — it is a book that you will write," Fernandez said. "Your actions will determine whether it will be a mediocre book or an excellent book."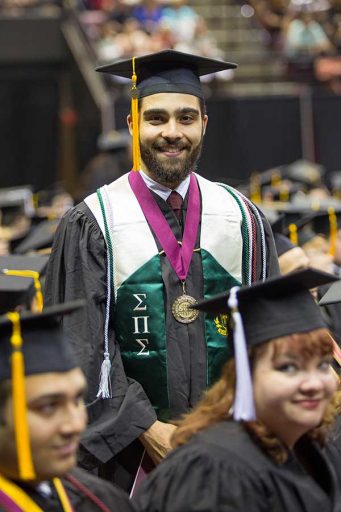 Fernandez, who has already written about book about his amazing story, "Humbled by the Journey: Life Lessons for My Family … And Yours," has been the founder and/or majority shareholder in 25 health care-related companies and contributed more than $100 million to charitable causes throughout his life.
"Failure will be something you will benefit from," Fernandez said. "Failure will be a great teacher in your life."
He said failure helps us to be successful by teaching us the ability to adjust. He added that being flexible is very valuable in this fast-changing world.
"Remember to be flexible in life because the best laid plans will change," Fernandez said. "And you will have to adjust to it. Embrace the challenges because that's God telling you, 'go for it … stretch … you're too comfortable where you are.' Reach for the impossible."
FSU graduates conveyed their anticipation for what the future holds, while also expressing their gratefulness for the support of family and friends.
Austin Skeeters, 22, a physics and applied math major from Fort Walton Beach, Fla., said it felt surreal to be graduating.
"Honestly, it is just now starting to hit me," he said. "Not be cliché, but it's really opening up that next chapter in my life. I'm excited for all the challenges that are ahead."
Skeeters plans to attend graduate school to study physics.
Brittni Johnsen, 23, of Port St. Lucie, Fla., said she was happy to receive her degree in English literature and philosophy while having so many family members present to witness the event.
"My mom, my dad, my brother, two aunts, two uncles, my best friend and my boyfriend," Johnson said. "They traveled from Georgia, South Florida, Jacksonville and here in Tallahassee.
"It's taken five years to complete my degree, and my family has always been there to lend support, whether it was coming to visit or just a quick pep-talk before a final," she said. "Their support has meant the world. I don't think I would have been able to do it without them."