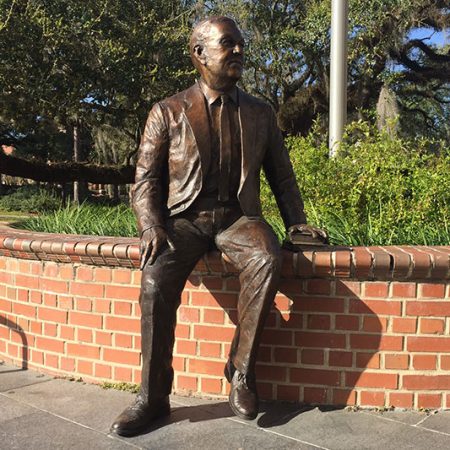 Florida State University and FSU Libraries will honor former FSU President Robert Manning Strozier (July 20, 1906 – April 20, 1960) today by unveiling a statue on the steps of Strozier Library, the main campus library that bears his name.
The new bronze statue depicts Strozier sitting on a brick wall gazing at the front of the library with books under his left hand.
The statue was designed by FSU's Master Craftsman Studio, the studio responsible for creating many of the statues, stained glass windows and artistic structures found across campus.
Strozier became president of Florida State in 1957 after 28 years as a faculty member and administrator at three Georgia institutions. He had also served as dean of students and professor of romance languages at the University of Chicago.
He was known for his excellent academic credentials, levelheaded practicality and winning personality. Students appreciated him for his ready wit, and he established a great rapport with the faculty.
Soon after arriving at Florida State, Strozier announced, "We shall make Florida State a great university," and began taking steps toward that goal.
Strozier served as president of FSU until his unexpected death in 1960.