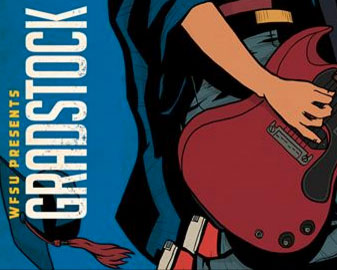 Join WFSU and the Newman's Own Foundation for the first American Graduate Benefit Concert Series Friday, Feb. 26, and Saturday, Feb. 27, at the WFSU Television Studios in Tallahassee. Amazing local artists are coming together for three live events with each concert focusing on a different music genre: Americana, Jazz & Blues, and World Music & Funk.
In addition to music, attendees will have access to behind-the-scenes areas at the WFSU studios and enjoy local food trucks between sets. Tickets for the individual concerts are $25 each and money raised will help fund WFSU's American Graduate Project which helps catalyze discussion and focuses attention on local community-based solutions to the high school dropout crisis.
Plus, some segments of the live concerts will be turned into television concerts appearing on WFSU later this spring as well as on the Local Routes television program.
Friday, Feb. 26, 7 p.m.
Two Foot Level
The New 76ers
The Sarah Mac Band
Saturday, Feb. 27, 1 p.m.
Thursday Night Music Club
Johnnie Marshall Blues Band
Royce Lovett
Saturday, Feb. 27, 7 p.m.
Tocamos Mas
Flat Land
Danny Bedrosian & Som'n Fierce
More information can be found at www.wfsu.org/gradstock. Tickets can also be purchased at www.tickets.fsu.edu or through the FSU Fine Arts Ticket Box Office at (850) 644-6500.