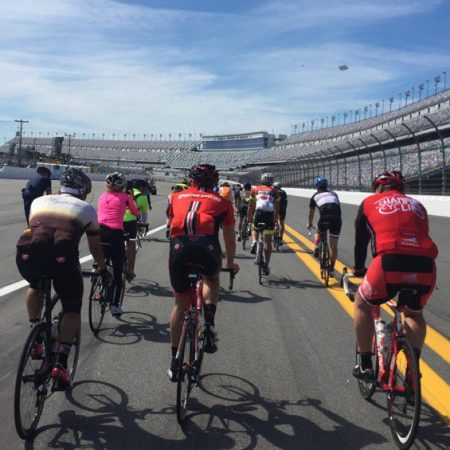 Members of the Florida State University Police Department joined several other law enforcement agencies and some of racing's and cycling's biggest names Feb. 17 to promote bicycle safety on roadways.
The event, the Scott Lagasse Jr. Champions' Ride for Bicycle Safety, was developed by NASCAR driver Scott Lagasse Jr. of St. Augustine, Fla., with the support of the Florida Department of Transportation. A group of 44 cyclists rode 60 miles from St. Augustine to Daytona Beach, Fla., arriving at the Daytona International Speedway for a lap around the track and interviews to promote safe riding and driving by cyclists and motorists.
Included in the group were six-time NASCAR champion Jimmie Johnson, three-time Indianapolis 500 winner Dario Franchitti, Daytona 500 winners Matt Kenseth and Trevor Bayne, triathlete and Olympian Jarrod Shoemaker, and Tour de France cyclists Christian Vande Velde and George Hincapie.
Among the riders representing law enforcement was Maj. Jim Russell of the FSUPD and retired Tallahassee Police sergeant David Ferrell. The Florida State University Police Department motor unit, under the direction of FSU officer Mike Rodes, also provided support and coordination for other area agencies providing escort for the riders. Included in the escort were members of the Florida Highway Patrol, St. John's County Sheriff's Office, Flagler County Sheriff's Office, Daytona Beach Police Department and FSU Police Department.
"The message is intended — and was delivered — to show in a unified way, that respect and responsibility on our roads and adherence to the law by all road users is paramount," Russell said. "Keep in mind that those road users around you may not be a Daytona 500 winner, but to somebody, they are champions to their families because they are loved."
The ride preceded the weekend of NASCAR's most prestigious race, the Daytona 500, to be run on Sunday, Feb. 21.