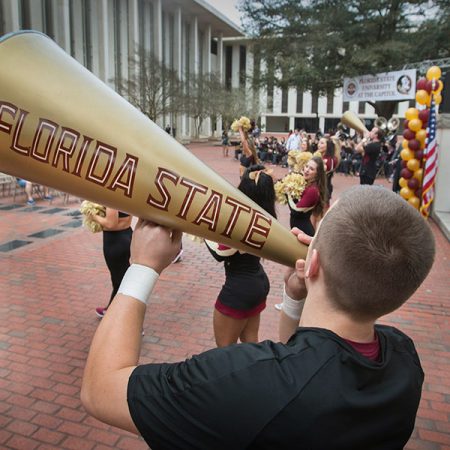 The gloomy weather did not dampen the Seminole spirit at the annual FSU Day at the Capitol Tuesday, Feb. 2.
Sporting their garnet and gold, Florida State supporters gathered to celebrate the university's successes and contributions over the past year. Some of the highlights included climbing graduation and retention rates, and FSU's athletic programs placing among the nation's top 15 for the ninth consecutive year.
"At Florida State University we're at the top of our game, on and off of the field," President John Thrasher said. "We have a top-notch faculty and incredible students."
The event featured performances by the Flying High Circus, Marching Chiefs and Florida State cheerleaders, as well as an appearance by FSU football coach Jimbo Fisher.
Other attendees included FSU football players DeMarcus Walker and Dalvin Cook, FSU Student Body President Jean Tabares, State University System Chancellor Marshall Criser, Board of Trustees member Mark Hillis and distinguished alumni of the Florida legislature.
"One of the great benefits of having our university located in the Capitol is the opportunity for our students to engage in the legislative process, expose themselves to careers in public service and become better citizens," Thrasher said.
Inside the Capitol, FSU showcased its academic excellence with information booths representing the university's academic programs and research centers.