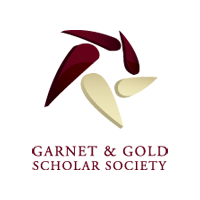 Florida State University welcomed 37 new inductees into the Garnet and Gold Scholar Society this fall.
Established in 2010, the Garnet and Gold Scholar Society facilitates involvement and recognizes undergraduate students who excel within and beyond the classroom in at least three of five areas: international experience, internship, leadership, research and service.
"We are so proud of this fall's Garnet and Gold Scholars," said Mary Coburn, vice president for Student Affairs. "Their dedication to education and their involvement internationally and locally showcase what it means to be an FSU student. This group of inductees will continue to make great contributions in their respective graduate programs, which range from law and medical school to areas such as psychology, business and education. Also, several inductees plan to head into the work force in the areas of education, advertising and accounting. We look forward to watching their continued success as alumni of Florida State."
To become an inductee of the Garnet and Gold Scholar Society, students must meet the engagement area criteria and submit a synthesis reflection project in their final semester before graduation. Participants are recognized at graduation and receive a designation on their official university transcript, both of which make the students more marketable to potential employers or graduate programs.
The students, all graduating seniors, were inducted into the Garnet and Gold Scholar Society during a special ceremony Dec. 1. The inductees, along with their hometowns and academic majors, are:
Apopka, Fla.
Latoya Goncalves, Biological Science
Jamie Jacoby, Elementary Education
Bradenton, Fla. 
Meredith Vollmer, Biological Science
Brunswick, Maine 
Sam Cherbonneau, Computer Engineering
Evan Fitzgerald, Biomedical Engineering
Caracas, Venezuela 
Yoselyn Piña, International Affairs and Human Resource Management
Cincinnati, Ohio 
Christopher White, Media/Communication Studies
Cocoa, Fla. 
Alivia Dandurand, Japanese/Business
Fernandina Beach, Fla. 
Rachel Keller, International Affairs and Political Science
Fort Lauderdale, Fla. 
Stephanie Angel, Philosophy and International Affairs
Grant, Fla. 
Michelle McCullers, Biological Science
Henryville, Ind. 
Josh Doane, Meteorology
Jackson, N.J.
Hilary Roath, Applied Geosciences/FSU-Teach
Jacksonville, Fla. 
Liyah Jenkins, Criminology
Michele Milkey, Marketing and Professional Sales
Brianna Holmes, Advertising
Jupiter, Fla. 
Mikayla Moya, Psychology
Melbourne, Fla. 
Kimberly Myers, Social Science Education
Miami 
Yasmeen Battle, English
Nicole Gonzalez, Psychology
Vanessa Grimaldi, Finance and Marketing
Dulny Salazar, Accounting
New Port Richey, Fla. 
Regina Pascalli, Sociology
Orlando, Fla. 
Debbie Alfred, Finance and Management Information Systems
Danielle Cuccaro, Information Communication and Technology
Palm Harbor, Fla. 
Kimberly Poling, History
Panama City, Fla. 
Sabrina McAlister, Professional Communication
Pensacola, Fla.
Tiffany Stevens, Economics
Perry, Fla.
Hannah Morgan, Exercise Science and Food Nutrition Science
Port Charlotte, Fla. 
Megan Mellinger, Elementary Education
Santa Rosa Beach, Fla. 
Kate Pierson, Media/Communications Studies
Sarasota, Fla.
Ashleigh Gregoria, Accounting and Finance
Tallahassee, Fla. 
Zachary Laranang, International Affairs and Political Science
Tampa, Fla. 
Tegan Comb, International Affairs and Computer Science
Alexis Spivak, Criminology and International Affairs
West Palm Beach, Fla. 
Danielle Parks, Economics and International Affairs
Monika Ramotowska, International Affairs and Russian